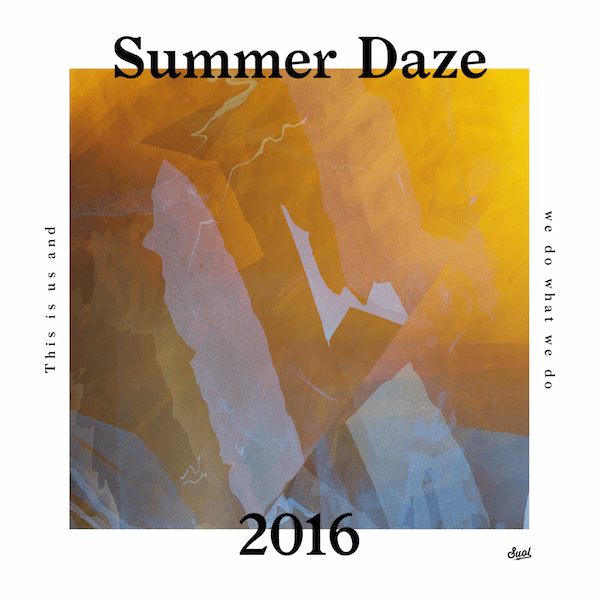 Suol - Summer Daze 2016
Now in its fourth instalment, the "Suol Summer Daze" compilation has firmly established itself as an annual institution for the Berlin based imprint, and once again they deliver a bespoke collection of soulful, organic house tracks.
In addition to artists from the German capital, this edition of 'Summer Daze' includes a plethora of international talent; not only featuring producers from around the globe, but also international vocalists, who always play an important part in the label's musical output, going beyond merely churning out loopy club tracks and focussing strongly on transporting real songs into a club environment.
Amongst the 17 exclusive and previously unreleased tracks, all hand picked by label heads Chopstick & Johnjon, there are some perfect examples of this attitude, such as Fritz Kalkbrenner's 'Let Go' and C&J's 'Catamount'. Spoken word poetry on a house groove is also a Suol specialty, found here in 'That Day' by Kyodai, as is breaking away from the straight four-on-the-floor beat like in Till von Sein's 'PCH Jam'. Other highlights include Larse's 'Honey' and the atmospheric 'Clockwork Rainforest' by Atjazz. There are some straight up house jams on the compilation as well, all of them offering something more than just functionality, rounding off a delightfully varied package of special music for a special summer.
'Summer Daze' drops on Friday 24th June.
Tracklist:
01. Larse – 'Honey'
02. Fritz Kalkbrenner feat. Meggy – 'Let Go'
03. Tender Games – 'Voodoo'
04. Planet Jackson – 'Gotta Get Up'
05. Tuff City Kids – 'Glue Teen'
06. Kolja Gerstenberg – 'I Want Day'
07. Chopstick & Johnjon – 'Catamount (Slow Hands Remix)'
08. Till Von Sein – 'PCH Jam'
09. Northeast Kingdom – 'Low Hanging Fruit'
10. Atjazz – 'Clockwork Rainforest'
11. Galen – 'Trunkated'
12. Citizenn – 'The Backroom (At Verboten)'
13. Kyodai – 'That Day' feat. Rainy Payne
14. Nils Penner & HRRSN – 'Drifter'
15. Hollis P Monroe feat. Anne Claire – 'In That Moment'
16. James Flavour – 'Feel The Real'
17. Meggy – 'Brix'
https://soundcloud.com/suol
https://www.facebook.com/suolmusic
https://twitter.com/suolmusic