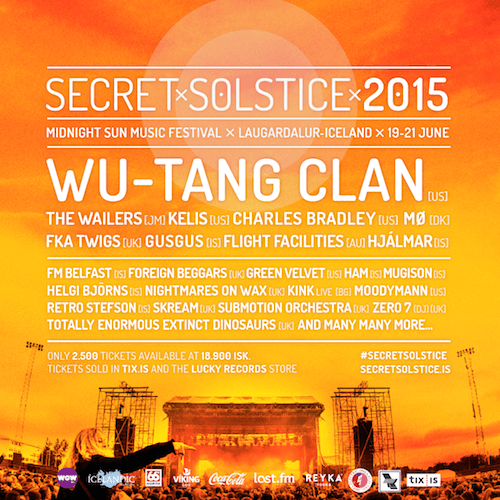 Summer Solstice Second Release line-up announcement
Reykjavík, ICELAND – Iceland's Secret Solstice festival has nearly doubled its 2015 lineup to over 110 names in total, with the addition of Wu-Tang Clan, FKA Twigs, Kelis, Skream, and many more.

Held between the 19th-21st of June 2015, Secret Solstice has been dubbed the "Midnight Sun" music festival due to the sun never fully setting during the event's weekend. Secret Solstice received much industry acclaim in its first year due to this incredible unique concept.

Last.fm have also recently announced their involvement in Secret Solstice 2015. The online music streaming service will be hosting one of the event's larger stages, with "Gimli presented by Last.fm" featuring some of the major acts to play the festival.
The latest additions to Secret Solstice's 2015 lineup are as follows:

WU-TANG CLAN
FKA TWIGS
KELIS
TALE OF US
SKREAM
HJÁLMAR
TOTALLY ENORMOUS EXTINCT DINOSAURS (DJ)
NICK CURLY
GUTI (LIVE)
AGENT FRESCO
ALABAMA 3
RÜFÜS
THUGFUCKER
MIND AGAINST
GÍSLI PÁLMI
ÚLFUR ÚLFUR
JAVI BORA
HELGI BJÖRNSSON
JÚNÍUS MEYVANT
EMMSJÉ GAUTI
BENT
ARKIR
EGILL TINY
MELLA DEE
BENNI B-RUFF & FRIENDS
BENNY CRESPO'S GANG
YAMAHO
TETRIS TAKEOVER
BONES
HALLELUWAH
7 BERG
MÁNI ORRASON
MACRO/MICRO
STEREO HYPNOSIS
KRISTIAN KJØLLER
GEIMFARAR
SHADES OF REYKJAVÍK
ÞRIÐJA HÆÐIN
MUSHY
SEXY LAZER
AXEL FLÓVENT
BEATMACHINEARON
GKR
FRÍMANN
ALEX SESSION
LUCA PILATO
HR. HNETUSMJÖR
JÓHANNES LAFONTAINE
MARTEINN
PROXY 2.0

The full lineup of over 110 names can be found at http://secretsolstice.is/, as well as a limited number of tickets at 18,900 Icelandic krona.