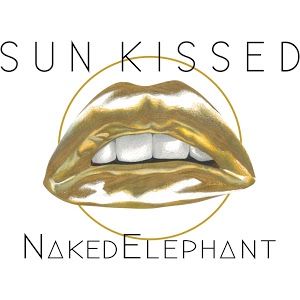 Naked Elephant - Sun Kissed
Following their sultry-psychedelic debut single 'Raspberry Kiss', Naked Elephant release the sound of summer 2018 with new track 'Sun Kissed', available now to watch, buy and stream via Virgin EMI.
'Sun Kissed' is the magnetic second single from the brazen Las Vegas band, and it exudes ultimate summer vibes, infusing pop and rock that's led by frontman Josh Royse's powerhouse vocal. Bandmembers Josh and Taylor started to experiment with house and dance music, creating a sound not typically rock but more uplifting and vibrant.
On 'Sun Kissed' Josh says: "I sat down and really wanted to write a dance song for Naked Elephant, it ended up becoming what is 'Sun Kissed', a little bit of the Naked Elephant rock'n'roll DNA with the guitars with the use of strymon pedals to soundscape which was blended with house music. There was a moment where we were finally OK with not having to write these deep esoteric masterpieces in order to feel amazing about our music, we can write something that people simply want to dance to in the sunshine."
Set in Thailand, the video carries on the epic story – following the 'Raspberry Kiss' video – of retrieving precious rubies that symbolises their mission of bringing back wealth to the rest of the world from the rich and powerful. Helping and bringing awareness to endangered Elephants had become more significant to the band when creating the music video for 'Sun Kissed'. Naked Elephant travelled to the Elephant Home And Nature in Kanchanaburi, a village renowned for the Elephant sanctuary. The band learnt the importance of saving the elephant's ecosystem and was fortunate to work and film with the majestic creatures in a respected and compassionate way. Produced by Josh, he initially called several people across the world including France, Germany, Austria and LA to join the band to help film the impressive visual.
On the video, Josh explains: "We have a multi-layer approach to helping these creatures, first was filming with them and getting people excited about these beautiful majestic creatures. Also, to bring awareness to the village and tying in our merch that we sell which is of our mascot 'Russell' as necklaces and small toys. A percentage of the money earned goes towards this village which contributes to help the elephant's food, medical care and to expand the village lands. That was really what made this video special, because I was able to turn a music video budget essentially into a charitable investment, into something that we believe in."
The new track follows lead single 'Raspberry Kiss', which was released with an innovative first-of-its-kind indoor 360-degree video – that premiered with Billboard. Naked Elephant were in the UK in May where they performed at the first ever All Points East Festival supporting Bjork / Beck / Father John Misty, The Great Escape in Brighton and The Water Rats in London.
Hailing from the dazzling, vibrant lights of Las Vegas – home to The Killers, Imagine Dragons and Panic! At The Disco – the now five-some were initially made up of Josh Royse (vocal), Mikey Tucker (guitar/bass/vocal), Taylor Hatty (guitar). The trio were recently joined by long-time friend and multi-instrumentalist Rich Mann (bassist) and former 'Vegas Golden Knight' and 'Drumbot' Chaz Mattison (drummer) who've completed the band line-up. Influenced by their love of adventure and eclectic musical tastes, which includes the likes of Radiohead, Young The Giant and Coldplay; Naked Elephant have created an unapologetically avant-garde, flamboyant style that distinguishes them amongst their peers.
Now signed to Virgin EMI, Naked Elephant are quickly accelerating to become the act to watch from a city that undeniably produces globally renowned artists. Their debut EP is set to be released later this year.
NakedElephant Online:
FACEBOOK – https://www.facebook.com/nakedelephant/
INSTAGRAM – https://www.instagram.com/nakedelephant/
TWITTER – https://twitter.com/nakdelephant
WEBSITE – https://www.nakedelephantband.com