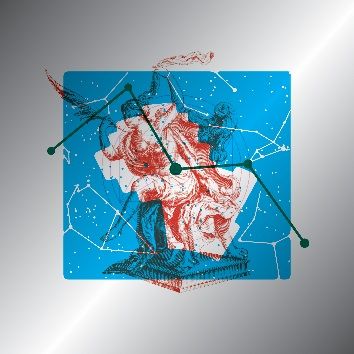 Hannah Peel - Sunrise Through The Dusty Nebula
The Northern Irish artist and electronic composer's third album is a seven-movement odyssey composed for analogue synthesizers and full, traditional 29-piece colliery brass band! With only a year following on from the release of her critically acclaimed second album 'Awake But Always Dreaming' (Voted No.1 Album Of the Year – Electronic Sound Magazine), 'Mary Casio: Journey to Cassiopeia', released 8th September via My Own Pleasure, explores one person's journey to outer space, by recounting the story of an unknown, elderly, pioneering, electronic musical stargazer and her lifelong dream to leave her terraced home in the mining town of Barnsley, South Yorkshire, to see Cassiopeia for herself.
With artwork by Grammy award winning designer Jonathan Barnbrook (David Bowie collaborator on albums 'Blackstar' and 'The Next Day') and the complete brass band and rhythm section recorded live on location in The Barnsley Civic Theatre with Peter Gabriel's Real World studio team, this exclusive album combines Peel's detailed, analogue synth layered production and her expressive flair for performance with 'Tubular Brass', featuring the top UK championship brass band players. It's a wholly unique, collaborative sound and seemingly, a first of its kind both live and on record.
"We have a hundred billion neurons in our brains, as many as there are stars in a galaxy" Theoretical physicist and author, Carlo Rovelli
Continuing themes from her last record and by delving further into the rabbit hole of the mind, creating parallels between the human brain and space, Peel combines the unearthly sound textures and celestial ostinatos of the analogue synthesizers with the tremendously deep and rich power of traditional 'British' brass band to map Mary's intergalactic passage into another world.
Hannah: "I wanted these huge slabs of planetary sounds to echo the excitement and wonder of our human need to explore and develop. Outer space is where only a select few can reach; yet it is somewhere we dream of going, or perhaps collectively, simply wanting to know what is out there. The unparalleled vastness in our galaxy is as equally melancholy and desolate, as Mary's lonely voyage away from all she knows".
During her teenage years in Yorkshire, Peel played trombone in brass bands: marching at weekends and wearing Dicky Bows at competitions and so naturally the 'brass' sound has become very much a part of her creative DNA. Her relentlessly explorative production and love of music made by analogue machines has evolved over the last few years and is now a key element in her solo work.
On this album, she explores two very different worlds – the power of the brass band players combined with the sub-bass impact and air resonating force of the synths but she also creates a very human and intimate, at times fragile sounding record through her collection of 'breathing' vintage electronics, found sounds, the nuances of the individual brass instruments and the subtle ambience of her voice combining with the real and raw breathing, shuffling and 'spit' of the players themselves.
With her research spanning from conversations between the public Astronomer at the Royal Observatory Greenwich, Marek Kukula, and extensive reading of books on theoretical physics, as well as memoirs on dreams, Peel confirms that no matter where we travel to and what we discover, 'we are all creatures of the land' (A Land, Jacquetta Hawkes, 1951). And that "…in all that immensity of black holes, supernovas, galaxies, nebulae, the most astonishing and the most complex natural object we have discovered in the entire universe is right here on earth, it's in our heads, it's the human brain" (Marek Kukula, May 2017).
At the close of the album's final song 'The Planet of Passed Souls', tutti brass jostle with the hiss and crackle of a 78rpm record. An emotionally charged, scratchy sample taken from a 1928 recording of Peel's own choirboy grandfather in Manchester Cathedral leaves the listener questioning the reality of Mary's connection with the stars… Did she ever make it to Cassiopeia? Is this all a daydream as she sits in a back garden shed tinkering with electronics and her telescope? Or maybe this is her final breath as her mind and body pass into another realm of life? Is this science or fantasy? And how much is there really a division between the two?
As Isaac Newton's stated on his discoveries in 1692, "…be material or immaterial, I have left to the consideration of my readers".
The last year has been one of Peel's busiest: In 2016, in addition to her solo album which shone a hopeful light on the devastating and fragile world of dementia, she collaborated with Beyond The Wizard's Sleeve (aka Erol Alkan & Richard Norris) on the singles 'Diagram Girl' and 'Creation' and her band The Magnetic Northreleased their widely praised second album, 'Prospect Of Skelmersdale' in March '16. She has also been a guest panelist on several discussions on the effects of music and the brain.
Her single 'Tenderly' from the album was playlisted by BBC 6 Music and in the wake of a sold-out headline show in Shoreditch Church in November 2016 featuring readings by actor Christopher Eccelston and writer Lavinia Greenlaw, Peel was interviewed by Radio 4, The Guardian and Lauren Laverne (who also invited her to play a BBC 6 Music session).
Peel first came to recognition with her modest yet mesmerizing, hand-punched 'music box' EP 'Rebox', featuring covers of '80s bands Cocteau Twins, Soft Cell, & New Order. Having released her critically lauded solo debut album 'The Broken Wave', Peel then formed The Magnetic North, a highly acclaimed and expansive collaborative project with long term collaborator Gawain Erland Cooper (Erland & The Carnival) and Simon Tong (The Verve, The Good the Bad and The Queen, Gorillaz).
A handful of special shows in 2017 around the UK with the full 29-piece Colliery band and synths will accompany the release including an appearance at Blue Dot Festival and WOMAD.
Pre-order: https://hannahpeel.tmstor.es/
Tracklisting:
01 – Goodbye Earth / 02 – Sunrise Through The Dusty Nebula / 03 – Deep Space Cluster / 04 – Andromeda M31 / 05 – 
Life Is On The Horizon / 06 – Archid Orange Dwarf / 07 – The Planet Of Passed Souls
Live shows for Mary Casio: Journey To Cassiopeia
1st July – Hull – Capital of Culture (15 minute excerpt Live on BBC Radio 3 including a composer talk) Tickets
8th July – Bluedot Festival Tickets
9th July – Southbank London (Excerpts – Music Biennial commission with PRS Foundation.) Tickets
29th July – WOMAD Festival Tickets
5th August – Edinburgh Festival Tickets
23rd Sept – Liverpool – Liverpool Philharmonic Concert Hall Tickets
30th Sept – Stockton – The Arc Tickets
21st Oct – Barnsley – The Civic Theatre Tickets
28th Oct – Basingstoke, The Anvil Concert Hall Tickets
www.hannahpeel.com
https://www.facebook.com/HannahPeelMusic/
https://twitter.com/hanpeel
https://www.instagram.com/hannahpeelmusic
https://soundcloud.com/hannahpeel