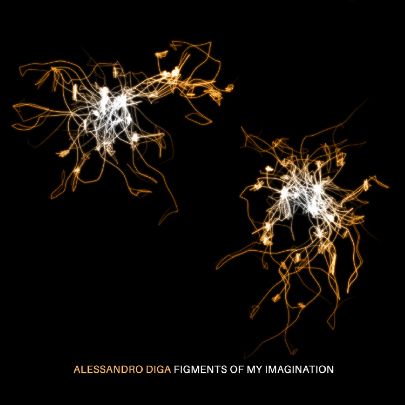 Alessandro Diga - Figments Of My Imagination LP
The stars are aligning perfectly to indicate that this will be a very exciting year for rising Dutch DJ/Producer Alessandro Diga. His 'Figments Of My Imagination' debut artist album, signed to Paul Hazendonk's forward-thinking Manual Music label, has been patiently waiting in the wings, its exquisitely dynamic, deeply melodic, stylistically diverse tracks set to deliver an incredible listening experience. For Alessandro, music is all about emotions. His prime creative challenge is to capture the emotions from a moment in time and embed them forever within his musical creations – no compromises, no obligations – just pure heartfelt honesty.
Opening with the slow-build, teasing, melodious, meandering of 'Papillon', as it flutters delicately like a butterfly on the breeze, you know this is an album that will be full of delightful surprises. Alessandro's vivid musical imagination is immediately on show throughout the mellow, deep and inviting flow of 'Najarro', and expanded upon as the aural challenge of 'Echoing Silence' demands close attention – its sophisticated, complex arrangement, delving into experimental, deep techno territory.
An expansive creative palette is being intricately revealed by the time 'Echoing' flumes sensationally into the enveloping bass-heavy groove and spiralling melodic flourishes of 'The Peaks', and as 'Orchestra' see-saws with intense emotional beauty, Alessandro's melodic mastery takes full control. 'Skies Are Crying' (recently released as a teaser single with remixes alongside the seriously funked-up techno attitude of 'Grace's Secret') is a wonderfully moody and melancholic gem that neatly blurs the boundaries that truly great electronic music so often does so well, flowing perfectly into the energetic, swarming intensity of 'Standing On My Feet' with its melodious crescendo of a finale.
Alessandro reveals that his creative palette includes the clever use of vocal elements as he builds the deeply enthralling 'Over You', whilst the wonderfully restrained intro to 'Retrospect' blossoms into yet another shimmering rush of his trademark joyous melody rich emotion. Saving something special as a finale, the album's concluding piece 'You Put A Smile On My Face' breathes hope, melancholy and a starburst of joy in equal measure, completing what is a supremely creative debut electronic extravaganza from a young artist who undoubtedly has a very bright musical future ahead of him.
This innovative, bold, vivacious and essentially melodic music will already be familiar to fans of the Manual, Traum, Sudbeat,Bergwacht, Outside The Box, Perspectives Digital and Particles labels, where Alessandro's music has previously found a home. His highly original creative style perhaps owes something to a musical background that saw him start with playing the trumpet and bugle as a youngster, before mastering the guitar and joining a punk band and then, finally, being sucked into the electronic music scene.
With an album release tour of Holland being prepared to take place throughout the summer, and highly collectable, limited edition CD copies of the album being pressed for release at https://manualmusic.bandcamp.com/album/figments-of-my-imagination, another exciting chapter in Manual Music's meticulous history is about to unfold.
Artist Info:
https://soundcloud.com/alessandro-diga
https://soundcloud.com/thewhiteshadowfr
https://soundcloud.com/emiel-van-den-dungen
Label Info:
http://www.manual-music.com
https://soundcloud.com/manual-music
https://www.facebook.com/manualmusicofficial
https://www.beatport.com/label/manual-music/1488