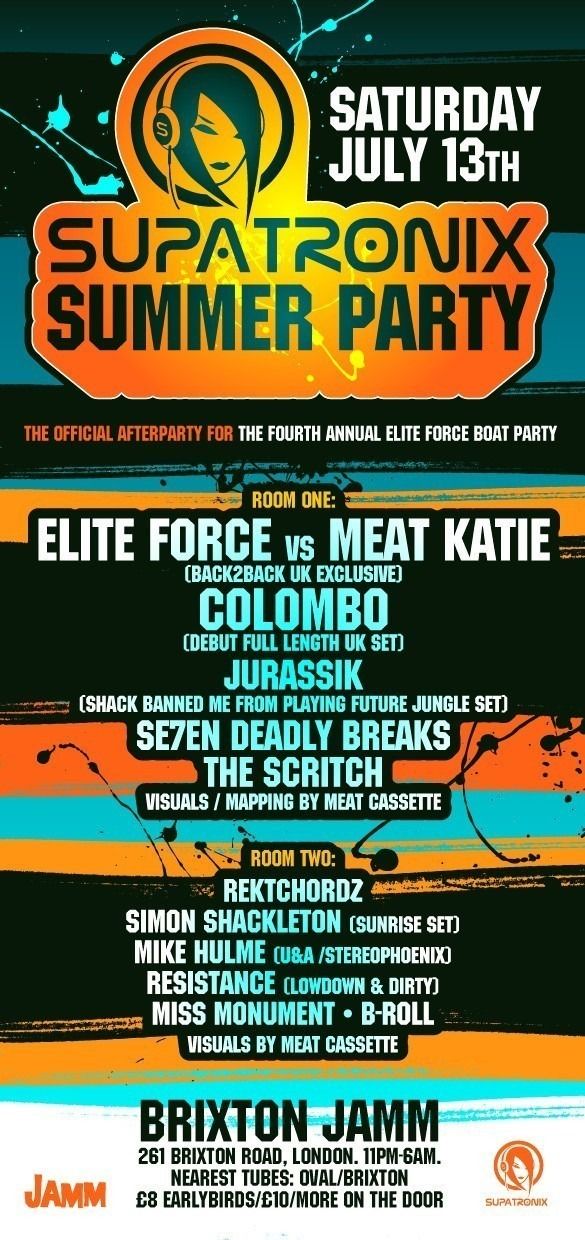 Supatronix & Official Elite Force Boat Party Afterparty
The night features two sets from eclectic legend Elite Force himself, the first being a rare back to back appearance with long-time collaborator Meat Katie, and the second a special early hours performance under his new Simon Shackleton monicker.
Co-headlining, we have the debut full-length UK set appearance from Spanish breaks legend Colombo. A Breakspoll-winner and hero of the scene, he's never played in Britain outside of the annual breakbeat awards, so this is a rare treat indeed for the heads.
Support in room one comes from Supatronix's Jurassik and Se7en Deadly Breaks (newly crowned best breakthrough DJs at Breakspoll), along with California-based breaks DJ The Scritch, the globetrotting hero of the Nexus stage at the annual Burning Man festival in the States. In room two, tech icons Mike Hulme and Resistance are joined by Supatronix regulars Miss Monument and B-Roll.
Visuals in both rooms will be provided by regular Elite Force collaborators Meat Cassette, so this will be something special to look at too.
The Line up:
Room one:
Elite Force vs Meat Katie (Back2Back UK Exclusive)
Colombo (Debut full length UK set)
Jurassik
Se7en Deadly Breaks
The Scritch
Visuals / Mapping by Meat Cassette
Room two:
Simon Shackleton (Sunrise Set)
Mike Hulme (U&A /Stereophoenix)
Resistance (Lowdown & Dirty)
Miss Monument
B-Roll
Visuals by Meat Cassette
More information on the boat party and joint tickets which get you into both events here:
http://originalsat.jpgwww.eliteforcemusic.com/boatparty/