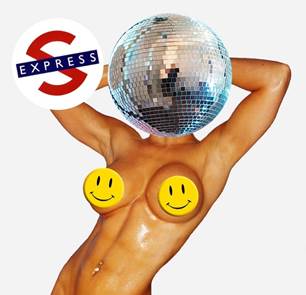 S'Express - Superfly Groove (Reuben Wu Ladytron Remix)
"Mark from S'Express used to come round to my house in the early PiL days. They made very good dance records. I was quite pleased and surprised that they said I influenced them. There is no similarity in sound and approach at all, but that's where they are getting it right. They didn't copy." John Lydon, taken from John Robb's Punk Rock An Oral History

"Mark Moore! The wizard from the Mud Club. The first DJ I was a true fan of. An artist to whom I owed everything during my time in London, who'd taught me about whole areas of music I'd never known existed." Laurent Garnier, taken from Electrochoc

"Mark was someone who introduced me to how DJing could be glamorous. He dressed very well, in gold lamé jackets, with bouffant hair and makeup. In a day and age where DJs weren't entertaining to look at, he was actually entertaining to look at. His presence was quite something." Harvey

"Moore was one of the first DJs to play house music in the UK. He was also the band leader of S-Express, an all-round fabuloso and a modern dandy of the highest order. We salute him, verily." DJ History

"Mark Moore is often cited as one of the UK pioneers who championed house." Greg Wilson

On 27th May the legacy and influence of Mark Moore and S'Express is celebrated with 'Enjoy This Trip' – a collection of remixes and cover versions by artists Mark has been an influence on and friend to, including Chris & Cosey, Tom Furse from The Horrors, Horse Meat Disco and Ray Mang. The album art is a homage the punk-era work of artist Linder Sterling and is designed by another friend – Trevor Jackson.

A bundle of bonus remixes and extended versions is also available digitally including Primal Scream's cover of 'Mantra For A State Of Mind', taken from their Record Store Day single.

Mark Moore is a respected and loved character, who's deeply-ingrained in the history of UK club culture, and is hugely influential on both dance and pop music.

Having been around since the vibrant pre-house days of early 80s London, regularly attending cultural hotbed The Blitz, Mark first started DJing at Philip Salon's legendary Mud Club when the resident DJ Tasty Tim asked him to fill in one night. Due to his extensive record collection of disco, new wave and italo Mark was a huge hit with the crowd and was immediately offered a residency, which he held for over five years.

As a regular attendee and occasional DJ at another feted London nightspot – The Wag – Mark even made it into the video for David Bowie's 'Blue Jean', which casted London's nocturnal creative elite.

Mark also held a residency at Heaven's lauded Asylum night (which later became Pyramid). He was one of the first supporters of Chicago house and Detroit techno in Britain, (mixing it with electronic European dance music like Yello, Soft Cell and Cabaret Voltaire), alongside Colin Favor and Evil Eddie Richards. Being the first night in the UK to play house music, the venue attracted Danny Rampling, Mr C, Pete Tong, Paul Oakenfold, The Pet Shop Boys, and even Liza Minelli. This led to Rampling offering Mark guest spots at the seminal Shoom nights, and also a guest set at The Hacienda's Zumbar party.

Having played a key part in the UK's house music rise, Mark took things up yet another level. His idea to form S'Express with co-producer Pascal Gabriel was a natural progression from life as a regular on the club scene. Swept along on a huge wave of excitement for acid and rave culture, S'Express had a number one chart smash with 'The Theme from S-Express'. This was their first of several worldwide hit records which helped thrust these new sounds into the world's spotlight and positioned dance music/DJ culture as a viable force. Mark's meteoric rise to fame – due in part to his flamboyance and fabulousness – paved the way for electronic dance music stars to come.

With Mark's keen ear for new talent, the first S'Express album 'Original Soundtrack' featured vocals from a girl just starting her singing career – one Billie Ray Martin. The second LP, 'Intercourse', featured additional production from then then barely-known William Orbit and Carl Craig.

Mark has remixed Prince, Erasure, Malcolm McLaren, Randy Crawford, Divine & Bobby O, Dead or Alive, The B52s and Soft Cell. A (surprising) additional remix/collaboration was with Philip Glass, who Mark befriended following their work together on a version of 'Hey Music Lover'.

Moore has written and published short stories and interviewed Siouxsie Sioux and John Waters for publications including i-D. He appeared in the documentary 'Joy Of Disco' and guested on a recent news program in tribute to David Bowie, both for the BBC.

A unique and eclectic DJ, complete with trademark red telephone-headphones, he still throws parties for the cognoscenti and plays choice DJ sets at some of the world's finest clubs, and also as support for Psychic TV, Grace Jones and Scissor Sisters live shows.

In recent years Mark has been at the helm of infamous nights that carry the torch for artistic and glamorous extravagance like 'Electrogogo' and 'Can Can', which have featured DJ sets from Bobby Gillespie and Marc Almond. His newest endeavour is the 'Private Life ' nights at the Victoria in Dalston), where the music policy harks back to legendary New York clubs like The Roxy and Danceteria circa '79 – '84.

Mark has also ran several labels: Splish, Stylofiction and Bone in the 90′s – followed by Umami in the noughties and his new imprint Needle Boss, whilst his recent productions include 'Dreams Of Deja Vu' with Roland Faber and S'Express's 'Excursions EP', which featured remixes by Vanilla Ace, The Supermen Lovers, I-Robots, Punks Jump Up.
www.markmoore.com
https://www.facebook.com/markmoore.sexpress
https://twitter.com/markmoore01/
www.soundcloud.com/markmoore01
www.instagram.com/markmoore01

'Enjoy This Trip' tracklisting:

1. S'Express 'Theme From S'Express' (Tom Furse Update)
2. S'Express 'Pimps Pushers Prostitutes' (Horsemeat Disco Remix) feat. Billie Ray Martin
3. S'Express 'Hey Music Lover' (Punks Jump Up Excursion Album Version)
4. S'Express 'Mantra Mania' (Monarchy Remix)
5. S'Express 'Superfly Guy' (Jagz Kooner Tainted Paradise Update)
6. S'Express 'Lollypop' (Chris & Cosey Remix)
7. S'Express 'Gonna Take You Higher' (Mr Watt Update)
8. S'Express 'Mantra For A State Of Mind' (Ray Mang Remix)
9. S'Express 'Did You Lose It' (Mark Moore & Roland Faber Update) feat. Sonique
10. S'Express 'Pimps Opus' (Kent Odessa Remodel)
11. S'Express 'Special And Golden' (Kamp! Remix)
12. S'Express 'Superfly Groove' (Reuben Wu Ladytron Remix)
13. S'Express 'COMA' (Cult With No Name Remodel)
14. Fragile Souls 'Nothing To Lose
15. Noam Kantatik 'Twinkle