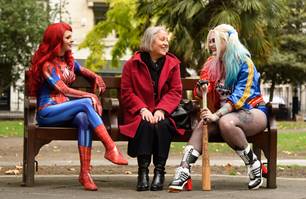 Superheroes and Villains descend on London for MCM Comic Con
A group of superheroes and villains were spotted in various London commuter hotspots this morning, dazzling Londoners on their way to work.
Commuters were stunned to see the five cosplayers – Iron Man, Spider Woman, Bane, Suicide Squad's Harley Quinn and Aquaman – as they made their way to work.
Dressed in full hair, makeup and costume, the troupe featuring Britain's leading cosplayers were in London to celebrate the launch of MCM London Comic Con – the UK's largest pop culture festival which returns to the capital from 26-28 October at ExCeL London.
MCM Comic Con draws in thousands of cosplayers, movie buffs, comic fans, families, gamers, collectors and anime enthusiasts, with the chance to meet movie cast members, authors and directors.
Fans typically come dressed as their favourite characters from movies, comics and games, which is known as cosplay – or 'costume and play'.
Fans can enjoy free panels and exclusive screenings at the event with cast members, authors and directors; meet top UK influencers in CreatorScape, play the latest games in the GamingZone and compete in or watch the UK Championships of Cosplay.
The special guest line-up includes:
Paul Bettany – who plays JARVIS and Vision in the hugely popular Marvel Cinematic Universe films
The cast from US supernatural TV series Shadowhunters
Doctor Who stars: Colin Baker, David Bradley, Bernard Cribbins, Paul McGann
Other guests include the stars of popular Geek & Sundry web series Critical Role, Matthew Mercer, Marisha Ray, Liam O'Brien, Sam Riegel, Taliesin Jaffe and Brian Foster, who will be going behind the scenes of their epic Dungeons & Dragons role-playing campaigns.
Fans can experience some horror with MCM's spooky guests Tony Todd (Candyman), Kane Hodder (horror icon Jason Voorhees), Katherine Isabelle (Ginger Snaps) and Ray Santiago (Ash vs. Evil Dead).
They will also get the chance to meet talented voice actors Vic Mignogna (Full Metal Alchemist), Veronica Taylor (Pokémon, Yu-Gi-Oh!) and Zach Callison (Steven Universe).
Writers and artists behind the world's biggest superheroes, including Batman, The X-Men, Spider-Man, Harley Quinn, The Hulk and Daredevil will also be shining the spotlight over the weekend.
Josh Denham, MCM London Event Manager, said "This morning's cosplayers certainly turned heads, and that's just a taster of what's in store for this weekend. We are thrilled to open the doors of MCM Comic Con London and play host to the best of pop culture for our fans. We are bringing amazing talent, incredible panels and exclusive content for our fans to enjoy across the weekend."
Panel information:
Slaughterhouse Rulez – director and cast members discuss the new movie
The Last Kingdom – lead cast members join series writer for a Q&A
Outlander – exclusive UK premiere screening of first episode of season 4
Firestorm – screening and cast panel Q&A of the new puppet TV series from Gerry Anderson, creator of Thunderbirds
Spider-Man: Into the Spider-Verse – screening and cast panel Q&A
Mortal Engines – Exclusive footage shown throughout the weekend
Mandy – screening of Panos Cosmatos' new gore filled horror, starring Nicolas Cage
WEEKEND TICKETS ARE SOLD OUT. For more information and to purchase day tickets, please visit www.mcmcomiccon.com and MCM Comic Con's social media pages.
Additional details about MCM Comic Con events, guests and sponsors will be announced in the coming week.