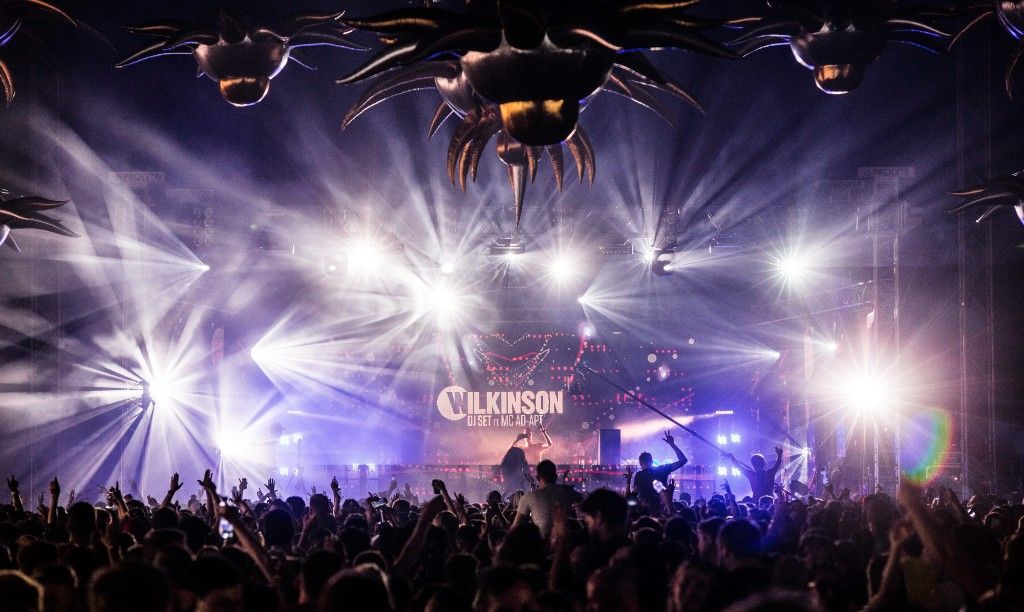 SW4 add Wilkinson (live), Goldie vs My Nu Leng, Julio Bashmore, Claptone + more
A momentous fortnight has seen South West Four 2017 begin to take shape, announcing the return of Pendulum LIVE, who reform for the first time in six years to close our main stage at SW4 Saturday. Not forgetting musical maestro Deadmau5 who headlines Sunday with a first London show in three years and back by popular demand.

Adding to the bank holiday festivities is a further twenty world-renowned acts, each regarded as an innovator within their specific genre. Hence continuing our wide ranging remit for 2017 which has resulted in phenomenal ticket sales to date. So drumroll please as South West Four proudly presents the next artists to join London's biggest dance music festival…
MORE SATURDAY ACTS ANNOUNCED!

WILKINSON (LIVE)

After blasting to fame in 2012 with sensational track 'Afterglow', this home grown talent has crafted releases now considered amongst the best of contemporary dance music. His exhilarating LIVE shows have seen Wilkinson wow festivals from UK to the USA. Plus with hype for new album 'Hypnotic' beginning to swell, a UK Tour about to commence and selling out Camden's prestigious venue 'The Roundhouse' weeks in advance, we can't wait for Wilkinson to kill it at SW4!
PLUS DJ SETS FROM (A-Z)
CAMELPHAT, CLAPTONE, GOLDIE VS MY NU LENG, HYPE B2B HAZARD, JULIO BASHMORE, KC LIGHTS, KUNGS, SASASAS
CAMELPHAT
An unprecedented twelve months has seen Camelphat capture the hearts of revellers around the world with charismatic productions and invigorating showcases. As proved by new release 'The System' achieving Top 10 status in Beatport's 'Deep House' chart and EP 'Deets' commended by industry champions such as Pete Tong. Expect these guys to fire things up on the Common.

CLAPTONE
Returning for a third time, this mysterious enigma prepares for another aural assault at SW4. That jazzy re-work of 'Liquid Spirit' was labeled last year's feel good anthem, with widespread acclaim catapulting Claptione into the elite of electronic music. Since then a capacity show at London's illustrious Electric Brixton, regular performances at Ministry of Sound plus Amnesia Ibiza amongst others and the burgeoning popularity of Claptone's raucous parties under 'The Masquerade' banner – deem this a flagship inclusion for 2017 .

GOLDIE VS MY NU LENG
With a career spanning over two decades Goldie is regarded a true legend. His OBE recognition is instrumental in inspiring not only aspiring artists but industry peers too! Fitting then this household name makes a SW4 debut on Saturday, for one of the Capital's most anticipated festival appearances this summer. But don't forget the best things come in pairs!

So to form an ear splitting ensemble, Goldie is joined by My Nu Leng – current trailblazers in bass music for a B2B of epic proportions! The Bristol based duo may be relative newcomers but are cherished within the scene for production skills second-to-none and an incomparable sound. Earning regular airtime on BBC Radio 1 and 1Xtra, this exposure has led to global recognition in record time.

HYPE B2B HAZARD
Known for CDJ wizardry and a jaw dropping dexterity behind the decks, DJ Hype is amongst the most respected ever ambassadors for D&B. His trend setting label 'Playaz' has gone from strength to strength with a standout residency at Fabric, crowned by a jump-up style and technical ability which mystifies the dance floor.

Joining our main man will be the protégé himself! In just a few years, Hazard has knocked out anthems aplenty and is now recognized as an outstanding producer. A force to be reckoned with, this exclusive London back to back a proud addition to this year's roster.

JULIO BASHMORE
Julio's distinctive sound dictates he always stands tall from the crowd, taking influence from icons such as Daft Punk and Cassius. Managing to hone his sound down the years to produce some of the most accomplished house music tracks of recent times. Pushing a unique sound to earn endorsements from Annie Mac and Carl Cox, as well as headline shows throughout Europe on a regular basis. So onwards and upwards as Julio joins an array of the scene's stalwarts to make his long awaited SW4 debut on Saturday 26th August.

KC LIGHTS
In 2015, KC Lights illuminated the house music genre as 'No No No' became the definitive Ibiza anthem of that year. The smash hit soared to No.3 and No.10 respectively in the dance charts for Radio 1 and Shazam, leading to Annie Mac proclaiming 'Yes Yes Yes' for inclusion in her namesake compilation 'AM Presents…' A career defining moment then, which has continued to grow with frequent collaborations and performances alongside heavyweights MK, Rudimental, Danny Howard and Hannah Wants. We are super stoked for this Glaswegian producer to bring his melodic and fresh beats to South West Four!

KUNGS
The last twelve months has been a whirlwind for the fledgling producer, as Kungs continues to forge a unique and distinct niche. His remix of 'This Girl' erupted into the charts, claiming top spots in Germany, France, Russia, Switzerland and receiving prestigious 'Platinum' status in both Britain and Australia. At just twenty years old, this young age belies a tour itinerary which has included playing alongside David Guetta, NERVO and Robin Schulz. Plus with the excitement which surrounded debut album 'Layers' still very much lingering, Kungs at SW4 will be class.

NETSKY
Adored by fans worldwide, Netsky's talents both in the studio and whilst performing knows no limits. From humble beginnings to selling out stadium sized shows in all four continents, Netsky has become a mainstay at South West Four. Recently announcing his own stage at 'Tomorrowland' and selling out a series of tours with both his live and DJ concepts, the man from Antwerp has never seen so many accolades! A favourite with the Clapham Common faithful we can't wait to welcome him back.

SASASAS
What do you get when combining six of the slickest MCs and DJs in Drum and Bass? Think a sonic boom of energy and explosion of intense sound, an unrivaled experience that's not to be missed! The collective consisting of Harry Shotta, Stormin', Shabba D, Skibadee, Macky Gee and DJ Phantasy have already performed a host of recent sell out shows and specifically chose SW4 as next on the hit list. An ever-growing fan base and unbelievable buzz meant we had no option but to duly accept.
£99 WEEKEND TICKETS COMPLETELY SOLD OUT!
LAST REMAINING £55 SATURDAY TICKETS SELLING FAST
SW4 2017 has sold a record number of weekend tickets with thousands already securing their place at both days! £99 weekend tickets are now SOLD OUT and the last remaining £55 Saturday tickets in short supply and set to sell out imminently. So please quickly to avoid disappointment.
Also for the first time ever, SW4 will be offering a deposit scheme where you can secure a weekend or day ticket for only £20! This works out more expensive than buying in one go, but however added flexibility with payment in x3 installments. Dates of the 2nd and 3rd payments will be outlined once initial payment is made. Also note the deadline of Wednesday 1st March to take advantage of this scheme.
If yet to secure SW4 tickets, get involved by visiting the website:
www.southwestfour.com/tickets