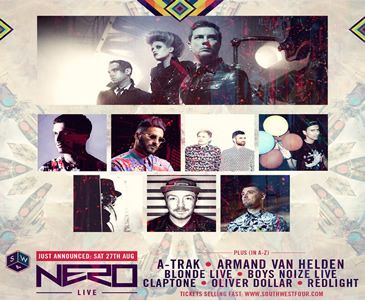 SW4 Festival Adds Nero, Armand Van Helden, A- Trak, Boys Noize + more
Last week saw the launch of phase two of your SW4 2016 line-up, the next stage in our quest to deliver the very best to London's premier electronic weekender. After commissioning our latest attack with the mighty Knife Party confirmed as another Saturday headliner, we're armed with our next set of artists ready to be unleashed and join us on Saturday 27th August. Including sought-after Brixton Academy headliners, pioneering genre-defining producers and exciting breakthrough debutants, today see's us continue to build what we promise to be the biggest and best line-up London has to offer this summer…

JUST ANNOUNCED FOR SW4 SATURDAY…NERO

After witnessing their dramatic return to the forefront of the live electronic scene through an unforgettable sold out date at Brixton Academy last November, we were left with simply no choice but to invite Nero [Live] back to SW4 for an outdoor summer performance. Their winter resurrection saw them stamp their authority once again and leave a devastating mark on the capital where they have chosen South West Four as their only London festival date. Their return saw the three piece Grammy-award-winning band back to their very best following the launch of their second album 'Between Two Worlds', an eclectic dub-flavoured morphed mix of drum and bass, dubstep and electro. Boasting standout tracks 'Two Minds', 'Into the Night' and 'Dark Skies', this twelve track bass-driven statement has forced their position amongst the electronic elite. Showcasing one of the most fiercely anticipated live shows, don't miss them on Saturday 27th August.
TICKETS AVAILABLE VIA: WWW.SOUTHWESTFOUR.COM

DJs ANNOUNCED IN ALPHABETICAL ORDER…

A-TRAK • ARMAND VAN HELDEN
BLONDE [LIVE] • BOYS NOIZE [LIVE] CLAPTONE • OLIVER DOLLAR • REDLIGHT

Also returning to the capital for the first time since headlining Together at Ministry of Sound is one of most talented turntablist to have ever walked the planet. Returning to SW4 for the first time in four years, technical wizard A-Trak will be on hand in one of the most exciting arrivals of this year's Bank Holiday Weekender. Famed for an unrivalled set of inhumane skills and daring selections, the US jock has become renowned for his mind-boggling ability to cut and scratch seminal tracks. As one half of Duck Sauce alongside Armand Van Helden, his performances have become the stuff of legend. With an exclusive summer date at SW4 on the horizon, we're excited to see what the Fools Gold boss has on store.

Responsible for helping to define the face of house music through producing some of its most seminal tracks, South West Four is extremely proud to welcome one of the most in-demand acts to ever grace the world of electronic music as we bring Armand Van Helden to SW4 for the very first time. His famously popular, inimitable style has led to a series of household tracks that have become the soundtrack of an entire generation. From 'Funk Phenomena' (1998) to 'You Don't Know Me' (1999) and 'My My My' (2004) to 'I Want Your Soul' (2007), it's clear to see that the godfather of house music has played an intrinsic role in helping to shape the electronic landscape into what it is today. Armand joins us for a long-awaited South West Four debut where his performance promises to be met with huge anticipation as one of dance music's most respected individuals joins us exclusively this August.

Celebrated as one of the UK's hottest breakthrough acts after bursting onto the scene with certified summer anthem 'All Cried Out', Adam Englefield and Jake Manson aka Blonde [Live] have confirmed their SW4 debut this summer. Hailing from Bristol, the duo has enjoyed an unstoppable rise to the top thanks to a plethora of undiluted underground influences. Their contagious, feel-good vibes have led to stellar dates across Europe and beyond including an impressive special guest performance for Together recently at Ministry of Sound. The next few months will pave the way for the duo even further with their brand new track 'Nothing Like This' alongside Craig David set for imminent release. Another defining summer cut, this will only boost their soaring profile even further before they arrive exclusively at SW4 2016.

Through hosting his own arena at SW4 2010 to revealing his boundary-breaking live show at our 10th anniversary in 2013, we are pleased to announce that Boys Noize [Live] is back for another exclusive appearance. He arrives in London for the first time in just under a year where his mind-blowing production set up will once again steamroll onto Clapham Common for another uncompromising attack of his trademark genre-defying beats. Delivering a sound that refuses to be pigeon-holed, Alex Ridha's fearless fusion of house, techno and electro have formed the backbone of his pioneering imprint Boys Noize Records which celebrated an impressive 10 years through a series of parties in 2015. Now ready to return to London for an outdoor summer onslaught, we're excited to bring one of Berlin's favourite producers back to South London as he chooses SW4 for his exclusive date.

Flaunted as electronic music's most mysterious and interesting acts, 2016 sees us welcome back the brilliant Claptone following a spectacular debut on our main stage last year. Their debut album 'Charmer' reached critical acclaim with standout track 'The Music Got Me' gaining worldwide success. By credibly bridging the gap between the underground and mainstream, Claptone has garnered a dedicated global fan base making them one of most important acts in today's market. Caped in mystery with signature masked performances, Berlin's hottest house returns for another sublime showcase.

2015 welcomed many acts making their debut at the festival but none stood out quite like our next act. Returning on pure merit and overwhelming public demand, SW4 can reveal that Berlin-based Oliver Dollar is back for 2016. A favourite amongst the electronic community, Oliver has enjoyed worldwide success thank to the release of leading productions 'Pushing On' and 'Do You Feel The Same'. Showing absolutely no sign of slowing down, his diary features only the best club and events the world has to offer including several dates for Together at Amnesia Ibiza. Don't miss the return of one our favourite acts as he prepares for another electronic masterclass.

Completing this announcement is an act that we have closely monitored over the years due to his varied styles and sough-after production methods. Born in Bristol but based in London, we can finally reveal that Redlight will also arrive this summer. Last October saw the release of his debut album 'X Colour', a refreshing take on the British producers varied style. Dates at Together at Amnesia, Cuff at Sankeys and other top European destinations highlight his talents even further. Retuning to Clapham Common for the first time in four years, there's no question he joins us at the peak of his career.

SW4 SATURDAY LINEUP SO FAR…
Rudimental [Live] Dizzee Rascal [Live] Knife Party
DJ EZ · MK
Plus in alphabetical order:
Amine Edge & Dance
Armand Van Helden
A-Trak
Blonde [Live] Bondax [Live] Boys Noize [Live] CamelPhat
Claptone
DJ EZ
Flux Pavilion [Live] Friction
Gorgon City
Kidnap Kid
MistaJam
MK
Nero [Live] Netsky [Live] Noisia
Oliver Dollar
Redlight

+ MANY MORE TO BE ANNOUNCED ACROSS 4 STAGES
HOSTED BY TOGETHER, RAM, WELCOME TO GORGON CITY AND SW4 LIVE

SW4 SUNDAY LINEUP ANNOUNCED SO FAR…

The Chemical Brothers [Live] Above & Beyond
Paul Kalkbrenner
Plus in alphabetical order:
Bakermat
Booka Shade
Cirez D
Damian Lazarus & The Ancient Moons [Live] Four Tet
Fritz Kalkbrenner
Hunter/Game [Live] Joseph Capriati
Maribou State (DJ Set)
Recondite [Live] Sasha
Sister Bliss (Faithless)
Sven Vath
+ MANY MORE TO BE ANNOUNCED ACROSS 4 STAGES
TICKETS AVAILABLE VIA: WWW.SOUTHWESTFOUR.COM