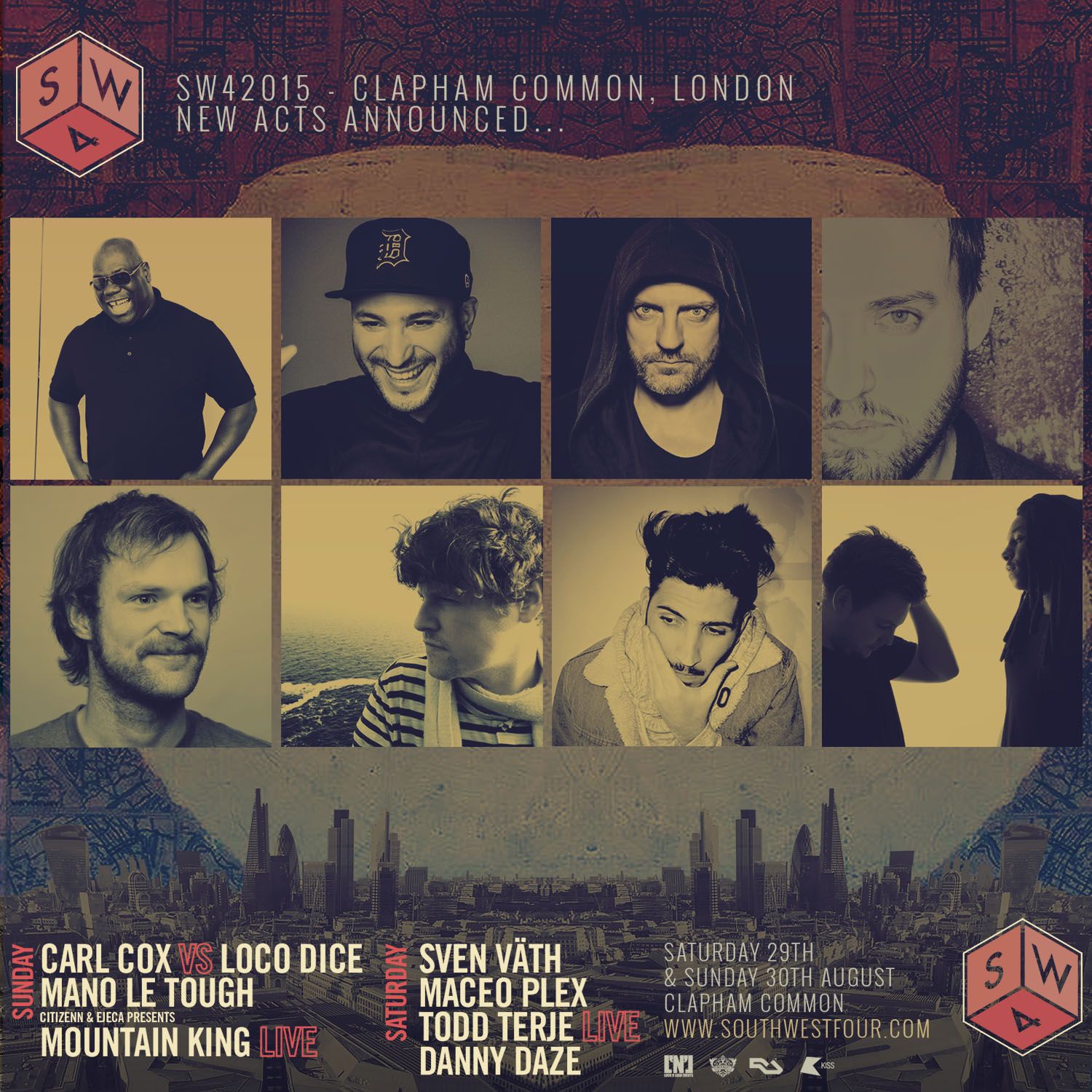 SW4 launches phase 3 of 2015 lineup
House and Techno. Two words which form the backbone of South West Four. Over the years the very greatest names have come to Clapham Common, delivering the most scintillating performances in the process. 2015 will be no different, as we present the strongest lineup of underground stalwarts to ever grace SW4.
So far our lineup has featured a combination of new and familiar faces, with debuts handed to the likes of Luciano, Dixon, Dubfire LIVE, Apollonia, Pan-Pot and Joseph Capriati and a welcome return for Marco Carola, Maya Jane Coles, Adam Bayer, Tale of Us and Sasha, amongst others. As the third phase of our lineup launches with another round of international heavyweights we think we've outdone ourselves. We hope you agree…
ADDED TO SW4 SUNDAY…
CARL COX VS LOCO DICE
MANO LE TOUGH
CITIZENN & EJECA PRESENTS MOUNTAIN KING LIVE
"I look back to the old days of me being on the Common and now things have obviously changed a lot, but it's still South London, it's still Clapham Common. It's still true to my roots of where I came from and who I am as a DJ. I have built my career from coming from South London and I'm very proud of that. As I have built my career and become a worldwide name, it all really started from Clapham Common." Carl Cox
"I have no idea what's going to happen, I have no clue what's going to happen. The only thing I know now is there will be 100% excitement. We are ready for this show for sure. I don't let it get to close to me otherwise it will drive me crazy. I just deal with it at the moment when I'm on the turntables. That's the best and it's very natural and it comes from the heart." Loco Dice
CLICK HERE TO WATCH CARL COX & LOCO DICE SW4 PROMO FILM:
WWW.SOUTHWESTFOUR.COM/VIDEOS
Carl Cox vs Loco Dice. A meeting of minds. A meeting of masters. At SW4 2013 these two titans clashed for the very first time in the UK with a set which went down as one of the greatest in our history. Two years later they return to headline our second indoor main stage on Sunday 30th August and inflict an even greater level of destruction than they were responsible for twenty four months previously.
Carl's relationship with South West Four is well documented. An unbreakable bond has resulted in this being his seventh performance at SW4 in our twelve year history. On every appearance Coxy has displayed the kind of mind-blowing ability that has pushed the boundaries of DJing over the past thirty plus years and illustrated why he is considered amongst the very greats of electronic music. In 2015 Carl returns to Space Ibiza to host another season of his seminal residency, interwoven by headline appearances at the world's leading clubs and festivals and the release of his hugely anticipated collaboration with Chic's Nile Rogers. This unrivalled crossover formula is what has kept Carl at the forefront of all that is great about our scene over the past three decades. Be prepared to have your senses pulverised. Carl Cox vs Loco Dice is coming…
When one half of Innervision's Âme says "Thanks to Mano Le Tough, I have no fears for the future of House" you sit up and take notice. Irish born and Berlin raised, Mano Le Tough has risen to international stardom in recent years thanks to a plethora of superb productions and remixes on only the most prestigious of labels, including his own Maeve Records. He has supported this with electric performances at the crème de le crème of festivals and clubs around the world including Berghain, BPM, Dekmantel, DC10, Space Ibiza and a recent London date for Electric Minds. It's now the time for Mano to showcase his outstanding talents with a very special performance at SW4 and show why he is the future of house music.
Debuting their live show in a world exclusive at South West Four, the forces of Ejeca and Citizenn combine to bring you Mountain King Live. Expect melodic tribal rhythms and a mysterious, dark and empathetic sonic tapestry from two of the most exciting artists currently residing in UK house music. Having recently received critical acclaim for their 'Acidboi' EP on Ejeca's Exploris imprint, including tune of the month in Mixmag, Mountain King could well be the most exciting new pairing to hit the UK dance market this festival season. "It's a huge honour to be debuting our live show at such a well curated and produced festival such as SW4. We've been excited about it for a while now so we're glad we can start talking about it." Mountain King
ADDED TO SW4 SATURDAY…
SVEN VÄTH • MACEO PLEX
TODD TERJE LIVE
DANNY DAZE
Pioneer. Visionary. Legend. Superlatives like these are easily banded around in dance music circles but when you are recognised as one of the most iconic figures within the industry, as well as one of the greatest DJs to ever walk the Earth, they are fully justified. Sven Väth comfortably falls within all of these categories. As label boss his Cocoon imprint has helped launch the careers of some of the finest names in techno, whilst his Ibiza residency is unquestionably one of the most influential the White Isle has ever witnessed. Having celebrated his 50th birthday last year, 2015 will see Papa Sven embark on his sixteenth Cocoon season at Amnesia, as well as the usual array of headline appearances at Timewarp, Awakenings, Cocoon in the Park and the IMS Grand Opening. His return to South West Four for the fourth time on Saturday 29th August will rank as his most memorable as he headlines Maceo Plex's 7000 capacity 'Dream Don't Sleep' arena.
There are very few artists residing within house and techno today as beloved as Maceo Plex. Recent years has seen him destroy the world's most esteemed nightclubs and festivals, with his past two London appearances witnessing him host an arena at SW4 2014, followed by a masterclass performance at a sold out Electric Brixton this past Easter. This summer will see Maceo headline the opening of Amnesia Ibiza and feature heavily at Hideout in Croatia, the Slam Tent at T in the Park and Tomorrowland. Recognized as one of the most respected and accomplished artists of his generation, the Miami native returns to host his own 'Dream, Don't Sleep' arena at SW4 one more time on Saturday 29th August.
An artist we have practically been stalking for half a decade finally arrives on Clapham Common this summer as Norwegian DJ, songwriter and record producer Todd Terje makes his long awaited SW4 debut. In 2013 Todd was responsible for what many considered the track of the year in 'Inspector Norse', whilst last year he followed this up with the release of his debut studio album suitably titled 'Its Album Time.' This would go on to top album of the year charts across the world and resulted in Rolling Stone Magazine featuring Todd in their '25 DJs that rule the earth' list. If you like your disco, Todd Terje Live at SW4 is the only place to be…
Hailing from Miami, Danny Daze has championed his sound in recent years after uniquely fusing elements of Detroit techno with Italian disco to make him one of the world's most interesting underground talents. In 2014 Danny made his SW4 debut and he returns this summer having seen his profile grow ten-fold over recent months. With non-stop tours across the world and the release of productions on the finest imprints of today including Saved, Hot Creations, Dirtybird, Future Classic and long-term friend Maceo Plex's Ellum, Danny's technical prowess allows him to take musical risks. This makes him one of the most exciting acts to make the trip to South London on Saturday 29th August.