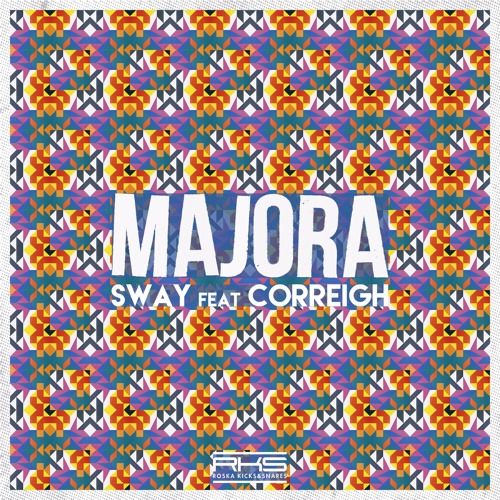 Majora ft. Correigh - Sway
RKS spearheads their march towards 80 releases with a standout track courtesy of Majora featuring the stunning vocals of UK talent Correigh. Nearing a decade at the forefront of the Funky and Urban House revival the label actively promotes cutting edge music that holds a widespread crossover appeal. Sway delivers a distinct club heavy track that is meticulously crowned with soul inspired vocals, with an engaging and innovative arrangement which relays a clubland summer anthem.
Majora who has previously appeared on the RKS imprint is no stranger to the scene and follows on from his acclaimed Allstars 7 showcasing 'Vallbandon' and 'Armor King' (2 tracker) in the middle of 2017. Majora introduces Correigh as his guest vocalist, both hailing from Slough, this pairing have offered something we see aptly traversing both the house scene and far beyond. Correigh entered the Electronic Music Scene in 2016 launching her debut in Ibiza and has already co-written with the likes of Inner City, Drizabone, Deep City Soul and her own production partner Turrican Tracks (Ben Amesbury) after appearing alongside the likes of Felix from Basement Jaxx and Roland Clark at Café Del Mar and Osunlade for Soul Heaven at the infamous Pikes Hotel.
Expect solid punctuated drums perfectly syncopated with punchy bass and tightly tuned rhythms. Sway represents a driving, relentless club mover that incorporates a strength in vocal performance that shines above the standard deliveries in this genre. Both Majora and D-Malice remix present a package that will ignite both the underground circuit and the more commercial DJ's alike, this track holds the sonic currency to standout well into the 2018 scene and open the door for more collaborations for this unique pairing.
More about Roska & the genre-blurring Roska Kicks & Snares (RKS) imprint
Roska is currently considered one of the UK's most accomplished underground exports. Via his own productions and internationally recognised label Roska's Kicks & Snares (RKS) he continues to forge a sizeable furrow at the forefront of the Funky House scene and all of its bass heavy accompaniments.
Now approaching a monumental standpoint of 80 releases the RKS catalogue holds a treasure trove of identified and breakthrough artists as they provide a platform to grow and develop with independent integrity. Considered to be a trailblazer for the return of the definitive Funky sound on home soil, Roska has continued to evolve the diversity of his feature artists and producers in line with his own global exposure as a DJ and figurehead surfacing through influential Radio channels.
RKS has welcomed the likes of MA1, Champion, Gemmy and Doc Daneeka to the label since its inception in 2009 and now functions around a core base of new artists including Tony Tokyo, J Kenzo's Jodo Kast project, Majora, Transcode and Frederique. After spending the last few years releasing across different platforms we now see the return of Roska and RKS with a reviewed focus on the future as they kickstart the lead into 2018 on a monumental high.