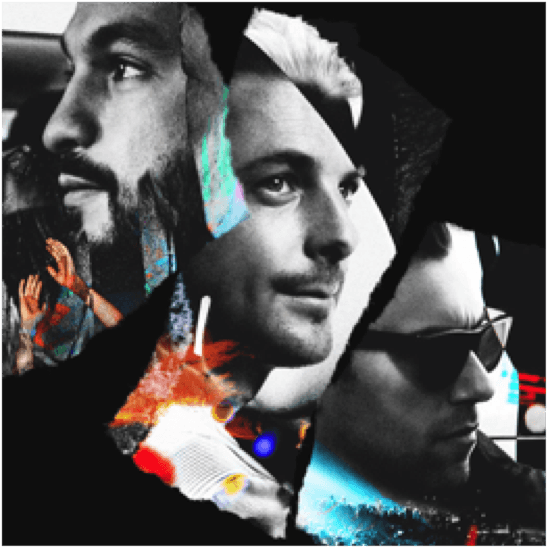 SWEDISH HOUSE MAFIA – 'ONE LAST TOUR: A LIVE SOUNDTRACK'
Swedish House Mafia today announced the release of 'One Last Tour: A Live Soundtrack'. The 90 minute recording at Masquerade Motel in Los Angeles attended by 70,000 people will accompany the release of their movie, 'Leave The World Behind' which was premiered at SXSW Festival and went on to screen in over 20 countries.
The news is today revealed in a unique manner, as fans online are asked to 'Enter your Twitter Username and Leave The World Behind' by visiting the website http://leavetheworldbehind.com/experience. A unique Twitter experience ensued, capturing the suspense of the SHM live shows and showcasing what fans had to say about the movie, exploding the users' twitter page into cyberspace to reveal the pre-order news on both the live album and the movie itself – both released on April 15th on iTunes.
The recording captures all the energy of the incredible live concept, their last but one show of the entire tour, and features all the Swedish House Mafia singles, tracks and exclusive bootlegs from Florence and the Machine, Steve Angello, Axwell, Sebastian Ingrosso, Dimitri Vegas and Like Mike and many more.

It also exclusively features the stunning acoustic version of 'Don't You Worry Child', the beautiful 'Leave The World Behind' rework by Lune, Discopolis 'Falling (Committed to Sparkle Motion)' and 'We Come We Rave We Love' by Axwell / Ingrosso.

Leave The World Behind: The Movie, and One Last Tour: A Live Soundtrack will be released digitally on April 15th and can be pre-ordered now on iTunes.
Film: http://swedishou.se/Film
Soundtrack: http://swedishou.se/OLT
Swedish House Mafia have sold over 1.7 million albums worldwide with their biggest selling single, 'Don't You Worry Child', receiving over 160 million views on VEVO/YouTube and selling nearly 6 million singles worldwide reaching the #1 spot in 45 countries across the world including the UK. The group were also the first electronic dance music act to headline the world renowned Madison Square Gardens in New York City. Tickets for the show sold out in just 9 minutes.

ONE LAST TOUR – A LIVE SOUNDTRACK
OUT APRIL 15th
PRE-ORDER NOW: http://swedishou.se/OLT
LEAVE THE WORLD BEHIND – THE MOVIE
OUT APRIL 15TH
PRE-ORDER NOW: http://swedishou.se/Film

#LTWBMovie @swedishousemfia
http://leavetheworldbehind.com
http://swedishhousemafia.com
http://facebook.com/swedishhousemafia