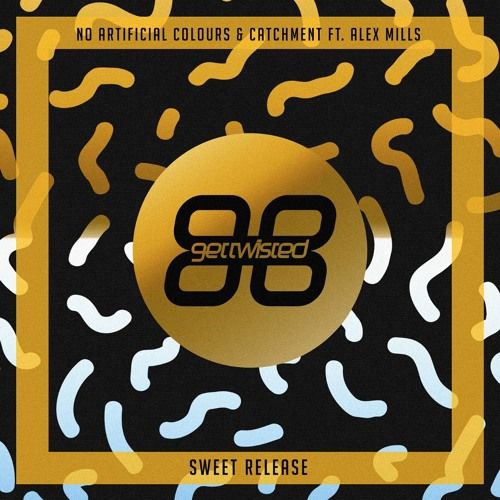 No Artificial Colours X Catchment ft. Alex Mills - Sweet Release
No Artificial Colours and Catchment have struck gold with 'Sweet Release', an infectious club cut full of big bass and beats, featuring Alex Mills's soaring vocals.
'Sweet Release' is set to explode on peak time dance-floors this summer for the pairing of acclaimed house and bass duos, No Artificial Colours and Catchment.
No Artificial Colours (Lewis Wright and Ryan Ellis from South East London) have fans far and wide thanks to excellent releases on Kerri Chandler's MadTech label (including their now legendary club hit 'Crying Wolf', featuring the incredible vocals of Alex Mills) and Skream's Of Unsound Mind label where they experimented with a tougher direction and sound.
Having provided stellar remixes for the likes of Cyril Hahn and Hot Natured, No Artificial Colours have become known for their distinctive style, pulling towards garage and rave infused electronica, but always with a bit of soul and always going back to their biggest love of house.
Catchment comprises of Alex Tyley and Chris Haggett – a house & bass producer/DJ duo from the south coast who have gained support from the likes of Annie Mac, MistaJam, Eton Messy, Pete Tong, Monki and Phil Taggart.
After releases on Fat! Records and Low Steppa's Simma Red, Catchment signed to MTA Records and their track 'Feel It' was selected as Annie Mac's Free Music Monday. Their debut MTA release 'Wait For You'/ 'On Top' was released at the end of 2015 to much acclaim. Catchment's remixes include the Shadow Child produced track 'Timeless' by Lena Cullen, 'Heart' by Seraphim Suite ft. Mica Paris, 'Make Me Feel' by Golf Clap, and 'I'll Take You' by Mr. Rogers. Their latest
release is 'DJ's Delight' / 'Get That' which has received widespread support for some of the biggest names around.
Get Twisted Records has gone from strength to strength, having signed an imprint deal with Columbia Records in 2015. Owned by the acclaimed London- based duo Tough Love's Alex and Stef, Get Twisted's unique sound of bass infused house cuts mixed with R&B, 90s dance and garage has made the label a force to be reckoned with.
Get Twisted's growing roster of talent includes Roger Sanchez, Todd Terry, Sandy Riviera, Amine Edge & DANCE, and Hannah Wants, alongside up and coming talent AS I AM, LiTek, Clear Six, Jaded, and Midnight City.
Social Media links
No Artificial Colours:
www.nacsmusic.co.uk
www.soundcloud.com/nacsmusic
www.facebook.com/nacsmusic
www.twitter.com/nacsmusic
www.instagram.com/nacsmusic
www.youtube.com/user/nacsmusic
Catchment:
www.soundcloud.com/catchment
www.facebook.com/catchmentmusic
www.twitter.com/CatchmentMusic
www.instagram.com/catchmentmusic
www.youtube.com/CatchmentMusic
Get Twisted:
www.gettwistedrecords.com
www.soundcloud.com/gettwistedrecords
www.facebook.com/gettwistedrecords
www.twitter.com/gettwistedrecs
www.youtube.com/gettwistedrecords