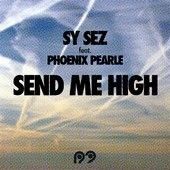 Sy Sez, Phoenix Pearle – Send Me High
Sy Sez is a respected producer and DJ on the London dance music scene who has featured on the bill of countless London nightclubs including Ministry of Sound, Pacha, Turnmills, Herbal and Plan B. He is a regular at Soul Heaven and Simply Salacious nights, with a reputation for hard work and innovation that makes him one of the most in-demand DJ's in the UK. He is a worldwide performer, having recently secured residencies at Ocean Beach in Ibiza (for Soul Heaven) and Groovefest in the Dominican Republic, and also features as a radio presenter on the acclaimed Soul and Dance music station Mi-Soul. On the production side, Sy Sez has worked with Fanatix (Aaron Ross and Neil Pierce), and produces with Gavin Peters under the name Aphrodisiax. Adding yet another aspect to his already impressive CV, Sy is the A&R manager for Defected's Soul Heaven label.
The vocals for this track are provided by Leeds based singer-songwriter Phoenix Pearle, aka Sara Garvey. Sara has previously worked with Nightmares on Wax (George 'E.A.S.E.' Evelyn), and recently released the 'Being You' EP with Hungarian duo Gelka. The creative juices for 'Send Me High' first started flowing a few years back when Sy met Sara at Southport Weekender, and plans are in motion for further collaborations to build upon their unique studio chemistry.
Talented newcomer, Henry Wu provides the keyboards for this track, displaying his signature warm jazzy style with intuition and flair.
The R2 Record Label was established in 1999 and continues to release and showcase exciting new music in a variety of genres. Artists who have worked on this label include Osunlade, Louie Vega, Atjazz, Karizma, Ron Trent and Tortured Soul making it evident that R2 is a label which has built its reputation on quality.
Sara delivers the lyrics of Send Me High with a raw sensuality, which conveys the emotions of rapture and intoxication from new found love. Her seductive vocals draw the listener in to a zone of tranquility and pleasure which is both soothing and exhilarating.
This release package comprises 5 mixes including contributions from talented DJ and producer Karizma.
Sy Sez's Original Mix is atmospheric, deep and sensual and will free your mind with its mid tempo jazz keys and chilled soulful vibe, while the dub mix provides more of a hypnotic warmth that will take you to the chillout zone and beyond.
Karizma always has a unique and refreshing take on proceedings, and this is no exception as his Hydro mix ups the energy with its funky, fast, afro-inspired, electro beat, with the Hydromental mix intensifying the groove further. The Sy and YoungHead demo vibe mix brings elements of a more traditional soulful house dance vibe which will have the crowd bouncing and wanting more.
Send Me High is not to be missed – a rich, deep, and skilfully crafted composition, and one of those rare gems which will grace the dancefloors and airwaves for years to come.
'Send Me High' released 13 October 2014 https://soundcloud.com/r2records/sendmehigh
Review by Sue McDonald (Twitter @SueVMcDonald)
© Sue McDonald 2014. Unauthorized use and/or duplication of this material without express and written permission from the author and/or owner is strictly prohibited. Excerpts and links may be used, provided that full and clear credit is given to Sue McDonald with appropriate and specific direction to the original content.