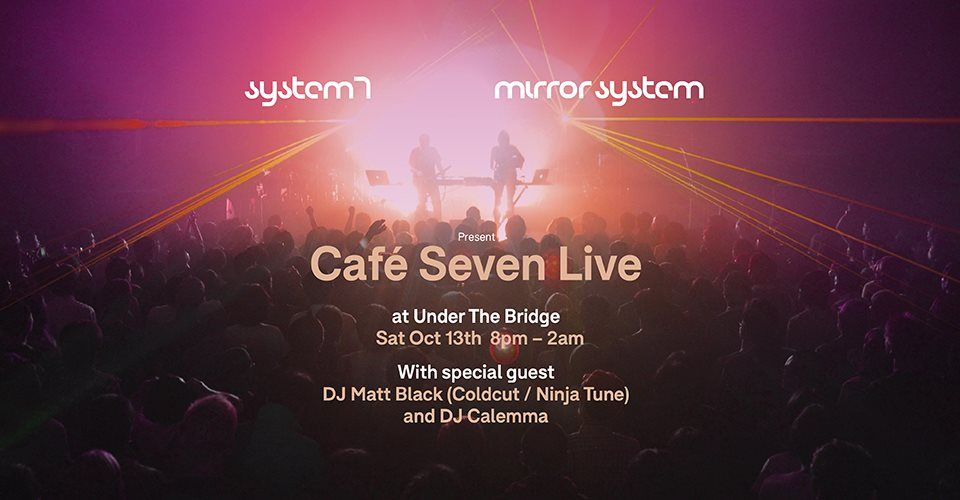 System 7 & Mirror System 'Cafe Seven' Album Launch Party
Having played riveting sets at Berlin's May Day festivities and The Orb's 30th Anniversary Orbfest festival, already this year System 7 celebrate this summer's release of their new System 7 and Mirror System album Café Seven, announcing a Special London Live show that combines cutting edge visual and Live music fireworks. System 7 and Mirror System present Café Seven Live on Saturday October 13th at Chelsea's leading Under The Bridge venue and are joined by the legendary DJ Matt Black of Coldcut (Ninja Tune) doing a rare Jam set with VJ Dinaz Stafford.
Experience a 9 metre LED screen state-of-the-art VJ show as the backdrop to System 7 playing an exhilarating Live festival style set of tech n' techno as they further demonstrate their versatility shifting into the ambient arena for the full chilled Live show vibes of Mirror System. As well as two Full Live sets on the Bridge's EAW sound system, System 7 are honoured to host Special Guest DJ Matt Black (Coldcut/Ninja Tune), performing a special DJ/Jamm set with VJ Dinaz Stafford.
System 7 are arguably one of the UK's foremost and unique Live techno bands, hailed for their impressive earth-moving Festival sets,and work with some of electronic music's true innovators including The Orb to Richie Hawtin who remixed their incredible 'Alpha Wave' classic. System 7 continue their hugely busy summer with a tour of Japan July 13th-22nd; Hungry's Ozora Festival on August 2nd & 3rd; Saturday August 18th @ Weyfest in Farnham, Surrey, – System 7 Live Headliners – Second stage and into September with 2 nights on 28th & 29th at the Cabbage 20th Anniversary Weekend at Trades, Hebden Bridge playing both a System 7 Live show and a Mirror System DJ set
The new album Cafe Seven' features exclusive collaborations with Marcus Henriksson (Minilogue/Son Kite) on the infectious menacing electro acid groover, 'Million Suns' through to warm balearica on their Mirror System collaboration 'Smooth Operator' with Ajja. ' Flanked with high profile remix gems including System 7 remix of Sudo's percussive bomb, Sensation' (originally out on Dubfire's label SCI+TEC in 2015) and the explosive 'And Justice Killed' by Joujouka.
System 7 unlock the festival spirit in true Live techno and visual style.
Snap up one of the 100 Early Bird tickets at £16 plus fees before they're gone!
SYSTEM 7 LIVE DATES
Friday September 28th: Cabbage 20th Anniversary Weekend, Trades, Hebden Bridge, UK System 7 Live
Saturday September 29th: Cabbage 20th Anniversary Weekend, Trades, Hebden Bridge, UK Mirror System DJ setSaturday October 6th: Intolab – Naples, Italy – System 7 Live (Techno set)
Listings Info
event: Café Seven with System 7 & Mirror System
date: Saturday October 13th 2018
at: Under The Bridge, Stamford Bridge, Fulham Road, Ldn, SW6 1HS
times: 8pm-2am
Line up: Mirror System (Live) & System 7 Live)
DJs: Matt Black ( ) & VJ Dinaz Stafford – Jamm set – & DJ Calemma
Tickets: https://www.seetickets.com/event/system-7-mirror-system-with-dj-alex-paterson/under-the-bridge/1219266
First 100 tickets are Early Bird at £16 plus fees, thereafter £18
https://www.facebook.com/events/1874893235932643/