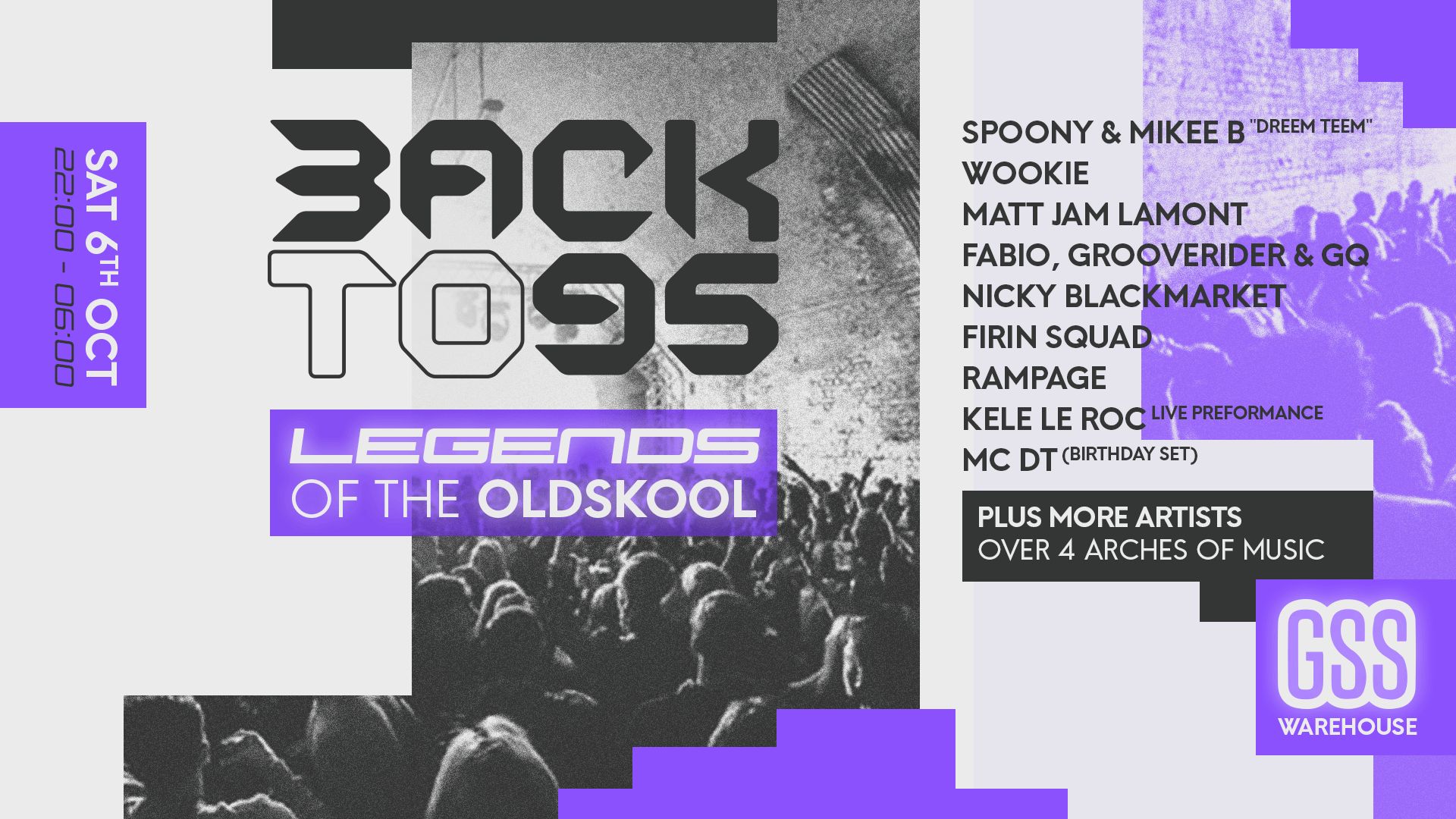 Backto95: Legends of the Oldskool – GSS Warehouse
After sold out events at our 17th Birthday at Ministry of Sound and the 51st State Festival 2018 stage takeover – SVA the pioneers of Oldskool House & Garage events return with our third instalment of 2018!
On Saturday 6th October, we return to London's best underground venue, Great Suffolk Street Warehouse! As expected, you will have another superb line-up of your favourite artists over four arches, to once again take you back to the original Oldskool vibe and party atmosphere. Headlining our main arch will be the legendary Dreem Teem's Spoony and Mikee B with a special Oldskool set, plus the amazing Kele Le Roc performing her House & Garage anthems alongside birthday boy Mc DT.
It doesn't stop there – we also have another three arches of music playing the best in Oldskool Jungle classics, headlined by the dynamic duo Fabio and Grooverider, as well as 80's and 90's Soul RnB, Soca and Bashment headlined by the Firin Squad! Last but not least, we have Soulful and Deep House hosted by the one and only www.Housefm.net.
The GSS warehouse has been renovated boasting level flooring throughout the venue and posh toilets with hand sanitizing stations. There is a strict no parking policy so please use pubic transport or arrive by taxi to the venue. Doors open at 22.00 – please arrive early to avoid disappointment!
Line-up:
ARCH 1: HOUSE & GARAGE CLASSICS
SPOONY & MIKEE B "DREEM TEEM"
WOOKIE
MATT JAM LAMONT
NORRIS DA BOSS WINDROSS
HERMIT & DANIEL WARD
LISTENER "BIRTHDAY SET"
JASON H
JERRY RANKIN
HOST:
MC DT "BIRTHDAY SET"
CREED – BUZZHARD – CKP – PSG – RANKIN
PA:
KELE LE ROC "BIRTHDAY SET"
ARCH 2: JUNGLE CLASSICS
GROOVE RIDER & FABIO
NICKY BLACKMARKET
TOP BUZZ
JUMPING JACK FROST
UNCLE DUGS
EZM
HOST:
MAD P – MOOSE – SHOCKING – NU FLO
ARCH 3: 80S, 90S SOUL, RNB, SOCA & BASHMENT
FIRIN SQUAD
RAMPAGE
LLOYD LIFE & SAMMY CONFUNKTION
CHARLOTTE DEVANEY
EASTMAN & RUDDY RANKS
SELLY J & DJ ALTON
Host:
CHAMPS
ARCH 4: SOULFUL & DEEP HOUSE HOSTED BY WWW.HOUSEFM.NET
AZI ROBINSON
2 FOUR 7
LADY T
DOMINIQUE DANIELLE
SUPERIOR
GENERAL TICKETS:
£12.50 (+ BF) EARLY BIRD AVAILABLE UNTIL MIDNIGHT SUNDAY 12TH AUG 2018
£15.00 (+ BF) 2ND RELEASE AVAILABLE UNTIL MIDNIGHT SUNDAY 26TH AUG 2018
£17.50 (+ BF) 3RD RELEASE AVAILABLE UNTIL MIDNIGHT SUNDAY 16TH SEP 2018
£20.00 (+ BF) 4TH RELEASE AVAILABLE UNTIL MIDNIGHT SUNDAY 30TH SEP 2018
£25.00 (+ BF) 5TH RELEASE
VIP TICKETS:
£40.00 (+BF) 1ST RELEASE AVAILABLE UNTIL MIDNIGHT SUNDAY 26TH AUG 2018
£50.00 (+BF) 2ND RELEASE AVAILABLE UNTIL MIDNIGHT SUNDAY 30TH SEP 2018
£60.00 (+BF) 3RD RELEASE
MEMBERS:
£15-20 (+ BF) available only from www.backto95.com
VIP TICKETS:
•Back stage area
•Own bar
•Toilets
•Non reserved seating
£40.00 (+BF) 1st Release available until midnight
£50.00 (+BF) 2nd Release
ONLINE TICKETS:
www.backto95.com
www.ticketline.co.uk
www.skiddle.com
TICKET OUTLETS:
North:
Kricoss (Haringey) 0208 800 7528
East:
Zee & Co (Bow) 0208 983 3383
South:
Emporium (Peckham) 0207 3589920
Dnr Records (Croydon) 0208 4069905