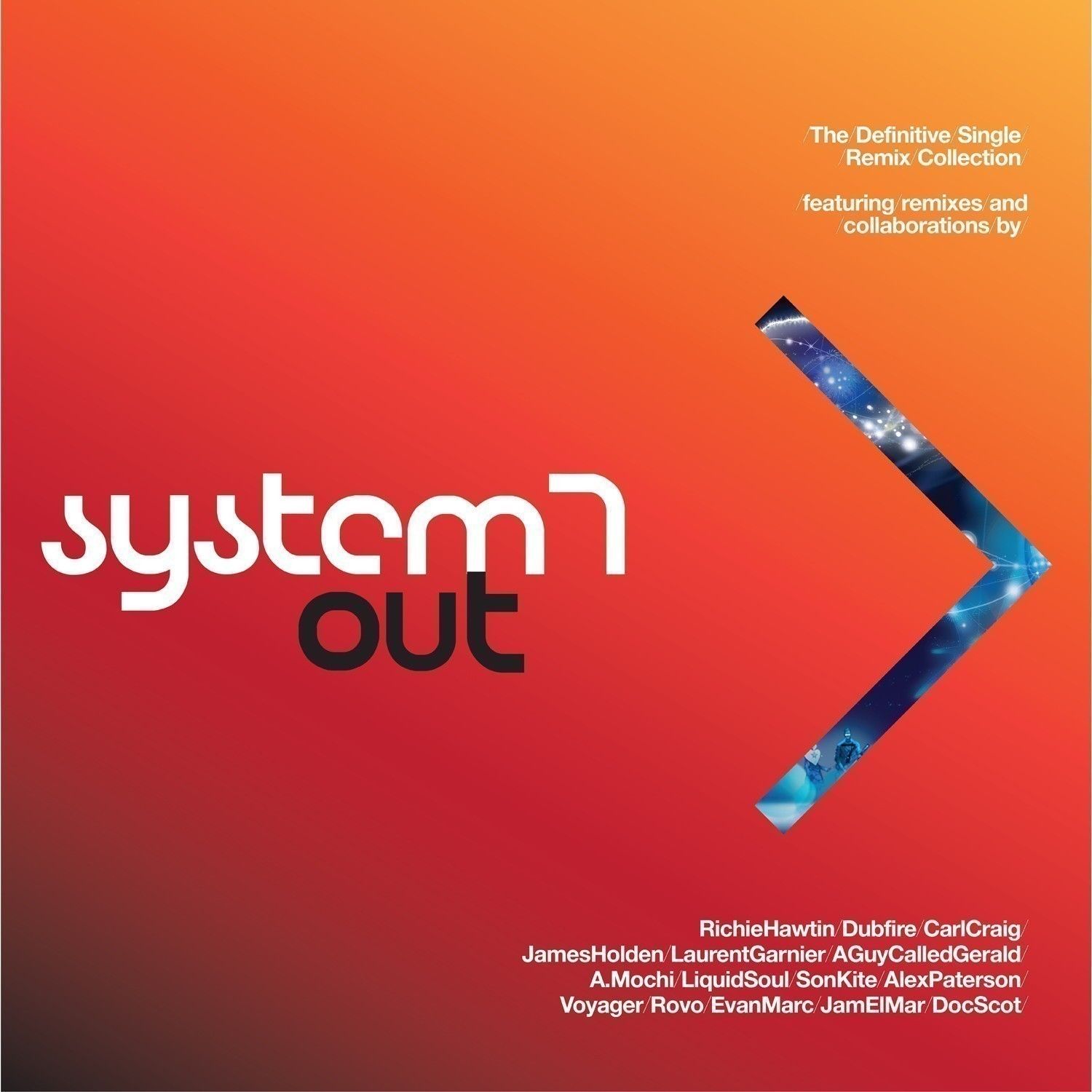 SYSTEM 7 – OUT
UK electronic music pioneers System 7 release a definitive double album 'Out', collating some of the duo's most exhilarating moments including classics such as Richie Hawtin's Plastikman's Acid House Remix of 'Alphawave' and Carl Craig's sought-after remixes of 'Sirenes' and 'Positive Noise'. Flanked alongside high powered collaborations with International dance music visionaries such as A Guy Called Gerald, Laurent Garnier, Alex Paterson (The Orb) and Jam El Mar and including iconic tracks such as Dubfire's Deep Space Remix of 'Space Bird' and rare Doc Scott and James Holden remixes, 'Out' has a timeless quality that continue to appeal to new fans and followers.
With a dance music involvement spanning nearly 25 years, System 7's Steve Hillage and Miquette Giraudy have always seen this as a natural progression from their work with electronics and psychedelic rock in the 70s. Following their own understated musical path, System 7 affirm integrity as one of their most important qualities, particularly since starting their own label A-Wave in 2000. The name A-Wave of course is derived from their top track 'Alphawave', and the first 12" vinyl single released on their label was a re-release of Richie Hawtin's iconic Plastikman remix, backed with two new System 7 mixes as featured on the new CD collection 'Out'.
'Out' illustrates why System 7 have remained at the vanguard of the UK's electronic music scene, with a body of work evoking their individual and different musical journeys throughout the last 20 plus years, working with the creme of electronic music producers across the genres. The duo's unique sound bases itself in a powerful and infectious groove, fleshed out with spacey guitar sounds layered with techno, trance and psychedelic electronic elements. System 7 remain on top of their game with their unique blend of Live techno and electronic sounds which continues to be in demand with them headlining some of dance music's biggest festivals including Glastonbury, Glade, Boom, Fuji Rock, Sonica and Ozora as well as recently being Special Guests on The Orb's 25th Anniversary UK tour.
System 7 released their first System 7 record in August 1990 on Virgin Records, and since then they have released 11 albums and a string of singles with some classic remixes. One of the few techno groups to feature the electric guitar (the sound often heavily processed), and a female synthesiser player,
Immersed in the alternative dance music and festival scene both here and abroad, System 7 were instrumental in launching the 1st Dance Stage at the Glastonbury Festival back in the mid 90's booking Carl Cox and Richie Hawtin , and this year sees them celebrate their their 20th year of playing at the festival.
Most recently System 7 have enjoyed regular exposure to the contemporary Berlin scene and a musical association with new resident, A Guy Called Gerald. and are frequent attendees of the May 1st festivities, featuring both Richie Hawtin and Ricardo Villalobos. Unquestionably hungry still, the duo are working on new Mirror System and System 7 albums (to appear in early 2015), having been writing and recording in the exotic touring locations of Hong Kong, Bali and Mexico as well as working on remixes for Banco de Gaia, Makyo, Juno Reactor and Joujouka. System 7 present a unique combination of tech-house beats and live musicianship, and have had a strong influence on the development of psychedelic ambient music and electronica. They are unique in that they straddle both the electronic dance music and LIVE music scenes, and always attract a great crowd of festies, dance fans and original Gong supporters.
Disc 1 (74 minutes)
1. 'Planet 7' James Holden Remix – (9.48) – (2004) – James Holden's highly original and quirky style perfectly matched to System 7's top track Planet 7 from the album Encantado.
2. 'Space Bird' Dubfire Deep Space Remix – (8.38) – (2007) vinyl 12" and digital only
3. 'Passion' System 7 – (8.16) – (2012) – One of System 7's most recent tracks and a big favourite in their live set – unreleased on CD outside of Japan.
4. 'Sirenes' System 7.1 Remix by Carl Craig – (9.57) – (1994) – A classic remix by Detroit maestro Carl Craig of Sirenes, the celebrated collaboration between System 7 and Laurent Garnier from the Point 3 Fire and Water albums.
5. 'Alphawave' Plastikman's Acid House Remix by Richie Hawtin – (20.07) – (1995) – Undoubtedly System 7's biggest track, still sounding massive today. This is the first time the full length version has been released on an album CD. The original track was also on the Point 3 Fire and Water
6. 'PositiveNoise' Carl Craig Remix – (11.50) – (2011) – Carl Craig's deep and funky remix of the lead track from System 7's most recent album Up – a track originally created in Berlin, a collaboration with A Guy Called Gerald.
7. 'Positive Noise' A. Mochi Remix – (5.26) – (2011) – Japanese techno star A. Mochi's huge Berghain techno style mix of PositiveNoise to vibrate the bass bins!
Disc 2 (76 minutes)
1. 'Interstate' Doc Scott Remix – (8.18) – (1995) – Doc Scott's remix of Interstate from System 7's album Power of Seven is a drum and bass classic.
2. 'Space Bird' Liquid Soul Remix – (7.32) – (2007) – A second major remix of the Jam El Mar collaboration from System 7's Phoenix album, by Swiss progressive psy-trance star Liquid Soul.
3. 'Planet 7' Son Kite Remix – (8.34) – (2004) – This second remix of Planet 7 from System 7's Encantado album by Swedish progressive stars Son Kite was a big success in the psy-trance scene.
4. 'High Plains Drifter' Voyager Remix – (12.11) – (2001) – A deep progressive trance remix by American producer Voyager of this track from System 7's Seventh Wave album.
5. 'Alphawave' Bananadance Remix – (7.30) – (2000) – One of two remixes made by System 7 to partner with the full length Richie Hawtin remix on the first A-Wave 12" vinyl release.
6. 'Alphawave' System 7 2000 Remix – (9.57) – (2000) – The second of two remixes made by System 7 to partner with the full length Richie Hawtin remix on the first A-Wave 12" vinyl release
7. 'Eclipse' System 7 Club Remix – (8.00) – (2012) – System 7's remix of Eclipse by Japanese band Rovo, with whom they made the successful recent Phoenix Rising collaboration album and tour.
8. 'Chihiro 61298' – Evan Marc Remix – (7.17) – (2010) – a chilled tech house remix of this track from the System 7 album Phoenix by chill-out legend Evan Marc (aka. Bluetech)
9. 'Sunburst' Atahualpa Remix – (6.43) – (1996) – A remix of System 7's first ever track from 1990, a collaboration with The Orb's Alex Paterson.
Live Dates
Sat Aug 30th – Sonica Festival, Italy
Sat Sept 13th – Reverence Festival, Portugal
Sat Sept 20th – Psy-Boutique Festival, Turkey
System 7 release the Definitive Single Remix Collection 'Out' on A-Wave Records. Cat No: AAWCD016 – UPC 5060016708241. Format: digital double Cd