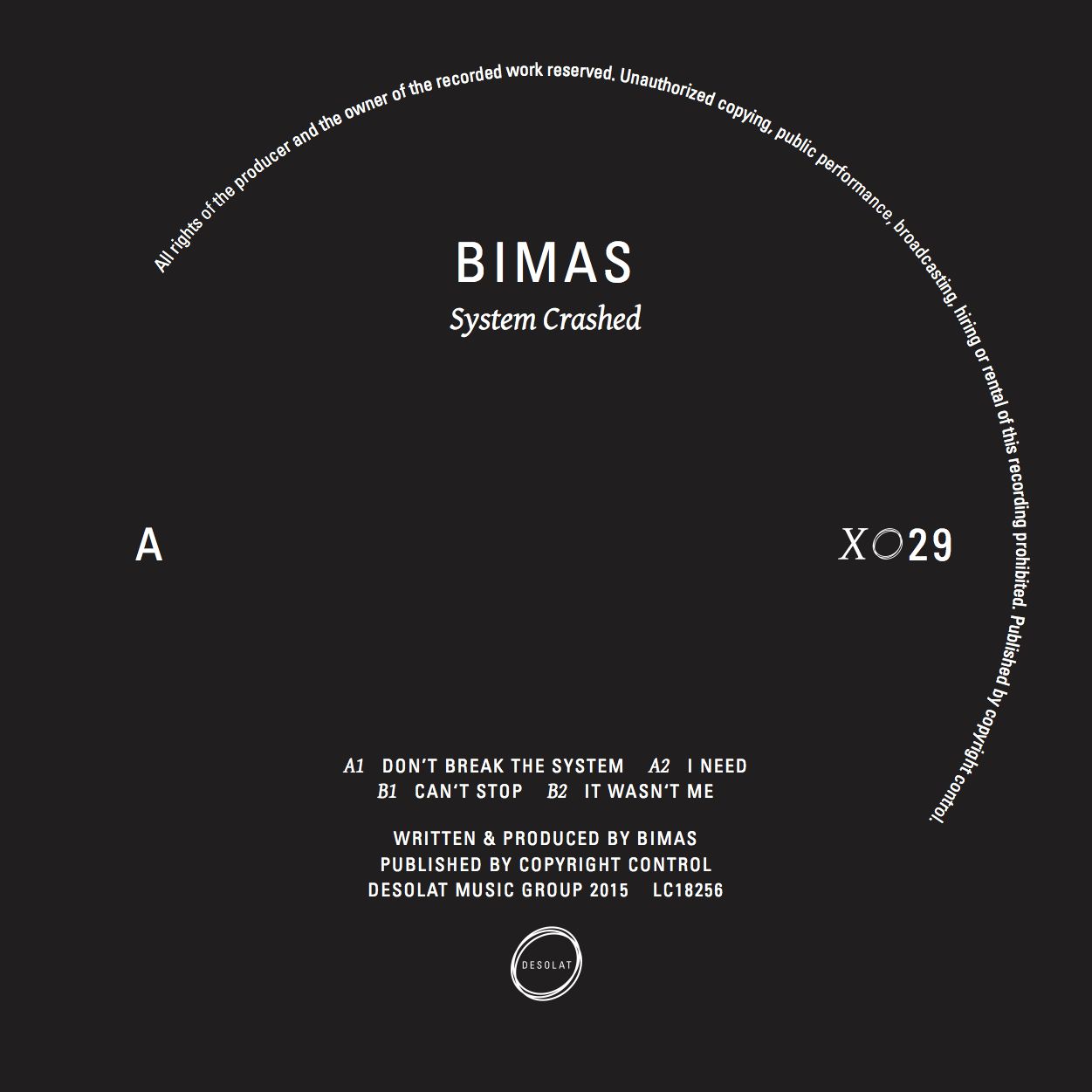 Bimas - System Crashed
Loco Dice's influential Desolat label looks to Belgium born Italian producer Bimas for a firing new EP that feature four great club cuts, plus a digital bonus edit from Joy Kitikonti.
Bimas has been in the game making music for more than a decade and DJing even longer. He first released on this label back in 2012 and has continued to keep up a fine and high quality release rate since. Here he impresses with tracks inspired by the old songs he heard on late night YouTube listening sessions. His expertise manages to make the sounds come over as real life, lived in affairs, though not overly polished things that are hard to love.
Great opener 'Don't Break the System' is a high impact techno slammer with vocal stabs and big drums. It's a physical, relentless affair for the peak time of the night and is sure to really get people's attention. The infectious 'I Need' is just as big in terms of the size of the groove, but the drums are funkier, the pads are warmer and the overall vibe is more playful and inviting as the track races along and you go with it.
The brilliant 'Can't Stop' features a well treated vocal getting altered about by macho drums. Icy hi hats and pinging kicks as well as malfunctioning machine sounds all add to the wonkiness and intensity of this killer techno cut. Lastly, 'It Wasn't Me' plays with another big vocal sample, drowning it in reverb and pinning it to vast rubber kicks then letting the whole thing roll on and on for days.
Bimas' friend Joy Kitikonti edits this last track as a digital bonus and makes it in to a siren flecked and raved up number perfect for freaking out the floor. As such this is another monstrous club package that comes with the usual and brilliant heft you expect of Desolat and Dice.
Tracklist:
A1 Don't Break The System
A2 I Need
B1 Can't Stop
B2 It Wasn't Me
digi It Wasn't Me (Joy Kitikonti Edit)