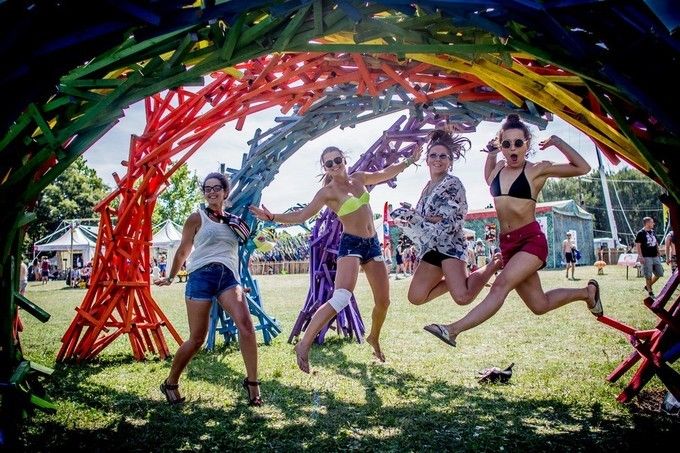 Sziget Festival 2015 Breaks Even More Records
Sziget Festival has just ended and 2015 was a record-breaking year for the event, as the Island of Freedom hosted more visitors than ever before. A total of 441,000 Szitizens from 95 countries joined the non-stop week of fun.
Following last year's success Sziget managed to go one step further and set new benchmarks both in terms of internationality and also regarding visitor figures. In spite of the recently extended daily capacity of 90 000 the festival had 3 sold-out days this year – Monday, Friday and Saturday – and set up a new overall attendance record of 441,000 (this figure traditionally doesn't include the tickets sold for the -1 day).
'We worked hard to create a festival that has its own unique identity – said Karoly Gerendai, Sziget's main organizer. "Our aim in the long term is to make sure Sziget's image gets independent from its headliners, as we believe the most important features of the event are not necessarily playing on the big stages. To keep it simple: we try to give good reasons for fans to come to Sziget, we're still trying hard to get good bands on our stages, but we also try to make sure that fans choose Sziget because we offer more: a huge adventure, a cultural holiday, an experience-packed week full of positive surprises. That's what we will keep on focusing on, while we definitely don't want to be involved in a dangerous competition to get overpriced headliners. That's just not our path. We hope our message gets through to our visitors, as they are the ones who create the magical vibe of the place we call the Island of Freedom" he added
Sziget hosted fans from 95 countries and artists from 50 countries to create one of the most international places on Earth, while it also welcomed Szitizen nr. 7 million, who earned a lifetime Sziget pass as a result. Hungarians still form the biggest group amongst Szitizens, but The Netherlands, UK, France, Germany and Italy are also very strongly present.
What was new this year?
This year the organizing crew worked hard on re-thinking the festival map to make sure the island can host a huge number of people in the safest and most convenient way. Changes included the Main Stage area, but also many other stages moved to new places or had facelifts both in terms of infrastructure and programming.
Sziget traditionally presents a huge variety of non-musical artistic projects and big efforts were made to refresh these programs, including the circus, theatre or dance performances. It was also an important Sziget-mission to give an even bigger space to the colourful world of music, so opera, folk music, world music, or classical tunes were also strongly represented at the festival.
Sziget is definitely not just about non-stop partying, as there is a number of 'relax zones' with old and new functions at the festival area, like the Sziget Beach, the Campfire, the Luminarium, the Artzone, the Designzone, the I Ching Labirynth, the Museum Quarter, or even the Sportzone.
Magic Mirror, Sziget's queer program venue celebrated its 15th birthday this year and also returned to a similarly impressive building where it all started 15 years ago. Ambassadors and other members of the diplomatic services accredited to Budapest were present to celebrate the occasion.
Pussy Riot was also a welcomed guest at Sziget. The slogan 'Island of Freedom' is a statement in itself and the organizers are always looking for new ways to promote the idea of openness and freedom. Having the chance to host the famous Russian female punk group and talk about their ideas on freedom was definitely a symbolic part of the 2015 Sziget program.
Camp aid for refugees
Szitizens have also been encouraged to show solidarity to refugees entering the country – by donating their tents and sleeping bags which they often behind.
Next year's Sziget date
Save the date for next year: 10-17 August 2016. Not a mistake, next year's Sziget will take place from Wednesday to Wednesday, right after the Hungarian Formula 1 GP. See you then!
More information: www.szigetfestival.com