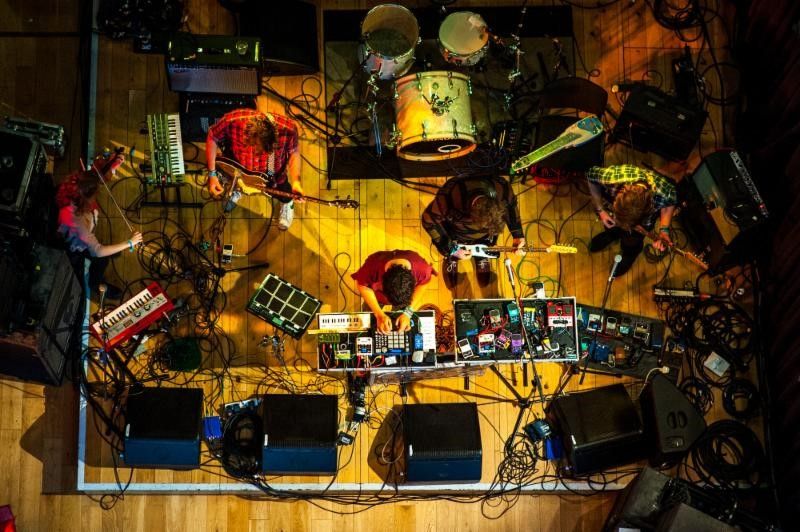 Maximum Joy set to reform for Simple Things Festival
Bristol-based multi-venue festival Simple Things have announced a further addition to this year's festival, adding more clout to what is already a phenomenal line up laden with pioneering artists from across the musical spectrum.
After a speculative enquiry from the festival organisers led to serious talks of a reunion between the band's founding members, seminal post-punk group Maximum Joy are set to reform for a momentous set that marks their first performance in over 25 years.
Emerging from Bristol's underground in the early eighties, Maximum Joy combined myriad influences from the city's storied music scene to inform a sound that reflected the political and social climate of Thatcher-era Britain; funk, dub, disco, reggae and jazz all informed their particular strain of post-punk. Their output was by turns moody and exuberant but always highly danceable, carried by the ethereal strains of lead singer Janine Rainforth and punctuated by flourishes of brass and woodwind from Tony Wrafter.
The band's output was confined to just a handful of releases: four singles preceded an LP entitled "Station M.X.J.Y", which was produced in part by legendary dub trailblazer Adrian Sherwood. In spite of this, the band helped lay the foundations for the explosion of creativity and musical cross-pollination that characterised Bristol during the eighties and nineties, and they have amassed a cult following amongst clued-up producers and DJs which endures to this day. Whereas they were once a firm favourite of John Peel's in their heyday, today Maximum Joy are championed by the likes of Andrew Weatherall and Optimo.

It is only fitting then that Maximum Joy mark their return on home turf at Simple Things festival, where they join a plethora of artists blurring the lines between instrumentation and machine music.
Full line-up below.
Opening: 23rd October
Godspeed You! Black Emperor
+++
Festival: 24th October
Live Acts:
Skepta & JME / Battles / Savages
Penguin Cafe / Wire / Factory Floor / Dean Blunt
Holly Herndon / HEALTH / DJ Funk / Lone
Danny L Harle / Romare / Vessels / Vessel / Speedy Ortiz
Liturgy / Lower Dens / The Soft Moon / Oliver Wilde / Nicole Willis & The Soul Investigators Chastity Belt / Long Arm / Grumbling Fur / Loyle Carner / Khruangbin
DJs:

Ron Trent / Mike Skinner / Objekt / Untold
Hunee / Helena Hauff / Barnt
Galcher Lustwerk /

nd_baumecker /
Avalon Emerson / Discodromo / Moxie
Futureboogie / Studio 89 / Gamrcy / Pardon My French
Strange Fruits / Malestripper / Kokoro / The Quietus DJs

+++
LINKS & FURTHER INFO
SIMPLE THINGS
www.simplethingsfestival.co.uk
TICKETS:
tickets.crackmagazine.net