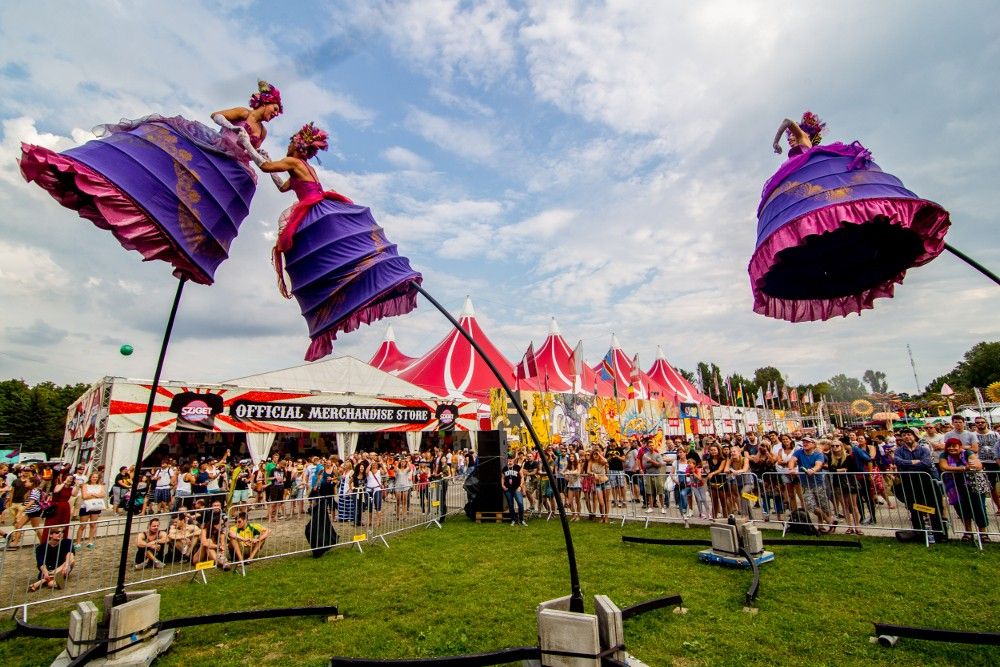 Sziget Festival Expands Line Up
More and more names are added to the 2015 line-up of Sziget. The end is still far away as the 7 day long festival holiday hosts around 1000 programs altogether. This time new names have been added to the music section, but Szitizens can expect more venues and programs to be announced in the upcoming weeks. Discounted 'Advance Round 1' tickets are only available until the end of April.
Sziget Festival is the reigning 'Best European Major Festival' award winner and aims to keep this title with its original program and unique atmosphere. When Szitizens go through the legendary bridge they arrive to an Island with extraordinary visuals and decorations. We can easily describe the location as 'a great place to get lost' as you can choose from more than 50 program venues with around 1000 programs at the week-long event. In addition, the amazing city of Budapest is a capital also worth to explore.
Are you ready for Sziget? Watch the teaser video:

The biggest music stages host a colorful line-up of all genres, including Robbie Williams, Florence + The Machine, Alt-J, Martin Garrix, Foals, Interpol and many many more! Already announced acts are available on the website (http://szigetfestival.com/programs).
And let's see the new names!
Main Stage & A38
Straight from the UK to the stages of Sziget arrives one of the most successful English indie rock bands, Kasabian. Their fifth album was released last year, so get ready to rock the Sziget Main Stage with them. In addition, singer-songwriter and multi-instrumentalist Ellie Goulding will have her debut also on the biggest stage of the Island of Freedom. The sound of her music is an utterly distinctive and unforgettable one. The A38 will be loud from the music of Sigma, who are now international chart toppers. Their iconic first number one single, "Nobody To Love" was followed up by another chart topper when their second single, "Changing" ft. Paloma Faith, was released. British electronic music trio, Nero, is also among the prestigious line-up of the huge tent. Their newest work has been released just recently, check out 'The Thrill'. Coming from Germany Kraftklub will merge indie rock tunes with German lyrics.
Telekom Arena & Colosseum
More names are also added to the electronic music venues: the massive Telekom Arena and the unique Colosseum. Here Szitizens can enjoy the music presented by Hernan Cattaneo, a DJ who has a dedication to quality underground sounds when it comes to house music. In addition, the Northern house and techno starlet Laura Jones, the true underground techno hero Function, prominent member of Berlin's vibrant electronic club scene Ellen Allien and a respected exponent of the contemporary house and techno scene Damian Lazarus will also be there to keep the party going at Sziget. Stadium X will bring the electronic vibes from the festival's host city Budapest, while the Dutch duo of Lucas & Steve will also impress the crowd with their set.
Line Up So Far:
Alesso, Alt J, Apollonia, Awolnation, Babylon Circus, Bassjackers, Beatsteaks, Blasterjaxx, Damian Lazarus, Dixon, Dotan, Dropkick Murphys, Ella Eyre, Ellen Allien, Ellie Goulding, End Show With Martin Garrix, Enter Shikari, Fauve, Florence And The Machine, Foals, Foxes, Function, Future Islands, Gentleman & The Evolution, Gogol Bordello, Gramatik, Gui Boratto, Halestorm, Hernan Cattaneo, Hospitality Presents: High Contrast, Camo & Krooked, Infected Mushrooms, Interpol, Jaguar Skills, Jamie Woon, Jett Rebel, José Gonzalez , Julian Jordan, Jungle, Kadebostany, Kasabian, Kensington, Knife Party, Kraftklub, Laura Jones, Lucas & Steve, Marina And The Diamonds, Michael Mayer, Milky Chance, Mø, My Favorite Robot, Nero, Nervo, Paloma Faith, Passenger, Robbie Williams, Sander Van Doorn, SBTRKT, Selah Sue, Sidney Samson, Sigma Live, Stadium X, The Maccabees, The Subways, The Ting Tings, Tyler The Creator, Typhoon, Vitalic Live, W&W, William Fitzsimmons, Yellow Claw.
More names, venues, programs will arrive in the upcoming weeks!
Tickets and information: www.szigetfestival.com
About Sziget – Island of Freedom
Proud winner of the 'Best European Major Festival' award in 2011, Sziget Festival is one of the biggest multicultural events of Europe, starting in 1993 and now celebrating its 22nd edition. The festival attracts almost 400 000 fans from over 70 countries to a beautiful island in the heart of Budapest, providing a complete festival-holiday experience with non-stop party, great live concerts, a widely international community and all the touristic features the city has to offer.
Sziget is the Island of Freedom that could also be regarded as an independent state. It's many festivals in one, a week long non-stop event with approx. 50 program venues and around 200 programs daily. Performing bands range from the biggest names of the international pop/rock scene to stars of world and electronic music, but you will also find metal, folk, jazz, blues, alternative and even classical tunes, while you are wondering around the huge festival area.
Sziget is not just about music, as it offers several other cultural programs, like theatre, circus, or exhibitions. It also has a beach section where fans can truly enjoy the summer and the Danube. This is the only big festival where you will find authentic Roma music and even a gay-lesbian venue. And we shouldn't forget about the fact that the festival is in the middle of Budapest, a touristic city with a lively cultural scene, beautiful historic buildings, Turkish spas and special 'ruin pubs'. The live coverage of the festival had a massive following of approx. 5 million viewers.