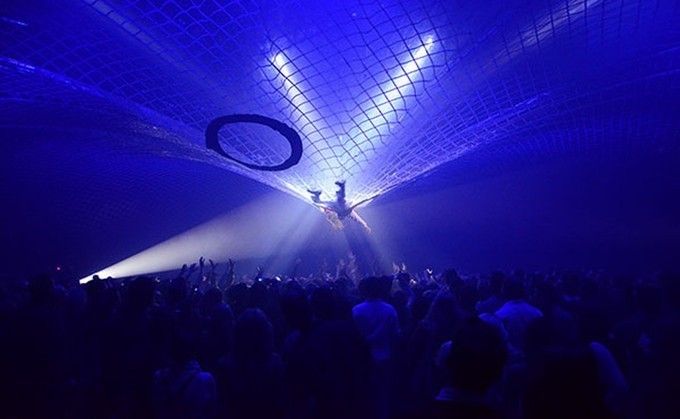 Sziget Festival Presents: Fuerza Bruta, Cirque du Sziget, Artzone, Luminarium and more
Sziget Festival, recently crowned as the Best Major European Festival, will be as colorful and diverse as the audience expects it to be for 23 years now. The week-long festival holiday in the heart of Budapest will be the place to be this summer between 10-17 August on the beautiful green island in the Hungarian capital.
Sziget Festival is the reigning 'Best European Major Festival' award winner and aims to keep this title with its original program and unique atmosphere. When "Szitizens" (Citizens of the Festival in Szigetish) go through the legendary bridge they arrive to an island with extraordinary visuals and decorations. We can easily describe the location as 'a great place to get lost' as visitors can choose from more than 50 program venues with around 1000 programs at the week-long event. In addition, the amazing city of Budapest is a capital also worth to explore.
In 2014 the festival hosted more The multicultural festival that is held in the middle of Budapest on an island, hosting more than 415.000 people for 7 days is a real festival holiday with non-stop parties and to-dos. Sziget is one of the few major festivals you could even enjoy without a single second of music on the stages, but presenting a cool mixture of new and already established acts is still an important mission for the organizers.
The programs, that actually make Sziget different from any other festival, are those that are spread all around the island on numerous locations, making the festival vibe a real cultural experience. One of the most exciting highlights is this year's Giant Street Theatre brought by Fuerza Bruta. "The Bubble" is not just theater – it is a never slowing party that enchants the viewer, and makes the audience engage in the act. Called as interactive freedom – the experience is dependent on the individual attending the show. There is no stage, the audience is the main stage, and everything happens all around them. They are engulfed in a 360-degree featuring mind-blowing effects. A must see.
In addition, the Cirque du Sziget venue, home for magnificent "new-circus" productions, will be an enchanted place to be on the Island. Szitizens can enjoy companies as Akoreacro from France, Cirk La Putyka form Czech Republic, ManoAmano, Manic Freak, Muruya, Tony Fratello from Argentina and Grotesque Gymnastics from Hungary.
While smaller venues are scattered around the island, there are also thematic zones, where art forms are grouped together. The Culture Zone will host the Fidelio Classical and Jazz Stage bringing some opera, classical music and jazz to Sziget. At the venue Szitizens can not only enjoy contemporary opera, but can also interact with the artists when it comes to conducting or composing. Fans of jazz should also migrate here as great concerts and programs will await them. The Theater and Dance Tent will also be a hot spot for the loves of contemporary art, especially when it comes to dance and theatre. Japanese world-known star Hiroaki Umeda, the Cuban DanzAbierta and DOT504 from the Czech Republic will arrive as well as the Compagnie MimH from France and Idan Sharabi & Dancers and Sharon Eyal from Israel. Acrobatics and contemporary dance will be brought by the Spanish Zen del Sur and numerous Hungarian companies will also come to Szitizens as the Compagnie Pál Frenák, the Éva Duda Dance Company, the Budapest Dance School and many more.
The venue of the Travelling Funfair "Vándor Vurstli" will bring a unique atmosphere, a magical world to Sziget, where everything is possible and we can all turn back time. Small street theatres will entertain the Szitizens as the Always Drinking Marching Band, Sienta la Cabeza, Circumloqui, Adrian Schvarzstein and Tutatis from Spain, Dynamogène from France, Teatr Gry i Ludzie from Poland, Basura Belleza from Argentina and Dario Rossi from Italy.
The I Ching Labyrinth is an interactive venue, where visitors can learn about themselves and help them to discover unknown truths with the help of the I Ching, the Chinese Book of Changes, and the 64 hexagrams. The Museum Quarter hosts 16 museums this year with interactive presentations making the venue a cultural and artistic meeting point. Designed to promote Hungarian customs and culture, the Hungaricum Village will once again welcome Szitizens to get a taste of the Hungarian tradition, virtue, food and drinks. This year's theme is "cifra" unique motifs in all fields of Hungarian folk art; its shapes are rich and decorative with a playful mood. The exiting and interesting venue of GameLandHub will present the digitally controlled world around us. Besides digital games, traditional games also can be found as well as the new generation of the world's best and latest party board games. Also here TEDxBudapest will proudly present: "The city of ideas". Innovative and magnificent ideas and products will be spread, so Szitizens who are interested in life-changing innovations.
At the Design Zone Szitizens get the chance to meet the most exciting people in the field of creative industries. In the village, designed by Hello Wood, visitors can participate in workshops, they can co-design with Hungarian designers, and they can meet the 3D printing and the latest developments of digital technologies, as well as get acquainted with the most promising fashion designers of Hungary. The Wamp Design Market, design fair and community event of outstanding Hungarian designers, is also present at Sziget. In the ArtZone, Szitizens will have the opportunity to try out different art forms and to create arts and crafts. In the main focus we can find re-cycled materials and with the help of the most prominent artistic groups there will be several opportunities to be creative.
Magic Mirror, queer venue of Sziget Festival for 15 years now, will host afternoon discussions about the new queer topics, film screenings and variété shows every night. International and Hungarian performers, acrobats and dancers will entertain like Gloria Viagra, Sally Morell, Alex Shchukin, Sergey Timofeev, Szulita & Dennis and many more. Parties will continue till sunrise with international DJs as Tama Sumo (Ostgut Ton, Berlin) and Manuel De Diego (Madrid), star DJ of Ibiza. This year the Architects of Air are arriving with Luminarium-Miracoco. A Luminarium is an 800 square meter inflatable sculpture made up of labyrinthine tunnels and inspiring spacious domes – a sensual world of liquid-light and color.
The Sports venue at Sziget is a more than 2500 square meter area on the island, where Szitizens can try out different types of sports, take part in tournaments and have more fun while their festival holiday. This year a special focus will be on beach sports.
The Campfire venue of Sziget hosts campfire musicians, who invite Szitizens to chill and sing along well-known songs together while sitting next to a giant campfire. The Civil Sziget "NGO's Sziget" will once again welcome the NGOs and share their message and help better understand the world we live in. The Ability Park is an interactive adventure park, showing and educating Szitizens what challenges persons with disabilities experience in everyday life.
There are also host of special parties to get involved with starting with the Balloon Party on 1oth August where 20,000 balloons will be released, followed by the Bubble Party with millions of Bubbles, The Flag Party where the festival give out 15,000 flags with festival goers also encouraged to bring their own, the Confetti Party, 100,000 inflatable maracas for the Maracas Party, the ever popular Colour Party with a cavalcade of colour powder and finally the End Show Party with lazers, fireworks, confetti rain and 20,000 glowsticks!
More about the line up and activities available here: http://szigetfestival.com/programs
Discounted Sziget Festival tickets are only available till 31 July. This year's event is selling as fast as last year when it broke all previous records and ended up sold-out, so it makes a lot of sense for all fans to buy tickets till Friday.
The Sziget crew is expecting a similarly big crowd as last year, meanwhile the event that's already among the biggest in Europe managed to grow in maximum capacity.
"We expect that also this year we will host more than 400 000 fans throughout the whole week – said main organizer Karoly Gerendai. "It's a good indicator for what we're actually working on to tell you the basic stats: we will have artists from 47 countries and already sold tickets to visitors from 89 countries. So, the Island of Freedom is truly an international place, maybe the most international spot on Earth during this week." – he added.
Tickets and information here: www.szigetfestival.com