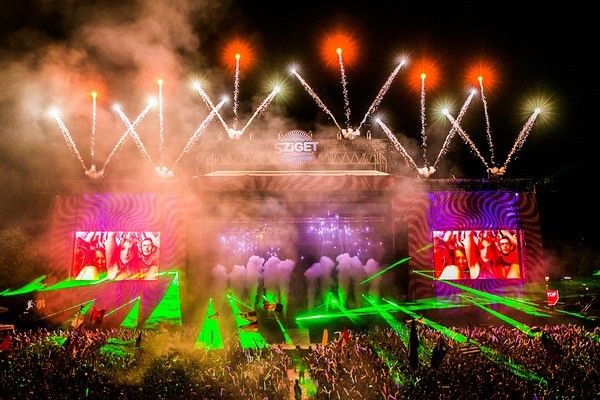 Sziget Festival Program Shaping Up
Sziget Program Shaping Up: 30 Acts Announced Including Martin Garrix, Gogol Bordello, The Ting Tings and more!
News just in from the Island of Freedom: The mega-tent hosting dance music superstars will be back as the Telekom Arena, as Telekom become one of the sponsors of Sziget. In addition, the youngest titan of EDM, Martin Garrix, will present the most spectacular End Show of the Island of Freedom on the Main Stage. Sziget will be as colorful as always and with 30 new names added to the non-stop week long multicultural get together for 2015.
Sziget Festival, recently crowned as Best Major European Festival, hosts a wide range of programs for 22 years now: all genres and art forms are represented during the 7 day non-stop party. The festival is organized on a beautiful green island in the middle of Budapest in mid-August and the program is already shaping up. Alt-J, Florence and the Machine, Jamie Woon and many more have been confirmed as well as Day-1 headliner Robbie Williams. The kick off day, 10th August is included in the 7 Days Pass, but day tickets are also available in a limited number. The first 10.000 day tickets for an early bird price have been sold out in a week.
This year's End Show on the Main Stage on 16th August, will be hosted by Martin Garrix, who is currently number four on the Top 100 DJs list. This year's End Show will be even more spectacular and exciting full of fireworks, pyrotechnics and a magnificent laser show. Added to the Main Stage program, Gogol Bordello will come back this year with a super crazy show, making the whole crowd dance together.
The mega-tent of EDM, the Arena will come back this year, sponsored by Telekom. Many acts will be hosted at this popular venue, such as DJ duo, W&W, Dutch electronic dance music producer and DJ Sander van Doorn, as well as Bassjackers, who played in clubs from Ibiza with Tiesto to Las Vegas with Afrojack. In addition Telekom Arena will host the eclectic multi-genre, cut-n-paste style of British DJ, Jaguar Skills as well as Julian Jordan and Sidney Samson.
The A38 tent is known for a great mixture and variety of performers. The Ting Tings will have a cool show here as well as Passenger, who is known for his heartbreakingly beautiful music. Despite venturing into songwriting just three years ago, 20 year-old Ella Eyre has already attracted many fans and she will definitely blow away the Sziget crowd similarly to Milky Chance, who play an elegant electronic production with acoustic guitars and lush vocals. Jungle's musical style has been described as "midtempo 1970s-style funk" that they will prove at the Island of Freedom. Tyler, The Creator will also have a fascinating gig as well as electronic music mega-revolutionaries, the Infected Mushroom. With a distinctive electronicore style Enter Shikari fuses post-hardcore alternative metal and metalcore with elements of various electronic music genres. Slovenian electronic artist Gramatik, Dutch singer-songwriter, composer, multi-instrumentalist and recording artist Jett Rebel and Kensington will also perform at A38. In addition, Hospitality presents the following names at Sziget this year: Camo & Krooked, High Contrast, Fred V & Grafix, Danny Byrd and MC Dynamite.
The first names have arrived to MasterCard World Music Stage as well. Such stars will perform here as the Fado celebrity Mariza, the Russian underground legends Leningrad, Che Sudaka, who combine everything that is danceable, Goran Bregovic and the Wedding and Funeral Band with the essential sounds of the Balkan and Italy's leading and longest-standing traditional music ensemble the Canzoniere Grecanico Salentino.
The popular venue built upon pallets, Colosseum, will host such names as underground house icons Apollonia, German house DJ Dixon, Brazilian electronic music producer Gui Boratto, remixer-DJ-producer Michael Mayer, techno producer and DJ Marcell Dettmann and Canadian DJ-producer trio My Favorite Robot.
More names, venues, programs will arrive in the upcoming weeks!
Tickets and information: www.szigetfestival.com
If you missed the aftermovie watch it here now…