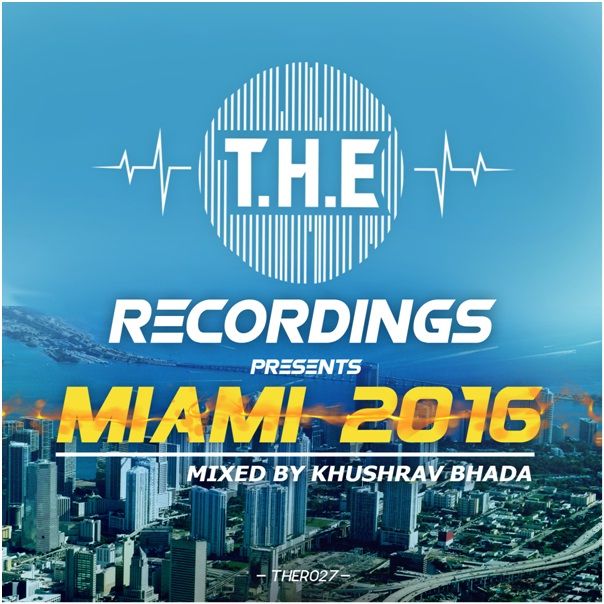 Various Artists - T.H.E – Recordings Presents Miami 2016
With Winter Music Conference in Miami just around the corner, T.H.E Recordings is commemorating the occasion with the release of their latest EP titled 'T.H.E Recordings Presents Miami 2016', hitting the shelves on the 11th March. 2016.
Previously released as a single on the label, Impera's Beatport chart hitting record 'Get Up' will be included in the 'Miami 2016' EP. Having joined forces in 2014 after running successful solo careers, the brothers that make up Impera are quickly becoming one of Turkey's fastest rising duos, thanks to their unique blend of their Turkish heritage with influences from Dance music giants such as: Tiesto, Armin van Buuren, Markus Schultz and Swedish House Mafia. Filled with an energetic bass-line, intricate sound design and melodic melodies, 'Get Up' has been making huge noises in the clubs and festivals since its release.
Joining Impera and 'Get Up' on the EP will be a blend of the scene's best Tech House, Progressive, Electro and Trance records, including artists like: SoulFest, Karan Kanchan, Physical Phaser, Apex K, Giuliano Daniel, Aditya Malve, Airborne, Miriam Owens, Auxport, Ameya, Joy Gohil and Stratos Kokotas, making this project one of T.H.E – Recordings' most in demand releases. The Indian label is a newly established imprint, which is seeking to gain a foothold within the electronic music scene by presenting some of the world's finest up-and-coming talent, whilst aiding their artistic development. With the label already boasting an impressive roster comprising top acts like: Bass Clingers, Blame Adam, Dubtronic, Aj Sam, Varun Marwah, Onomatopoeia, Dot & Dash, Bradley James and Auxport, 2016 looks set to be a colossal year for T.H.E Recordings.
Tracklist
1. SoulFest – Feel This Moment (Original Mix)
2. Karan Kanchan – Elevate (Original Mix)
3. Physical Phase – Pla Redo (Original Mix)
4. Impera – Get Up (Original Mix)
5. Apex K – Say Boom (Original Mix)
6. Giuliano Daniel – Stalker (Original Mix)
7. Aditya Malve – KOHRA (Original Mix)
8. Airborne feat. Miriam Owens – Fly (Original Mix)
9. Auxport – Rave Culture (Original Mix)
10. Ameya and Joy Gohil – Solstice (Original Mix)
11. Stratos Kokotas – Next 3 Days (Original Mix)
12. Various Artists – T.H.E Recordings Presents Miami Mix (Mixed by Khushrav Bhada)
Available On Beatport
http://pro.beatport.com/release/t-h-e-recordings-presents-miami-2016/1716298
Impera Online
http://www.djimpera.com
https://www.facebook.com/djimpera
https://twitter.com/imperadj
https://soundcloud.com/dj-impera
https://instagram.com/djimpera
T.H.E – Recordings Online
http://the-recordings.com
https://www.facebook.com/therecordings
https://twitter.com/THE_Recordings
https://soundcloud.com/the-recordings