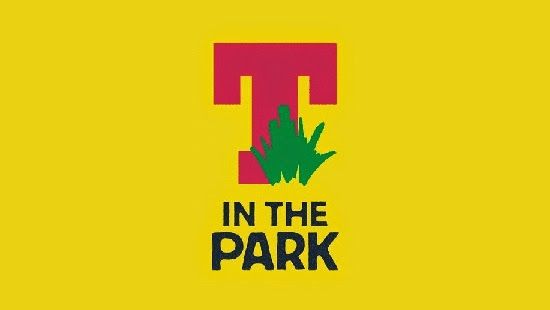 T IN THE PARK TREATS FANS TO FREE BUS TRAVEL
T in the Park festival organisers DF Concerts & Events and founding partner Tennent's Lager today announced that they will be offering festival fans across Scotland FREE BUS TRAVEL to T in the Park! The offer is available from any T in the Park Citylink departure point in Scotland, if buying a weekend camping ticket, in the next ten days. The enticing offer was announced during a special visit to the festival's home at Strathallan Castle, where fans and media were shown some of the important changes made ahead of this year's event.
The festival's #makingT campaign has been informing fans of the changes that event organisers have made since last year's festival and the team are so confident in the bus being the best option for getting to and from the festival that they have decided to put their money where their mouths are and cover the fans' bus fares to and from T in the Park!
T in the Park fans joined some locals for a tour of the site today which included visits to the new locations of the Main Stage, Radio 1 Stage and King Tut's Wah Wah Tent. As the tour arrived at the festival's brand new bus station, fans and media were informed of the exclusive weekend camping bus package, which offers anyone who purchases a weekend camping ticket over the next 10 days, from noon on Friday 29th April till midnight on Sunday 8th May, the chance to have their bus fare to and from the festival covered!
Fans who have already secured their weekend camping ticket plus return travel to and from the festival via an official Citylink bus will not miss out – an offer exclusive to them means organisers will provide them with a weekend Refresh wristband.
Weekend with camping tickets and bus travel (courtesy of DF Concerts & Events) can be purchased at: www.tinthepark.com/tickets/coach-travel
Fans were invited in to Strathallan Castle for a drink and a dance, thanks to founding partner Tennent's Lager's offering of Tennent's-based cocktails, available at T in the Park again this year in The Tennent's Arms, and performances from Scottish singer-songwriter, Gerry Cinnamon and former T Break act, Be Charlotte.
Free images from today's event are available at:
https://www.dropbox.com/sh/wkrfrmh97xrcfoh/AAA9NXfeyuH3clvsQ4W9C40Da?dl=0
Festival Director Geoff Ellis, speaking at today's event said: "Our fans are our number one priority and we've listened to all of their feedback from last year and now we're putting that firmly into action. We know the bus will be the best way to travel to T in the Park this year and so we're showing how confident we are that these changes will work, we are inviting our fans to get the bus on us! We want T in the Park 2016 to be a year to remember for all the right reasons – brilliant music and outstanding entertainment enjoyed with your best mates. We're bringing the legendary T in the Park atmosphere back!"

Melvin Benn, Executive Producer at T in the Park also said "I've been putting on festivals and concerts since the 1970s and I'm bringing what I can only describe as a hell of a lot of experience, with me to T in the Park. The changes we've made to the management structure, arena, security, campsite and travel will make for a positive festival experience.

"The new arena layout gives more room, better stage positions and makes the most of the stunning site. The campsite will have lots of great entertainment and plenty of staff on hand to help. Security teams have been restructured and the on-site transport provisions improved. I cannot promise the weather, but I can promise everything else will be ok and T 2016 will be remembered for all the right reasons."
George Kyle, Head of Sponsorship at Tennent's Lager, said: "As founding partner of the festival, Tennent's Lager are proud to have been the T at the heart of T in the Park since the festival began in 1994. This year we are delighted to bring The Tennent's Arms to Strathallan Castle once again, following a great experience in 2015. It's great to see fans enjoying their time on site today, and the offer of free bus travel from our founding partners at DF Concerts is a fantastic incentive for fans and will ensure they have the best experience at the festival in July."
Fans can view all #makingT changes at http://www.tinthepark.com/making-t
Pink Moon Camping is new to T in the Park 2016 and provides a unique camping experience, offering hassle free pre-pitched tents and a range of home comforts in an exclusive campsite – for more information and ticket prices, go to: www.tinthepark.com/tickets.
Boutique camping options in The Residence will also be available for those looking for luxury living at T in the Park – check out www.tinthepark.com/theresidence.
Wristbands for Refresh – the pamper parlour which offers access to salon standard hair washing facilities, hair straighteners, hair dryers, and premium showers and toilets – will also be available from www.tinthepark.com/refresh.
Further details will be revealed in the coming months, and fans can keep up to date on the latest T in the Park news via www.tinthepark.com, www.facebook.com/tinthepark and by following on Twitter @Tinthepark, and on Instagram @tinthepark