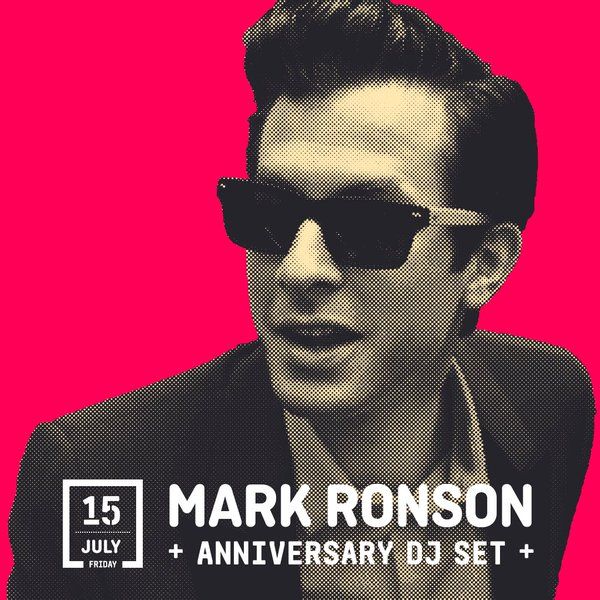 Mark Ronson, HÆLOS, Baio, Minor Victories and more join the lineup for Positivus Festival
Positivus festival are excited to announce that superstar Mark Ronson will be returning to the festival to celebrate it's 10th anniversary with a special main stage DJ set. Also joining the lineup are HÆLOS, Baio, Minor Victories, Sofi Tukker, 20syl & Mr.J.Medeiros present AllttA and more.
Having had a landmark year with the success of worldwide award-winning smash hit 'Uptown Funk' and the accompanying Number 1 album 'Uptown Special', Positivus are thrilled to welcome Mark Ronson back to the festival for it's anniversary edition. Mark Ronson is certainly a man of many talents, not only has he topped charts as a solo artist but he has also worked with superstars that include the incredible Adele and the late, great Amy Winehouse. When he takes to the decks for the festival's 10th birthday he is sure to make this a party to remember.
Darlings of the blogosphere HÆLOS make some of the dreamiest melancholy synth pop going. The London based trio first turned heads with debut track 'Dust' and since the release of their eagerly awaited debut album 'Full Circle' in March, they've established themselves as one of the countries most atmospheric live acts. When he's not playing bass in New York indie heroes Vampire Weekend, Chris Baio creates Bowie tinged electronic music under his Baio moniker. His debut LP 'The Names', released last year to huge acclaim, is a 40 minute slice of synth pop and Positivus welcomes him to the festival for 2016.
The term supergroup is thrown around far too often but in the case of Minor Victories it seems entirely justified. Boasting members of alt-rock luminaries Slowdive, Mogwai and Editors amongst their ranks and with a forthcoming album featuring guest appearances from Sun Kil Moon and The Twilight Sad, this is truly a collaboration worthy of any discerning music fan's attention. Having been a member of legendary turntablist crew C2C, 20syl has come together with Mr.J.Medeiros to create the electronic hip hop duo AllttA. With a mindset that focuses on pushing their individual talents to the absolute limit the duo are creating a truly unique sound. They'll be joined on the lineup by upcoming New York based dance-pop duo Sofi Tukker whose hypnotic signature sound is not to be missed at this year's Positivus.
Also announced for the I Love You stage which hosts both renowned and emerging acts as well as showcasing local talent are masters of noise-rock Chomsky Chess Club, alternative rock veterans Pienvedēja Piedzīvojumi, psychedelic rockers The Pink Elephant, Tehnikums, The Boondocks, NOËP, Mionia, Blue House, Irving Ark, Kashuks, Markas Palubenka and Brothers Water.
The festival takes place in an atmospheric, baltic coastal setting amid stunning woodland offering festival goers one of the most idyllic escapes around. Positivus truly has something for everyone. Arts and culture events including movie shows, performances, theatre plays, and even a designated children's recreational area for some of the youngest festival guests to enjoy stand aside the stunning programme of music. Whether you're soaking up the rays on the beach, rambling through the lit-up forest or taking in the atmosphere in a hammock beneath the trees, Positivus Festival promises to be the perfect festival getaway.
Check out the beautiful festival surroundings here.
LINE-UP (In alphabetical order)
20syl & Mr.J.Medeiros present AllttA / Air / Alise Joste / Arthur Beatrice / Baio / Blue House / Brothers Water / C Duncan / Carnival Youth / Charles Bradley / Choir of Young Believers / Chomsky Chess Club / Cigarettes After Sex / DaGamba / Dzelzs Vilks / Ellie Goulding / Grimes / HÆLOS / Ho99o9 / Hot Chip / Iggy Pop / Irving Ark / John Newman / Kashuks / M83 / Mark Ronson (DJ set) / Markas Palubenka / Mercury Rev / Mielavs un Pārcēlāji / Minor Victories / Mionia / NOËP / Oh Wonder / Ozols / Pienvedēja Piedzīvojumi / Postaal / Richard Hawley / Rīgas Modes / San Fermin / Sattellites LV / Seinabo Sey / Skyforger / Sofi Tukker / Super Besse / Tehnikums / The Boondocks / The Japanese House / The Pink Elephant / Wolf Alice / Years & Years
+More acts TBA
TICKETS
General Admission 3-Day Ticket from €75
General Admission 3-Day Ticket + Camping from €87
Book now at http://www.positivusfestival.com
Ticket prices are set to increase from April 4th.
CONNECT
Website www.positivusfestival.com
Facebook www.facebook.com/PositivusFestival/
Twitter https://twitter.com/positivus
Spotify https://play.spotify.com/user/posfest
Instagram https://www.instagram.com/positivus/