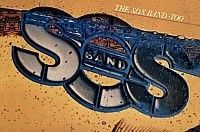 Tabu Records Latest New Re-issues
Founded in 1977, Tabu Records gave the world hugely successful acts like Alexander O'Neal, Cherrelle, The S.O.S. Band and Brainstorm, whilst nurturing the powerhouse production team of Jimmy Jam and Terry Lewis – one of the most successful production teams of the last thirty years. A comprehensive deluxe re-issue campaign of the whole label will continue throughout 2013 and into 2014.
Here's the latest re-issues
ALEXANDER O'NEAL
HEARSAY – ALL MIXED UP
"Hearsay – All Mixed Up" was a vinyl collection of eight remixes of Alex's 1987 second album, although it did not include a remix of the title song itself. This expanded edition features remixes of two songs from his debut album, plus the newly-added 9 minute 30 second "Hitmix", the 'official bootleg megamix'.
The book contains the lyrics and newly-authored liner notes by Christian John Wikane.
1. Fake '88 [House Mix]
2. (What Can I Say) To Make You Love Me [Hateful Club Mix]
3. Never Knew Love Like This [Extended Version]
4. Criticize [Ben Liebrand Remix]
5. The Lovers [Extended Version]
6. Criticize [Remix]
7. (What Can I Say) To Make You Love Me [Ben Liebrand Remix]
8. Fake [Extended Remix]
BONUS TRACKS:
9. You Were Meant To Be My Lady [88 Keith Cohen Extended Remix]
10. Innocent [88 Keith Cohen House Mix]
11. Hitmix [The Official Bootleg Megamix] [12″ Version]