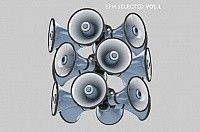 EPM Selected Vol.1
Now a fully-fledged music label with over 25 releases to it's name, EPM counts albums from Paul Mac, Carl Taylor, Kristian Heikkila, Lee J. Malcolm, Luis Martinez and The Third Man to it's ever-expanding roster. 'EPM Selected Vol 1' is the first label snapshot, leaning towards the housier side of the label's output so far (with a couple of unreleased exclusives thrown in for good measure).
In fact the album starts with the unreleased label debut from UR and ICAN productions man Esteban Adame. As a preview to his debut album for the label, to be released this autumn, 'The Reason' starts proceedings with emotive strings and a jitterbug beat giving the track a glorious West Coast shimmer. This is swiftly followed by the sun-kissed house of Marius's 'Jet Set' that also appeared on EPM 10 and sets the tone for the vibrant party feeling of the compilation.
Carl Taylor proved himself a man on a mission in 2011 with the triumphant album release 'True Faith' and here he makes two appearances with the driving Detroit techno, of superb album track 'Lost Memories', and the Nu-Groove house swing of previous single 'Only U' (which originally surfaced with remixes from Mark Broom and Luis Martinez).
Although not released as a single, Lee J. Malcolm's 'Rhodes Home' was for us, the standout track from his 2011 album 'Folded Spaces' and a track we have continued to come back to. Fusing breaks, electronica and shimmering chords into a euphoric and uplifting album centre-piece it would be fair to say that this track is an end of the night anthem through and through.
Luis Martinez drops his 'proper' EPM debut in July with the 'Do Me' EP but here we have a brand new exclusive with the latin-guitar flecked house of 'Marife', showcasing the full musical talents of this versatile New York producer. Perfect for any al fresco sun set moment. 'The Sound' is Dirt Crew in full house pomp. Digging into a deeper groove, this Dutch and German pairing are shall we say, rocking it right now. As both a label and artists in their own right, Dirt Crew's time has truly come and 'The Sound' amply shows why.
Sweden's Kristian Heikkila delivered his no-nonsense techno album debut, 'Kombinations' last summer but also managed to show his deeper house influences, especially on album tracks like 'Stakker' included here. For those in the know, Analog Fingerprints should need little introduction. Marco Passarani has been at the vanguard of Roman electronic exploration for the last 20 years and the driving, crashing beats of 'Sick Bam Stab' amply showcases a man infused with 'the funk'.
Finally we close with, what else but one of the best techno records of last year, Paul Mac's anthemic, string drenched single 'Hotel Insomnia'. If a release of recent years could lay claim to the Detroit swing of the classic 'Knights of the Jaguar' then this surely is it.
'EPM Selected Vol.1' takes a look at some of the house highlights to surface from the EPM stable over the last two years whilst also tipping its hat to the future…
The Third Man's 'Pipes of Helios Canyon' single (backed with a Legowelt Remix) is released 8 July. Luis Martinez 'Do Me' EP (featuring remixes from Greg Gow, Detroit Grand Pubahs and Dan D'Ascenzo) will be released on 29 July. This autumn will further see releases from Toronto's Greg Gow as well as the new artist album from Esteban Adame.
EPM 'Selected Vol.1' tracklist:
01. Esteban Adame – The Reason (exclusive)
02. Marius – Jet Set
03. Carl Taylor – Lost Memories
04. Lee J. Malcolm – Rhodes Home
05. Luis Martinez – Marife (exclusive)
06. Carl Taylor – Only U
07. Dirt Crew – The Sound
08. Kristian Heikkila – Stakker
09. Analog Fingerprints – Sick Bam Stab
10. Paul Mac – Hotel Insomnia