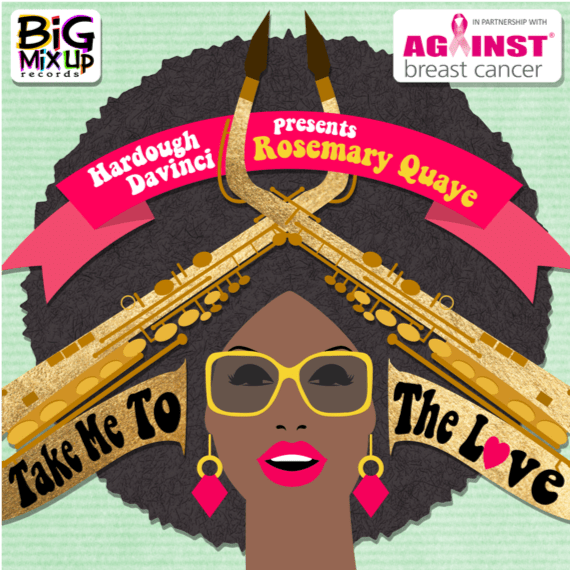 Rosemary Quaye - Take Me To The Love
The incredible Rosemary Quaye: A true survivor with innate talent, and a pleasantly uncompromising take on life, is once again warmly welcomed to Big Mix Up Records with her very own official debut single Take Me To The Love.
This release was held back from earlier this year, due to Rosemary very unfortunately and suddenly being diagnosed with breast cancer following a routine scan. She went on to need an urgent mastectomy and went public with her story on social media, where her bravery, strength and positive attitude gained her huge support. Only a few weeks later, Rosemary then had a preventive 2nd mastectomy, but never failing to stay upbeat and communicating with her online following, she has proven herself to be a true inspiration for those suffering with breast cancer and also those close to affected loved-ones by living "flat and proud". The way Rosemary has dealt with her ordeal plus the candid and frank way she has shared her experiences online with others, makes her an incredibly positive role-model. She has commendably taken it upon herself to fly the flag and raise awareness for early screening – a routine process that quite literally saved her life. Women and men too are affected by this all over the world, and her message could not be heard louder – please share and be aware!
With Rosemary's bad health now behind her and Breast Cancer Awareness Month around the corner, we couldn't ask for a better time to finally release her debut single in partnership with Against Breast Cancer: a charity dedicated to funding groundbreaking research to improve detection, treatment and increase survival after breast cancer diagnosis. Registered Charity Number – 1121258
Take Me To The Love kicks off with the original mix, a bouncy and jazzy House track with a heavy mood, sexy saxophone solos flying off all over the place, an understated vocal and a wicked chord change that sets off the goosebumps. Onto the Lempo Remix and his cool emphasis on the House element. He stays true to the original and uses creatively chopped up and looped components of the original mix with his very own, known and well-loved sonic stamp. The third mix is the South East Studios Dub by Stuart Kettridge, putting a deep Garage House spin on proceedings with a cool intro section dropping to seriously bouncy, skippy drums and an infectious pitched-down organ groove that really gets the shoulders rolling. Last but not least, we have the Danny Pickering Remix, bringing out the deep Tech on the darker end of the spectrum. At the wheel is a relentless conga loop, supporting a detuned vocal and a tense chord modulation with plenty of atmospherics, along with that trademark deep sub-bass pulse.
LISTEN AND BUY NOW:
https://www.traxsource.com/title/1024585/take-me-to-the-love
WEB LINKS:
www.saxophonelady.co.uk
www.bigmixuprecords.com
www.adobostudios.com
www.againstbreastcancer.org.uk
SOCIAL LINKS:
www.facebook.com/againstbc
www.facebook.com/rosemaryquayeofficial
www.facebook.com/tonitoolz
www.facebook.com/bigmixuprecords
www.facebook.com/adobostudios