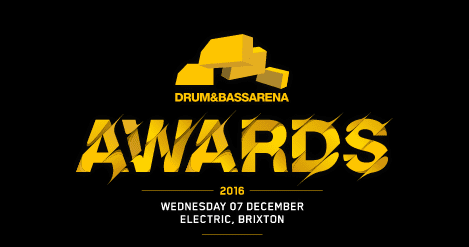 Take part to this year's Drum&BassArena Awards
Celebrating its 20th anniversary, the longest-standing scene bastion Drum&BassArena returns to Brixton Electric for its eighth annual awards.

A genuinely unique event, hosted by the dynamic partnership of Charlie T and Jenna G, the Drum&BassArena Awards are recognised and respected by scene contributors, pundits and fans alike for its high production values and organisation and how it treads the perfect line between suit and shindig; Its VIP-seated ceremony style allows members of the drum & bass industry to sit back, unwind and catch up with one another away from the standard mad-dashes backstage at DJ shows while the after parties have gone down in scene legend where some of the most influential figures in drum & bass celebrate the real winner of the night: drum & bass!

This year's winners will also get their hand on brand new Drum&BassArena Awards gold: Best New Label acknowledges the exciting activities happening on a grassroots level where tomorrow's big headliners are all honing their skills. Best Newcomer will consolidate Best Newcomer Producer, Best Newcomer DJ and Best Newcomer MC into one major accolade. The final new award is the Critic's Choice, voted for by a panel of the genre's most knowledgeable and passionate writers, bloggers, journalists and editors.
The Drum&BassArena Awards have 15 categories in total, 13 of which are voted for strictly by the public and are still open to voting until midnight GMT November 16. Each category has already enjoyed tens of thousands of votes from corners of the bass-loving globe in the first round of votes throughout October. With 330% participation increase on previous years, this year's Drum&BassAwards campaign is already the biggest and most successful so far.

A week now remains for voters to pledge support for their favourites in the second and final part of the voting stage: the top 10 nominees from the first round are now in the running in each category. Each nominee list reflects just how vast and global the genre has become over the years with a variety of international artists represented and a full scope of the scene's many subgenres. Visit awards.breakbeat.co.uk to see who's been nominated in all categories. Voting remains open until midnight GMT November 16.

Tickets are still available for the ceremony itself. Complete with brand's iconic yellow carpet, the event welcomes industry figures and jungle fans alike as Electric Brixton becomes home to the whole community for one extra night.

Many of the nominated acts, labels, promoters and brands will all be present at the Drum&BassArena Awards 2016. As will an exciting top-secret line-up of performers who've been locked and loaded to soundtrack the event. Be sure to join Drum&BassArena on December 7, too. Not just to celebrate the many winners of the night, not just to celebrate the genre itself, but to celebrate the final throes of one of the weirdest years we've lived through in decades.

None of us will forget 2016 in a hurry. While it's arguably been one of saddest and most divisive years we've experienced in decades, musically we've had a vintage. Especially in drum & bass. As a genre that has always thrived during times of adversity and frustration, drum & bass has had one of its most exciting, diverse and daring years this century. If there's a better time to celebrate this than the Drum&BassArena Awards, we've yet to find it. See you there…
All roads lead to Brixton Electric, London for Drum&BassArena's eighth annual awards ceremony:
December 7, 2016
330% more registered global voters on previous years
Six days left to pledge your support in the final round of voting
Complete ceremony refresh with 3 brand new awards up for grabs