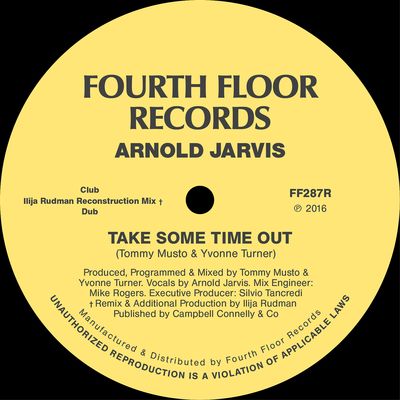 Arnold Jarvis - Take Some Time Out
Arnold Jarvis' 'Take Some Time Out' was first released in 1987, the year that Fourth Floor Records was born, and it stands the test of time as a seminal release for the label. The track perfectly characterises the stand out productions that keep the house music world returning again and again to its catalogue for inspiration.
This vinyl re-issue includes the Club and Dub that made up the original release, plus a 'Reconstruction Mix' by Ilija Rudman. Ilija delighted Classic Music Company earlier this year with his minimal take on disco in track 'In Her Eyes'. His approach to the 'Take Some Time Out' re-work has the same deconstructed vibe; the loose percussion and punchy melodic bass gives a pleasing spaciousness to the track, giving the record fresh life and re-imagining it for 2016.
Please note there will be a digital version of this product due for release on 25 November, press release forthcoming.

This vinyl is available now on the DStore: http://store.defected.com/catalogue/pre-order-arnold-jarvis-take-some-ti…