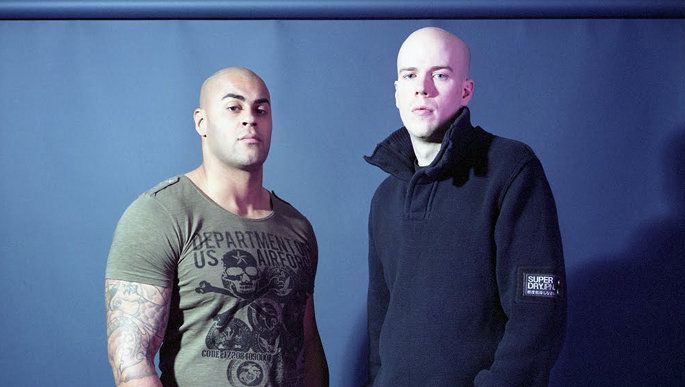 Taste The Punch Drop A UK Garage Special With Oxide & Neutrino At Eden Ibiza
With two massive grime nights already announced, Taste The Punch continue to bring a fresh approach to the island as they take it back to 2000 with UK garage legends Oxide & Neutrino, this Friday 7th July, in a bumpin' UK garage special. Taste The Punch's stunning debut Ibiza season every Friday at Eden features some of the biggest names out there, including grime from Giggs, Charlie Sloth, Mike Skinner & Murkage, DJ Target and Preditah, house from DJ Sneak, Mark Knight, Faithless (DJ Set), Marshall Jefferson (Ibiza exclusive) and exclusive techno sets from Laidback Luke…
Taste The Punch have announced a special one off UK garage special on 7th July at Eden, Ibiza, with legendary UKG hitmakers, Oxide & Neutrino. The night underlines Taste The Punch's fresh approach to their parties, coming off the back of announcements of two massive grime events featuring the likes of Giggs, Charlie Sloth, Mike Skinner & Murkage, DJ Target and Preditah, huge, house headliners including DJ Sneak, Mark Knight, Faithless (DJ Set), Marshall Jefferson (Ibiza exclusive) and Chus & Ceballos, not to mention the Laidback Luke playing two exclusive techno sets. UK garage remains a hugely popular sound and Oxide & Neutrino are the masters. Expect the classics alongside the latest grooves and the biggest basslines. Tickets are available for just £25 in advance from www.tastethepunch.com.
MOBO Award-winners, Oxide & Neutrino, burst onto the music scene in 2000. Also members of the infamous So Solid Crew, they hit the charts as an MC / DJ duo with 'Bound 4 Da Reload' which crashed in at no.1, selling more than 200,000 copies. They hit the UK top 10, three more times with 'No Good 4 Me', 'Up Middle Finger' and 'Dem Girlz'. Their debut album 'Execute' went platinum, selling over 300,000 copies. Few artists represent the UKG scene better than Oxide & Neutrino and their appearance at Taste The Punch promises to be something very special indeed.
Taste The Punch has gone from strength to strength, since two brothers in Luton set out to recreate the unmistakeable vibe of London's best underground house parties, outside of the capital. In just four years, the party has grown, based on a reputation for quality house and techno, bringing the likes of Pete Tong, Annie Mac, Claptone, Darius Syrossian, Amine Edge & DANCE and more to the unique dancefloor known as 'the punchbowl'.
Backed up by the best resident DJs, Oxide & Neutrino are sure to test the stunning Eden VOID soundsystem to its limits and get the 'Ibiza Punchbowl' dancefloor rocking with the biggest, bassline grooves and a party atmosphere like no other.
www.tastethepunch.com
www.facebook.com/TasteThePunch/
www.twitter.com/tastethepunch
www.instagram.com/tastethepunch
EVENT DETAILS
TASTE THE PUNCH
EDEN, SAN ANTONIO
16th JUNE to 29th SEPTEMBER
DATES
16th June: Felix Da Housecat, Mambo Brothers, Icarus, Lee Walker, George Kwali, Paul Malcom, Too Tall
23rd June: Get Twisted Label Showcase w/ Tough Love, George Kwali, Blaise, LiTek
30th June: Laidback Luke (exclusive techno set), Lee Walker, Christian Nielsen, Hauswerks
7th July: Oxide & Neutrino, Braqs B2B Drewy, Medcradft, Jazz Man B2B Perry Martin, DJ Policy B2B Mr Flexxx
14th July: Mark Knight, Weiss, Lee Walker, George Kwali, Riton
21st July: DJ Sneak, Marshall Jefferson, Lauren Lo Sung, Call Me Kay, Harks
28th July: Laidback Luke (exclusive techno set), Lee Walker, Toy Boy & Robin, Nigel Clarke
4th August: Faithless (DJ set), Mark Knight, Prok & Fitch, Al Gibbs, Too Tall
11th August: Mike Skinner & Murkage pres Tonga, Preditah, DJ Target
18th August: DJ Sneak, Stefano Noferini, Ellie Cocks, Lee Walker, Hauswerks, Too Tall
25th August: Chus & Ceballos, Too Tall
1st September: Faithless (DJ set), Icarus, Lee Walker, Hauswerks, Too Tall
8th September: DJ Sneak, Hauswerks, Too Tall,
15th September: Giggs, Charlie Sloth, Preditah, Rude Kid
22nd September: Chus & Ceballos, Marshall Jefferson, Campelphat, Too Tall
29th September: Closing Party – Faithless (DJ set), Prok & Fitch, Format:B, Riton, Nigel Clarke, Paul Malcolm, Too Tall
TICKETS
www.tastethepunch.com
Early bird tickets now available: £25 (Prices will rise soon)