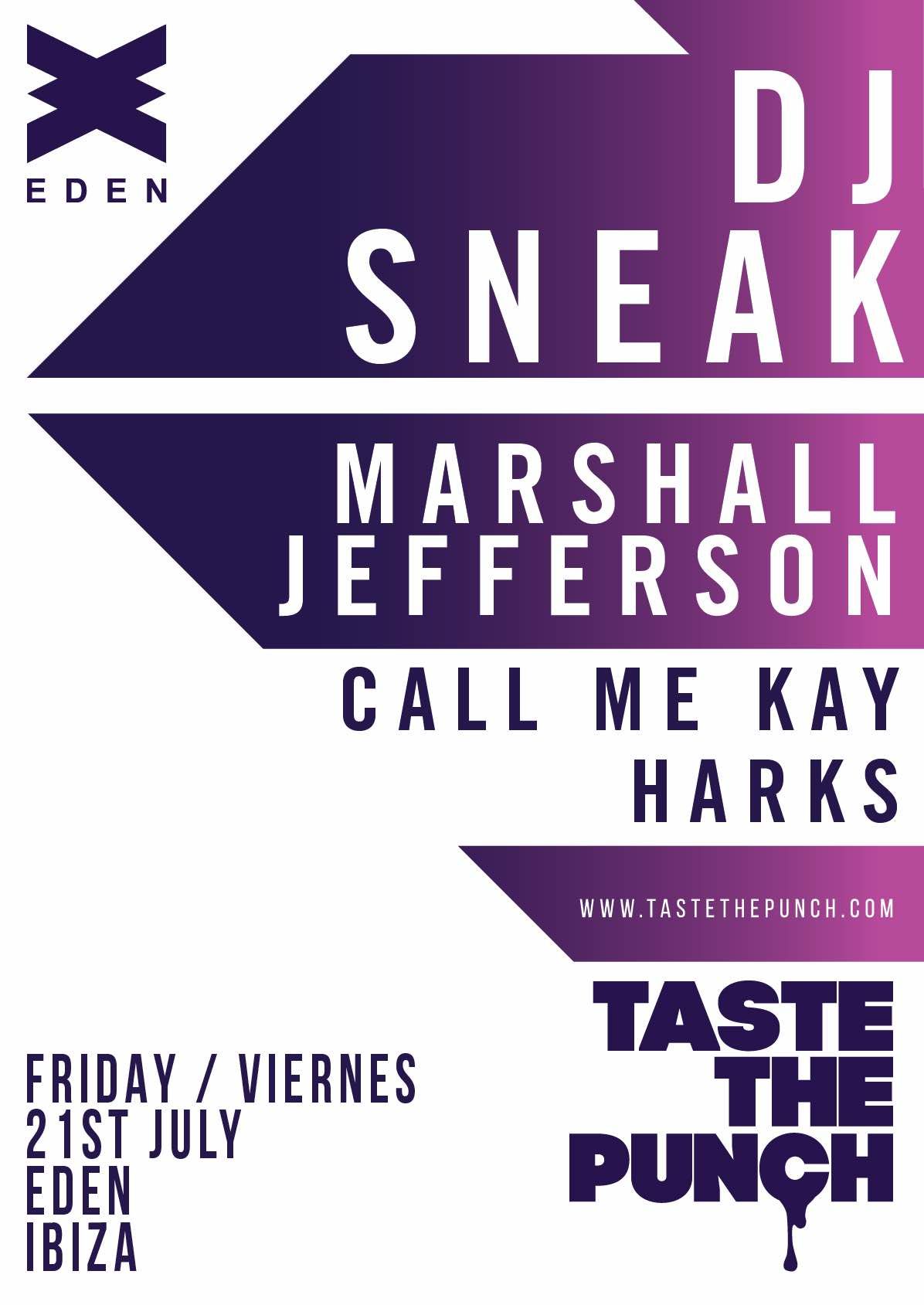 Taste The Punch to host DJ Sneak and Marshall Jefferson Ibiza Exclusive at Eden
Taste The Punch continue to turn heads in their debut Ibiza season, with another huge line up, this time bringing one of house music's true pioneers, DJ Sneak, to Eden, alongside the Godfather of House, Marshall Jefferson, for the first of two exclusive Ibiza dates on 21st July and 22nd September. DJ Sneak and Marshall Jefferson join an impressive list of house masters all lined up to rock the Taste The Punch dancefloor over the summer, including Mark Knight, Faithless (DJ Set), Chus & Ceballos, Stefano Noferini and more…

Taste The Punch are preparing for house music heaven on 21st July as pioneering Chicago house master, DJ Sneak takes over the turntables, alongside an exclusive set from the Godfather of House, Marshall Jefferson, (who also appears for a second exclusive set on 22nd September) at Eden, Ibiza. House heads should make sure Taste The Punch is in their Ibiza diaries, as DJ Sneak also plays on 18th August and 8th September, and adds to a list of impressive, house headliners, guaranteed to deliver on the dancefloor, including Mark Knight, Faithless (DJ Set), Chus & Ceballos and Stefano Noferini, not to mention rising stars in house such as Icarus, Lee Walker, Prok & Fitch and Hauswerks. When it comes to house music, Taste The Punch always delivers something special, so lining up two of the biggest names in house music for the Ibiza punchbowl is something not to be missed. Tickets are available for just £25 in advance from www.tastethepunch.com.
DJ Sneak carved out a reputation from the early 90's as a self-proclaimed 'house gangster'. His signature sound of filtered, disco-influenced house with tough, jacking beats influenced the sound of some of dance music's biggest names and Sneak developed a formidable reputation as a DJ who could command any dance floor. His seminal label, Magnetic Recordings drove his sound forwards following releases on such classic labels as Strictly Rhythm, Cajual Records and Henry Street Records. DJ Sneak was at the vanguard of the second wave of Chicago house, following in the footsteps of Marshall Jefferson, but has gone on to create a legacy all of his own.
Marshall Jefferson is one of the founding fathers of house music. Growing up in Chicago, he was central to the explosion of house music which came out of the city in the mid-eighties and spread across the whole world. His seminal anthem 'Move Your Body', inspired a whole generation of DJs and producers, and alongside DJ Pierre he kickstarted the acid house sound. Few artists can claim to have been as influential in house music as Marshall Jefferson. Taste The Punch will give Ibiza house music fans a chance this summer, to see why, even after three decades in the industry, he remains as popular as ever.
Taste The Punch continues to go from strength to strength, from the inception of the unique dancefloor known as 'the punchbowl' in Luton just four years ago, where two brothers set out to recreate the unmistakeable vibe of London's best underground house parties, now all the way to one of the world's best clubs, Eden in Ibiza.

If you love house music, the 'Ibiza Punchbowl' is the place to be.

www.tastethepunch.com
www.facebook.com/TasteThePunch/
www.twitter.com/tastethepunch
www.instagram.com/tastethepunch

EVENT DETAILS
TASTE THE PUNCH
EDEN, SAN ANTONIO
16th JUNE to 29th SEPTEMBER

DATES

21st July: DJ Sneak, Marshall Jefferson, Call Me Kay, Harks
28th July: Laidback Luke (exclusive techno set), Lee Walker, Toy Boy & Robin, Nigel Clarke
4th August: Faithless (DJ set), Mark Knight, Prok & Fitch, Al Gibbs, Too Tall
11th August: Mike Skinner & Murkage pres Tonga, Preditah, DJ Target
18th August: DJ Sneak, Stefano Noferini, Ellie Cocks, Lee Walker, Hauswerks, Too Tall
25th August: Chus & Ceballos, Too Tall
1st September: Faithless (DJ set), Icarus, Lee Walker, Hauswerks, Too Tall
8th September: DJ Sneak, Hauswerks, Too Tall,
15th September: Giggs, Charlie Sloth, Preditah, Rude Kid
22nd September: Chus & Ceballos, Marshall Jefferson, Camelphat, Too Tall
29th September: Closing Party – Faithless (DJ set), Prok & Fitch, Format:B, Riton, Nigel Clarke, Paul Malcolm, Too Tall

TICKETS
www.tastethepunch.com
Early bird tickets now available: £25 (Prices will rise soon)