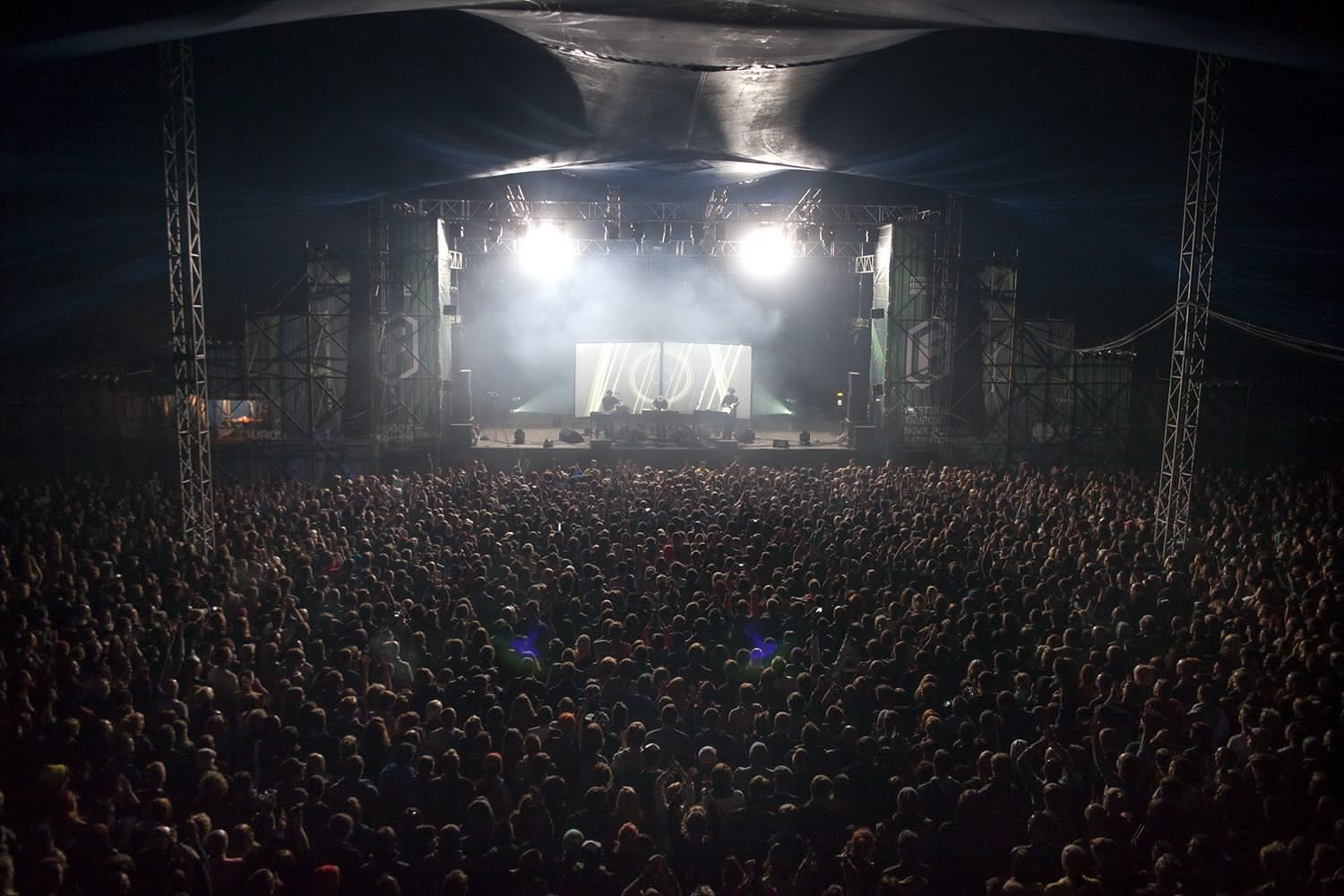 Tauron Nowa Muzyka | 21 – 24 August | Poland | £30
DIXON, MOUSE ON MARS, BEN UFO & JACKSON AND HIS COMPUTERBAND AMONGST THE FIRST ACTS FOR TAURON NOWA MUZYKA 2014
Katowice Coalmine revealed as the jaw-dropping festival location, plus two-day tickets go on-sale for just £30/€36
21st – 24th August 2014, Katowice, Poland
www.festiwalnowamuzyka.pl/en/
Poland's most innovative and exciting electronic music festival Tauron Nowa Muzyka, takes place from 21st – 24th August and has today revealed the beginnings of their highly-anticipated 2014 line-up. Innervisions head honcho Dixon will be leading proceedings along with legendary German duo, Mouse on Mars. Also unveiled is one-third of pioneering label Hessle Audio, Ben UFO, plus 80's-inspired producer Jackson & His Computerband. Completing this stellar gathering is the hotly tipped experimental R&B songstress Kelela, the mysterious trio Bokka plus Kompakt favourites Terranova and Elekfantz. Calling home the industrial town of Katowice in Poland, the festival is delighted to announce that this year's event will return to its original home of the Katowice Coalmine after a two-year hiatus. The epic industrial site has undergone extensive refurbishment and has transformed into an electronic music mecca – a perfect backdrop to the avant-garde sound and incredible feel of TNM 2014. Two-day tickets are now available for the incredible price of £30 until end of April, available from the official website, RA and travel packages from Festicket. For more information visit the Tauron Nowa Muzyka website.
Tauron Nowa Muzyka meaning "new music", are purveyors of groundbreaking and original artists and are constantly pushing boundaries in the electronic soundscape. This year promises to be no exception with an all-star line-up including 'man of the moment' Dixon. Known for his more soulful style of techno, Dixon will surely bring the coveted sounds of Innervisions to the festival.
Mouse on Mars, an electronic duo from Germany, has been inventing and initiating within electronic music since 1993. Releasing an impressive 11 albums in 11 years, their method of Intelligent Dance Music continues to influence and excite crowds all over the world.
Hessle Audio co-founder Ben UFO also joins the line-up; his distinctive DJ sets can span several genres from funky to dubstep to classic house and techno. Also on the bill is French producer and one-man-band, Jackson & His Computerband, fresh from the release of his critically-acclaimed album 'Glow' in 2013. His multi-instrumental talents plus his own style of aggressive techno make him one to watch at Tauron Nowa Muzyka 2014.
Flying the flag for females on the program is Kelela – a definite one-to-watch this year. Her experimental R&B and 2013 album 'Cut for Me' has already led to high profile fans including Beyonce. Finally, secretive trio Bokka will introduce themselves to the festival for the first time.
Other artists announced include Kompakt favourites Terranova and Elekfantz, Warp artist Gonjasufi, plus Nozinja and Kolsch.
TNM aficionados will agree that the impressive location is integral to the experience of the festival as a whole. In 2014 TNM returns to the grand and renovated Katowice Coalmine. The old production halls, warehouses, carpentries and the amazing pressure tower prove to be the perfect location to host the biggest names of modern music and the experimental sounds of electronica.
Two-day tickets are now available for just £30/ €36 as well as ticket and hotel packages from Festicket, Resident Advisor and the TNM website. For more information on the festival visit the Tauron Nowa Muzyka website.
Please credit Radoslaw Kazmierczak for the above photo
"With a cutting-edge line-up and a beautiful location near a hip town with nightlife that could rival most major British cities, Nowa Muzyka is a festival that deserves all the buzz it gets and you can bet your last szloty it will only get better." Crack
"It was simply awesome, the location, stages, the sound system, the artists, etc. Specially, I'd like to give thanks for such a perfect organization during the whole weekend (unfortunately this isn't something common in Spain, shame on us)."
Planet Modular
"I was incredibly surprised when visiting Tauron Nowa Muzyka. Very nice Festival with a great lineup, located in a beautiful location. Not too big and not too small. Next year, again!" Groove
"We dance and indulge, then dance and dance some more – techno ist gut!" The Arts Desk
"There's Techno to be danced to." Mixmag
"Now in its eighth year, Tauron Nowa Muzyka ran like a well-oiled machine… If this is how good Tauron Nowa Muzyka was with a last minute relocation, you can't help but wonder how great it would have been if everything had gone to plan" RA
"Having been voted 'Best Small Festival' at the European Festival Awards, Tauron Nowa Muzyka is arguably the best underground electronic music festival you've never heard of." Kadmus Arts
"Tauron Nowa Muzyka will be an unmissable experience for electronic music fans everywhere." Data Transmission
"Forward thinking and exciting line-up…. music festival where the focus isn't on attracting the guaranteed crowd pleaser, but those chosen for their ability to sell tickets over their skills on stage." Hu Who
"…best non-commercial music event in Poland and Central Europe, the independent nature attracts the curious music fan, one that is eager to learn from an event which is highly influential in helping to set the music trends of Poland."
Wiki Festivals
"bleak but beautiful festival location, boast[ing] some of the coolest names on the underground electronic scene." Gigwise