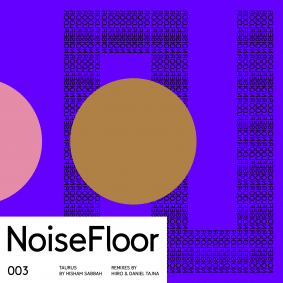 Hisham Sabbah - Taurus EP
NoiseFloor kick off their 2019 with a powerful package that features an original from Hisham Sabbah and remixes from HiiRO and Daniel Tajna.
Hisham Sabbah (fka Eltimass) hails from the underground scene of Haifa City, and is well known for his progressive and melodic house and techno. He infuses his grooves with worldly influences and has signed with the likes of OLD SQL and Bonzai Progressive Recordings previously. "The idea for this release came as I wanted to make a track with a different, spicy sound, so I contacted my friend Jonas who plays the Oud instrument," says Sabbah. "The title reflects the aggressive feeling of the track, like a furious bull."
As such, the superb 'Taurus' combines a progressive atmosphere with a touch of oriental Oud. It starts with crunchy beats and an automated Arp synth that develops as the heavy sub bassline takes you into a hypnotising state. The main melody of the track comes from the Arabic Oud which is exotic and mesmerising and helps this one stand out.
The first remix is a take from HiiRO aka Philipp Ortner. He slows down the tempo giving it a real intensity and making for a wonderfully moving house journey. The second standout remix is from Alex Tajna, who starts with a massive techno kick, before building in melodies that make it a truly beautiful track that works on mind, body and soul.
This is a stirring package that will bring plenty of shivers to the dance floor.