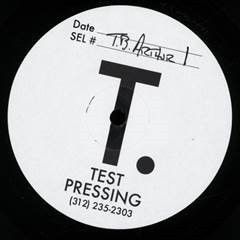 TB ARTHUR – Test Pressings
This music is interesting on many levels, primarily in its sound and movement and also in the sheer anonymity of its producer.
A body of work comprising of three EPs and a DAT of yet more unreleased material, this is not a contemporary ode or pastiche to a golden era of underground dance music. This is a bona fide beacon sent direct from early 90's Midwest America, initially only reaching test pressing stage, discovered by coincidence two decades later and for the first time released and committed to vinyl here in 2014.
Allowing the music to speak for itself the listener is treated to an accurate audible account of America's Midwest underground scene during its 'heyday' as realized through TB Arthur's personal and unique signature production style. The producer is evidently deeply connected with the rhythmical electronic pulse that acted as a driving force behind a most significant cultural movement.
Raw, natural and elegant in sound and structure, this is a timeless and unassuming body of work.