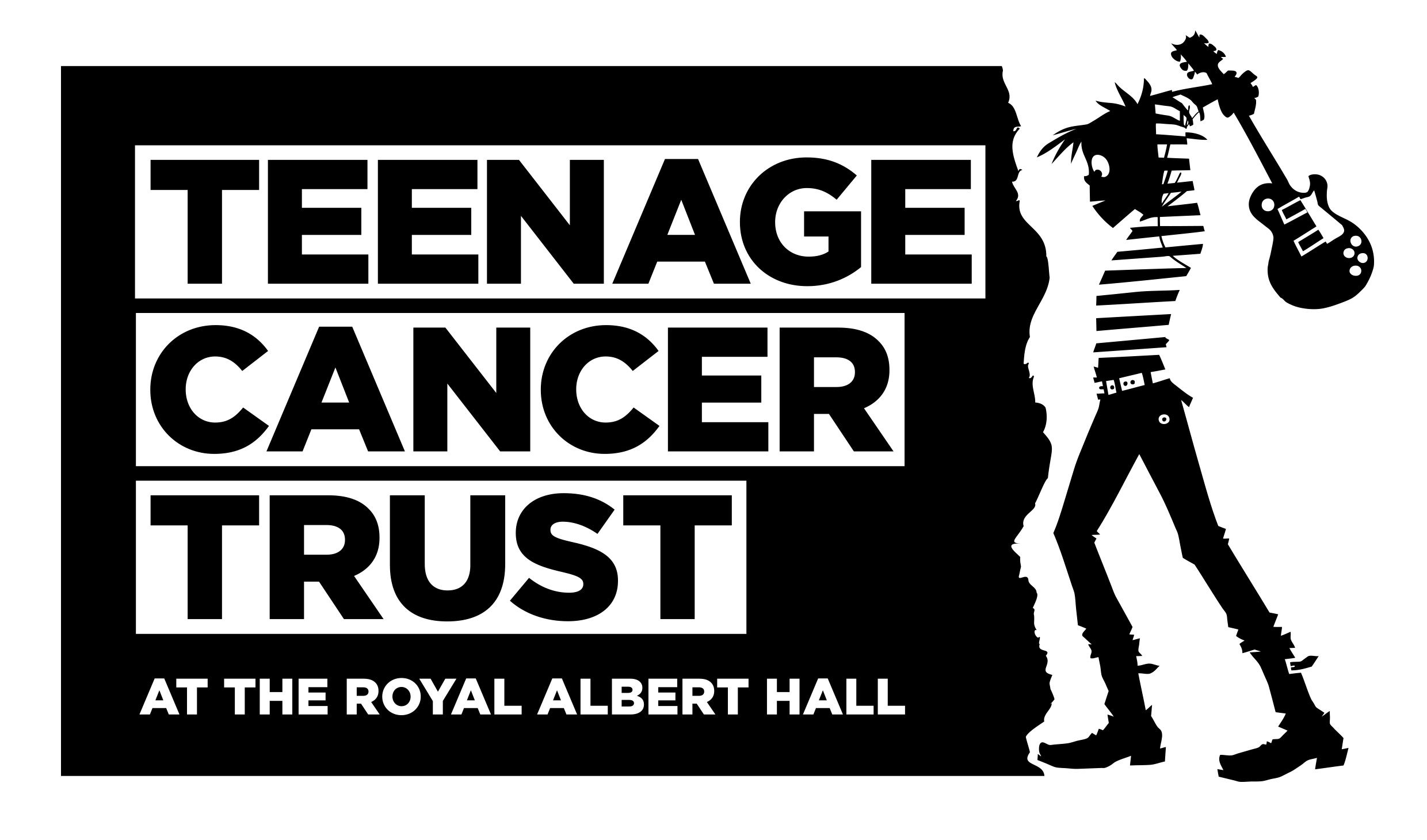 Teenage Cancer Trust at The Royal Albert Hall 2019 – Headliners announced for 2019
Teenage Cancer Trust at the Royal Albert Hall announce their headline acts for 2019; multi award-winning collective Rudimental, one of the most successful bands in British chart history, Take That, alternative legends, Doves, announcing their return after a decade, pop/rock trio The Script and English folk-rockers Levellers.

Money raised by these shows supports Teenage Cancer Trust, the only charity dedicated to making sure young people diagnosed with cancer get the expert treatment and personalised support they need.

Rudimental kick things off at the Royal Albert Hall with their emphatic. hi-energy live show on Monday 25th March. Performing tracks from their forthcoming new album, Toast To Our Differences, which releases on January 25th and features an all-star cast of guest vocalists including Rita Ora, Stefflon Don, Jess Glynne and more, they kick off the week in celebratory style.

First making waves in 2012 with anthemic #1 single 'Feel The Love' ft. John Newman, Rudimental's breakthrough debut album 'Home' was subsequently nominated for the Mercury Music Prize in 2013 and took home Best Album at The MOBOs. 'Waiting All Night' ft. Ella Eyre, another definitive Rudimental track, also topped the UK Singles Chart and took home a BRIT Award for Best British Single in 2014, helping the band cement their reputation as the UK's leading and most inventive dance act.

Second studio album 'We The Generation' also entered the UK Albums Chart at #1 in 2015, boasting two Ed Sheeran collaborations ('Bloodstream', 'Lay It All On Me') and eye-catching features from the likes of Anne Marie, MNEK and Dizzee Rascal, as well as rising star Mahalia.

Rudimental kicked off 2018 with double-Platinum mega-hit, These Days ft. Jess Glynne, Macklemore & Dan Caplen, claiming their third UK #1 and amassing over 855 million global streams in their process, ranking as the UK's biggest-selling song of the year. Further album singles 'Let Me Live' (produced with Major Lazer) ft. Anne Marie & Mr Eazi and heart-stirring ballad 'Walk Alone' ft. Tom Walker have continued to feed into the buzz around the band too, as they prepare to release their third studio album, 'Toast To Our Differences', in January.

Supporting Rudimental will be grime star Ghetts. His critically acclaimed album, Ghetto Gospel: The New Testament which illustrates themes from feminism, culture, philosophy, to the rise of social media, was released in September this year. A legend of grime, Ghetts also recently performed on Later With Jools Holland.

Renowned for their incredible live shows, Take That, will make their debut performance at Teenage Cancer Trust concerts at the Royal Albert Hall in 2019. The band are also celebrating their 30th anniversary and have just released their new Greatest Hits album, Odyssey, which debuted at number 1 in the UK charts last week, becoming the fastest selling album of the year.

One of the UK's most beloved bands, Take That have had phenomenal success with 28 top 40 singles and 17 top 5 singles in the UK, 12 of which have reached number one, as well as having 7 number one albums. Internationally, the band have had 56 number one singles and 37 number one albums. Additionally they have received eight Brit Awards – winning awards for Best British Group and Best British Live Act.

Take That have set new records for the fastest-selling tour of all time in the UK with Progress Live, beating their previous record for Circus Live Tour in 2009, proving they're still the number 1 live draw in the UK.

Doves, the legendary three-piece band from Manchester, announce their return in 2019, taking to the stage for the very first time in nine years. Celebrated for Mercury-nominated albums, Lost Souls and The Last Broadcast alongside hit singles There Goes The Fear, Pounding and Black And White Town, Doves sound tracked the lives of a generation of fans left waiting patiently for their reappearance. The wait is over as the band, composed of twin brothers Jez Williams (guitar, vocals) and Andy Williams (drums, vocals), and Jimi Goodwin (bass, vocals, guitar), make a re-energised return to the Royal Albert Hall next March.

They last played together at the Manchester Warehouse Project in October 2010.
After supporting each of their four, top-ten albums on the road and being affixed to festival main stages for close to a decade, Doves declared a 'time out' to pursue other experiments in sound – yet remained connected by their friendship of over thirty years.

After calling time on their hiatus, Doves embraced the invitation of Roger Daltrey CBE to take the stage for Teenage Cancer Trust, having previously supported the charity with a full, 17-song headline set in 2003.
Irish trio The Script are five albums and ten years into a 30 million record-selling career. Songs such asFor The First Time, Hall Of Fame, Breakeven and Superheroes have been smashes on a global scale. The band boast four number 1 albums in the UK and four platinum selling singles in the US and combined YouTube views of one billion. The band are the rarest of things: streaming-era superstars as well as self-produced singer-songwriters. Album artists in the traditional sense, and a huge all-ages, all-sexes, arena-filling live phenomenon.

The Script said: "We are honoured to be asked to support the Teenage Cancer Trust at The Royal Albert Hall. The fantastic work that they been done over the years continues to pay dividends to provide specialist care to young people with cancer across the UK."

Levellers – English folk punk band and live favourites will be playing a full electric set at the Royal Albert Hall on Sunday 31st March as part of their own curated show "A Beautiful Night Out", a one-day version of their award-winning grass roots festival Beautiful Days.

Often political, occasionally angry but always big-hearted, Levellers have had 11 Top 40 albums, including a number one with 1995's Zeitgeist, and 14 Top 40 singles. Their landmark 1991 album, Levelling The Land, spent 38 weeks in the Top 100 album charts over a three year period. The band released We The Collective produced by John Leckie (Radiohead, The Stone Roses) in Spring 2018 which entered the Top 20 on release – the band's highest chart position for over 20 years. This very special show at the Royal Albert Hall follows the band's 30th anniversary celebrations this year.

Legendary frontman of The Who, Roger Daltrey CBE has been the driving force behind Teenage Cancer Trust's Royal Albert Hall concerts since they began in 2000 and is an honorary patron for the charity. I've been proud to be part of Teenage Cancer Trust for almost 20 years.

Roger said: "Many people will not be aware that Teenage Cancer Trust is a charity that receives no government funding and is dependent on raising money from the public to provide vital wards and nursing care which are a lifeline for young people with cancer. "I'm incredibly grateful to all of the artists who've given up time in their busy schedules to help young people with cancer get the specialist care they deserve. Looking back, we've had so many unforgettable moments at the shows over the years and these moments are amplified by the wonderful young people with cancer I have met. I'm consistently overwhelmed by their positivity in the face of a life changing circumstance. They are the reason we strive to make these shows the very best we can and this year will be no different."

Every penny Teenage Cancer Trust raises goes towards putting a spotlight on the thousands of young people living with cancer across the UK. The services provided treat people as individuals – the young person first and the cancer diagnosis second.

2019's impressive line-up adds to an extraordinary legacy that has seen unique, once in a lifetime performances like Noel Gallagher and Damon Albarn performing together for the first time ever in 2013, Sir Paul McCartney in 2012, plus everyone from Muse to The Cure, Tinie Tempah, Florence + The Machine, Ed Sheeran, Kasabian, Stereophonics, Paul Weller, Olly Murs, Eric Clapton, Robert Plant, Sir Tom Jones and many more. And, of course, some of the greatest concerts of the past 20 years from The Who.

Liz Tait, Director of Fundraising at Teenage Cancer Trust, said: "We're so excited to announce this incredible line-up. These amazing shows not only bring together some of the world's biggest names in music, but also raise vital funds to support young people facing the chaos of cancer through our 28 specialist teenage cancer units in NHS hospitals across the UK, led by expert nurses and support staff. For every young person we reach, there's another we can't, so every penny raised through the gigs is crucial. As always, we're incredibly grateful to our honorary patron Roger Daltrey CBE, who is the driving force behind the Royal Albert Hall shows. And it's great that tickets are on sale just in time for Christmas!"

This year's shows are generously supported by sponsors Tangle Teezer and American Airlines.

Further incredible support is provided by media partners Absolute Radio and Metro.

TEENAGE CANCER TRUST AT THE ROYAL ALBERT HALL

Monday 25 March – Sunday 31 March 2019

Monday 25 March Rudimental, Ghetts
Thursday 28 March Take That
Friday 29 March Doves
Saturday 30 March The Script
Sunday 31 March Levellers "A Beautiful Night Out"


Tickets go on sale at 9am on Friday 7 December from:

Official ticket vendors:

www.gigsandtours.com
www.ticketmaster.co.uk
www.royalalberthall.com