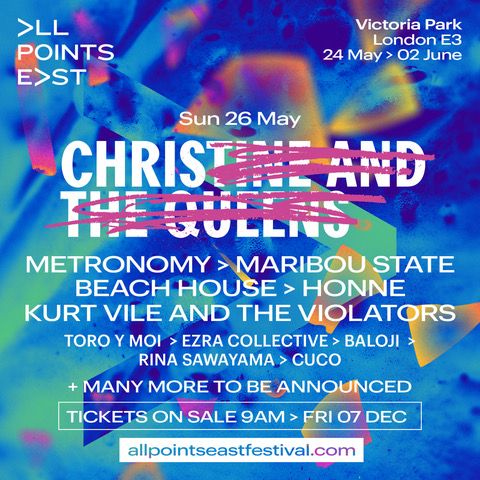 Christine and The Queens headline All Points East
All Points East returns for a killer second year to Tower Hamlet's Victoria Park, following a sold-out 2018 debut that established a new and essential music event in central London.

Following the announcement of massive headliners for the 2019 dates – The Chemical Brothers (Friday 24 May) and Bon Iver (Sunday 2 June) – comes one of the world's most thrilling new voices in pop, Christine and The Queens, who will headline the festival's first Sunday show on 26 May 2019. Tickets will go on general sale this Friday at 9.00AM.

2018's inaugural year saw headline shows from Nick Cave & The Bad Seeds, The National, LCD Soundsystem, Björk, The xx and Catfish and the Bottlemen with an astronomical supporting line up across two weekends of award-winning music.
Following the global success of her 2016 debut album Chaleur Humaine, a 1.3 million selling breakout which marked the arrival of a new pop icon, Christine and the Queens, AKA French artist Héloïse Letissier, unveiled a new chapter in her story with the release of new album Chris in September. Where her first album reflected her teenage years, Chrispushes new boundaries, playing with notions of sexuality, masculinity and a newfound confidence of an artist who has well and truly arrived.

After a long time on the road honing her athleticism as a dancer and qualities as a performer, Letissier's live performances, famous for their immaculate dance routines and showmanship, are moving in a new, more explorative direction. "I wanted to give the same performance on stage as I did on the record," she says. "It's really dry, exposed and untouched. It felt like being naked, in a way."

Joining Christine and The Queens on Sunday 26 May is Metronomy. Over the last 10 years, the band has solidified their place one of Britain's most clever cross-pollinators of rock, electronic music and funk. With new music slated for 2019, there is every chance Metronomy will roll out their biggest set yet weaving their latest record with the best from their colourful back catalogue.

British electronic music duo Maribou State returned with their second album Kingdoms in Colourin September and brought with them a fresh live approach. From 2015's 'Midas' to now, it's clear to see how the band had sharpened their distinct blend of ambient electro-funk, R&B and folk. Also joining the killer line up is Beach House. The dream-pop duo is sure to enthral with an ethereal set of hypnotic melodies and transcendent synths. Beach House released their seventh studio album 7this year, which has been hailed as the most immersive-sounding of their decade-long career.

With quiet confidence, up-and-coming East London duo HONNE are showing themselves to be masters of sophisticated robot soul. Their 2018 album Love Me / Love Me Not courts the likes of Tom Misch and Anna of The North for collaborations over minimalist soundscapes with funky synth flourishes. American lo-fi folk rocker Kurt Vile and the Violators are also headed for All Points East. The former lead guitarist of The War on Drugs released his eighth studio album Bottle It Inlast month and is set to serenade the crowds at Victoria Park with his breezy set.
Also featuring is the ever-eclectic Toro Y Moi. The prolific producer has earned recognition through his inventive and quirky sonic blend of genres, most recently showcased via his 2017 LP, Boo Boo. Expect an equally engaging and dazzling live performance. Jazz outfit Ezra Collective are one of main acts spearheading the exciting and experimentative jazz movement flowing through the UK. Their success at this year's Jazz FM awards (winning UK Jazz Act of the Year and Live Experience of the Year) further solidifies this status – not one to be missed.

Baloji will bring his sumptuous mix of Congolese-flavoured hip hop with dashes of soul, funk, jazz and Afro-disco to Victoria Park. His latest album 137 Avenue Kaniamais a collection of up-tempos designed to make you get up and sweat. Expect nothing less than a visual feast from one of 2018's most exciting breakout pop artists: Rina Sawayama. The London-based singer is poised to hit the stage with an army of backing dancers, an eye-popping outfit or two, and fistfuls of tunes including 'Cyber Stockholm Syndrome', 'Ordinary Superstar' and 'Cherry'.

Californian singer and producer Cuco has developed quite a cult following with his dreamy, bedroom synth-pop mixtapes, raking in over a million listeners on Spotify every month. Expect to fall in love hard as the 19-year old rising star threads his set with gems like 'Lo Que Siento', 'Lover Is A Day', 'Drown' and 'CR-V'.

East London's beautiful Victoria Park in Tower Hamlets also hosted a hugely popular 4-day community focused midweek event last year. Kicking off on the second Bank Holiday Monday, In The Neighbourhood is set to return across the half term week for 2019. Featuring freeaccess to the All Points East site, In The Neighbourhood will host a vibrant programme of activities and entertainment, in collaboration with the local community, businesses, organisations and suppliers. From free Outdoor Cinema, Live Music and Entertainment, Street Food to Pop Up Bars, Theatre, Arts, Sports & Wellbeing, Children's Activities and much more.