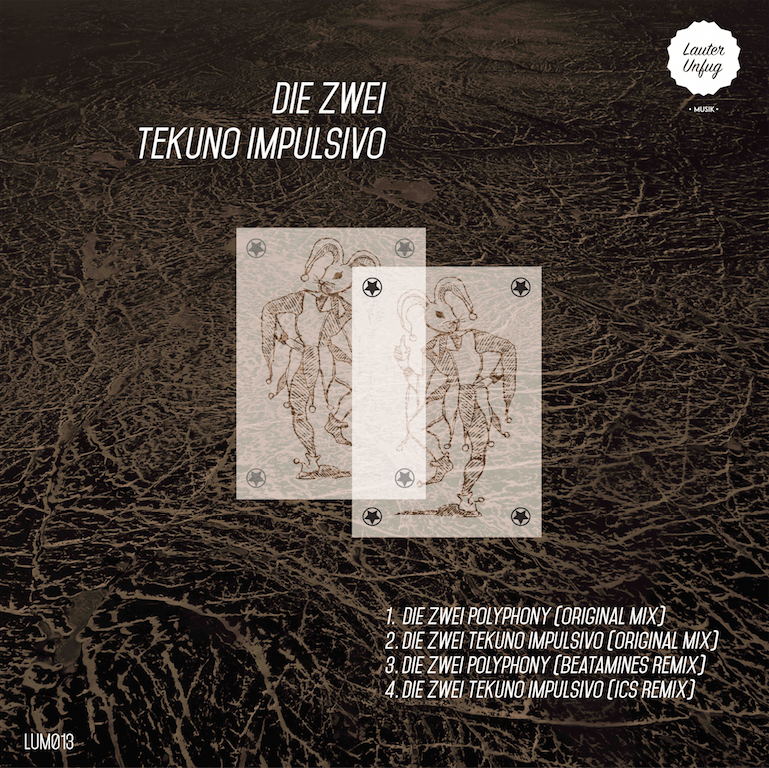 Die Zwei - Tekuno Impulsivo EP
D!E ZWE! reveal their first EP for Lauter Unfug – 'Tekuno Impulsivo'. 'Polyphony' is a smouldering Tech House jam, where melodic arpeggios roll over a dark brooding bass line and backed with crisp Techno beats. Beatmines magically reinterprets the groove and inserts dramatic bass stabs that thunder under soothing hypnotic synths that resonate through the track. 'Tekuno Impolisvo' is a beat driven bouncey House monster, with it's low slung bass and understated melodic hooks bubble along hand in hand. Romanian producer ICS also turns in a deep laid-back groover, where echoes of old school Electro and Techno meet with contemporary Tech ideals and blissfully mesmerise.
DJ / production duo D!E ZWE! – Aka Thorsten Maier and Erwin Kelemen hail from Stuttgart. When they met, a deep friendship developed from their love and passion for electronic music, which can be best described with the quote of Ernst Zacharias: "Friends don't just communicate, they just understand each other." This quote doesn't only describe the spirit of their connection, but also their way of playing and producing music. They have published on labels such as Lauter Unfug, Style Rockets and Damm Records, to just mention a few. With the young label Lauter Unfug they have connected their musical home base. Together they have taken their sound to festivals such as Sea You, Day & NIght, Audiogate, Songkran or Summer Visions and clubs Sirup in Zagreb, their residency Club 27 in Tübingen, Finca, Zollamt, Hype in Stuttgart, among many.
'Tekuno Impulsivo EP' will be released on August 28th 2016 on Lauter Unfug