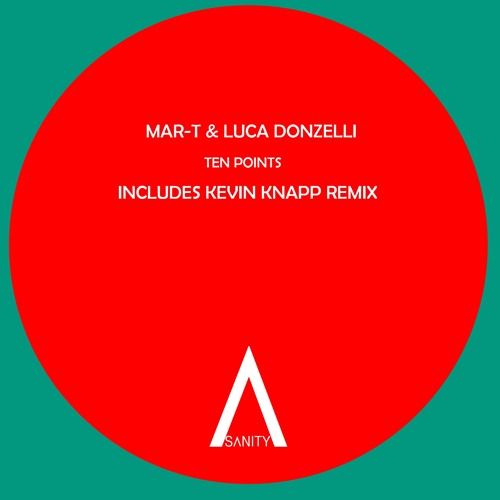 Mar-T & Luca Donzelli - Ten Points
June 27th 2016 sees Wow! Recordings' boss Mar-T team up with Italian DJ/producer Luca Donzelli to release their forthcoming single entitled, 'Ten Points', distributed via Cuartero's Sanity Music.
​
This superb offering sees the dynamic duo continue their fine form of releases, following on from; 'Step By Step' in 2014 (Sanity), 'Historia Roja' EP in 2015 (This And That) and 'Going Crazy', released via Mar-T's Wow! Recordings earlier this year.
The EP's title track, 'Ten Points', is the opener, featuring numerous looped-up vocal samples, punchy percussive elements and spiralling synths that dart in and out of the driving Tech-House groove during the 7-minute masterpiece. Expect to hear this deep roller spun during the duo's summer shows, including a special performance at Space Ibiza on August 21st.
To complete the package, the iconic US-based DJ/producer and vocalist Kevin Knapp has added his own spin on the original to deliver an impressive re-rub.
'Ten Points' is available exclusively via Beatport on June 27th and everywhere else two weeks later.
FIND MAR-T ONLINE:
http://www.djmar-t.net
https://twitter.com/djmar_t
https://www.facebook.com/artist.mar.t
https://www.residentadvisor.net/dj/mar-t
FIND LUCA DONZELLI ONLINE:
https://www.residentadvisor.net/dj/lucadonzelli
https://www.facebook.com/lucadonzellidj
https://soundcloud.com/luca-donzelli
TRACKLIST
01. Mar-T & Luca Donzelli – Ten Points (Original Mix)
02. Mar-T & Luca Donzelli – Ten Points (Kevin Knapp Remix