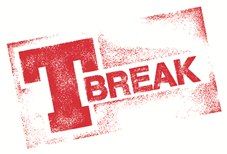 TENNENT'S LAGER ANNOUNCE STELLAR T BREAK LINE-UP FOR 2016!
Tennent's Lager put the call out to Scotland's unsigned musicians in March, asking them to send in their three best tracks for the chance to play a slot on, the now legendary, T Break Stage at T in the Park this July. Entries came thick and fast, with almost a thousand acts from across the country submitting their music in the hope of landing one of 16 highly coveted slots on the T Break Stage.

Today Tennent's Lager have revealed the 16 successful acts that will take to the stage this year:

Bloodlines
Declan Welsh
Domiciles
Edwin Organ
Foreignfox
Forever
Indigo Velvet
Miracle Glass Company
Mt. Doubt
Redolent
Scholesy
Scope
Sweaty Palms
The Ninth Wave
The Vegan Leather
Tongues.

T Break 2016 artist, Declan Welsh said:
"T Break is an institution. For artists who've earned their stripes, done their apprenticeship, this is a chance to show Scotland's biggest festival, with the world's best fans, exactly what you're all about. To be given the opportunity to play at the only show in town is just amazing. I'll be working day and night until then to put on an absolute belter of a show for all you beautiful people and can't wait to see you there!"

Tennent's Lager have been proudly supporting Scotland's grassroots music scene through T Break for the past 21 years, providing the country's freshest unsigned talent with the chance to showcase their material to fans, musicians and music industry insiders alike on the biggest platform for unsigned artists at T in the Park – the T Break Stage.

Nicola Cooper, Sponsorship Executive at Tennent's Lager said:
"We are delighted with the line-up for the T Break Stage this year, having attended the judging sessions earlier in the month, I can personally attest to the passion and thought that goes into curating this line up each year. To see such a diverse mix of musical styles and acts from towns and cities all over the country is fantastic. We are hugely proud of T Break's 21 year history at Tennent's Lager and I can't wait to see what this year's acts bring to the T Break Stage this summer. Congratulations to all 16 acts on this year's line-up and thank you to everyone who sent in submissions, the calibre of entries was outstanding."

Throughout T Break's memorable 20-year history the T Break Stage has seen a phenomenal amount of talent grace the stage, including bands such as Biffy Clyro, Snow Patrol, Twin Atlantic and The View. Each year the T Break line-up is carefully curated by a panel of 15 of Scotland's most respected and influential music industry experts including bookers, managers, artists and media.

Dave McGeachan, Senior Promoter at DF Concerts and T Break Judge said:
"Every year the T Break line-up reflects what is going on in the Scottish unsigned music scene at the time and I think when fans listen to this year's line-up they'll get a real taste of the diversity of music coming out of Scotland at the moment. We have some great rock bands like, Bloodlines and Miracle Glass Company contrasting against electro acts like Edwin Organ and Tongues and at the other end of the spectrum, hip-hop acts such as Scope and Scholesy. It's fantastic, a great testimony to the variety of brilliant music being created in Scotland at the moment and I can't wait to see the bands live on the T Break Stage at T in the Park this summer"

To find out more about the acts on the T Break 2016 line-up, check out www.facebook.com/TennentsTBreak and www.tennents.com/tbreak

T in the Park 2016 takes places across the weekend from 8th – 10th July and tickets are on sale now, and available from www.tinthepark.com or www.ticketmaster.co.uk or 08444 999 990.