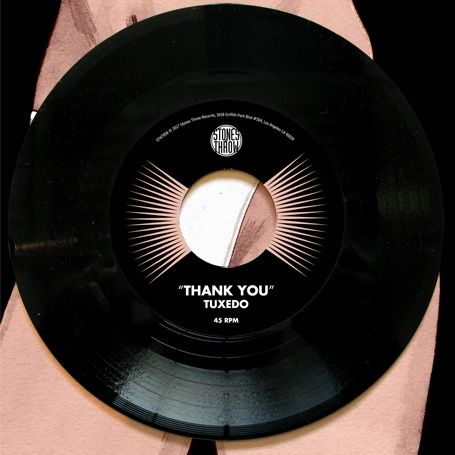 Tuxedo - Thank You
Following on from their second collaborative album "Tuxedo II", Mayer Hawthorne and Jake One unleash their blistering new single "Thank You". Full of punchy bass, crisp drums, triumphant brass and sleazy synths it summons the creative spirit of Parliament Funkadelic, Don Blackman and Average White Band and compounds them into a funk infused disco belter, perfect for the dance floor.
This is the territory of pre- and post-hydraulic low riders: a mélange of Cali boom-bap, analog synth bass and elegant disco that resonates truth and authenticity in an era where so many are faking the funk.
Both descendants of the one-word moniker family of funk, the Tuxedo collaboration began with an exchange of mixtapes back in 2006. "They had a lot of the same songs on them." said Jake. "I couldn't believe there was another person in the world that cared about this style of music." The G-Unit production member whose laundry list of production credits includes Drake, Kendrick Lamar, Future, De la Soul and The Weeknd finally met fellow Grammy nominee Hawthorne and the ground was set for a collaboration. The fruits of a long-standing kinship were three tracks that mysteriously showed up on Internet doorsteps in 2013. Those three songs sparked a barrage of inquiries, and the allure simmered while they recorded their self-titled debut LP. The transfer of energy between Jake's West Coast funk slaps and Hawthorne's Midwestern harmonies is something few outside of their specific origins could pull off. Their first full length release in March 2015 was mixed by tenured disco hit maker John Morales at his home studio in New Jersey and debuted at #1 on iTunes RnB chart.
Considering their individual successes it's no surprise their powers combined have yet again yielded a bevy of absolute slappers that are packaged perfectly for dance parties in 2017. Recorded while the pair was on the road during their last tour, 'Tuxedo II' is both a continuation of and improvement on the first album. "The sound really clicked towards the end of recording the first album. This time around we just did it better," says Mayer. "It's like Empire Strikes Back where you already know the characters and you can get straight to the action." They both insist Tuxedo is about having fun and dancing. "We needed a carefree release in these fucked up times," says Jake. 'Tuxedo II' is a modern testament to unity and positivity in trying times. It is a reminder that the dance floor will always be there to welcome you, whoever you are.
Younger pop music consumers may not know that the latest hits from Daft Punk, Bruno Mars and Mark Ronson derive from a genre that was swept under the rug for decades. The material here, while wholly original, is an exercise in honouring its forebears. 'Tuxedo II' recalls the future- funk wobble of Zapp, Gap, Jam/Lewis and Junie Morrison, while nodding lyrically to Mtume, Jodeci and Cameo. The crystallization of the album's concept comes courtesy of its message of universal love; thanks to the signature combination of soul and pop sensibility that have come to define Mayer's hooks. You can feel the imprint of greats in combination with sounds made famous by hip-hop legends, mastering a new 'old' sound in a loving albeit modern homage, wearing their influences on the sleeves of their tuxedos.
Order It Here:
http://www.stonesthrow.com/store/7-inch/tuxedo/tuxedo-thank-you-45
https://soundcloud.com/tuxedofunk/
https://www.facebook.com/tuxedo/