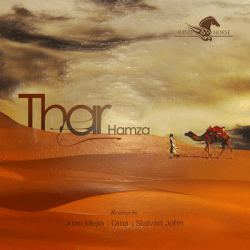 Hamza - Thar
Wind Horse Records returns to the roots of the label with Hamza's worldly new single "Thar". Since founding Wind Horse over six years ago Hamza has released a number of expressive singles for his growing imprint, as well as on the likes of Colour and Pitch, Freizeitglauben Berlin, Grouper, and Savoir Faire Musique. The foundation of Hamza's 'modus operandi' has been the combination of western and eastern sounds, resulting in a timeless melding of deep house with global instrumentation such as those found in his native India. The two originals on this single certainly display this aesthetic, creating dance floor moments with a distinctive amount of depth.
"Thar" is named after a desert in the Rajasthan state of India, known as a place inhabited by gypsies. These same gypsies travelled south to Spain and influenced the flamenco sound, as referenced in the track. Hamza has been playing with Rajasthani gypsy musicians for many years, and "Thar" stands as a shining example of the fusion of their traditional sounds with deep house. Touching on a different spot in the world, the b-side track "Afro Turk" is inspired by Turkey and Hamza's travels to Istanbul. The rhythm maintains an African influence which inspires the title. Exotic instrumentation and intriguing environmental sounds melt over the layers of percussion and low, growling bass line. The gorgeous extended breakdown could soundtrack a leisurely stroll through the famous Grand Bazaar.
The second half of the single presents a trio of fantastic remixes of "Thar" by members of the extended Wind Horse family. Miami's Juan Mejia (Dutchie Music) is first, delivering a cool and bouncy rendition that balances the dramatic strums with gentle piano notes, all underpinned by some serious house beats. The New Delhi-based Oma is next, adding a touch of darkness to the proceedings. A pulsing low end and a clicky rhythm track propel the track's vision as the dream-like sonic space is wrapped in the more exotic textures from the original. Stalvart John, a DJ / producer from Bangalore, closes out the single with a sparse, dubbier treatment of "Thar." Anchored by a crisp four-on-the-floor, this remix is a heady journey, taking the listener to quite a few different places within its hypnotic seven and a half minutes.