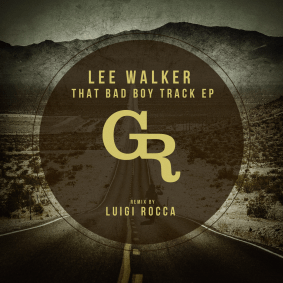 Lee Walker - That Bad Boy Track EP
Griffintown Records continues to established itself as a vital house outlet with a new offering from UK star Lee Walker that includes a remix from Luigi Rocca.
Lee Walker has really been rising up through the ranks recently. He is a UK producer who has held residencies at key clubs and can do it all from deep and warm to more peak time and techno. As well as this, Lee is a solid producer on labels like Hotflush, Defected and Hot Creations, and here serves up a heavy house EP destined for big things.
The meaty 'That Pure Badboy Track' is built on chunky, rolling, drums that suck you on over and over. The icy snares and wooden hits only hammer home the groove as a rude boy vocal is delivered over the top with a real sense of party-starting attitude and touch of sleaze. It's a bomb to blow up the floor, make no mistake.
Remixing is Italian artist and 303lovers and Hotfingers label owner Luigi Rocca. He brings his tech house perspective to the beats and flips the cut into a percussive hard-hitter that has slamming drums and razor sharp hats cutting up the floor.
Walker then comes correct with 'Chords & Things,' eight vibe-y minutes of classic New York house. With big hearted organ stabs, dancing drums and an inescapable sense of joy, it is sure to get hands in the air.
As ever, this is high class, high powered dancing music from Griffintown.
Tracklist:
1. That Pure Badboy Track
2. That Pure Badboy Track (Luigi Rocca remix)
3. Chords & Things