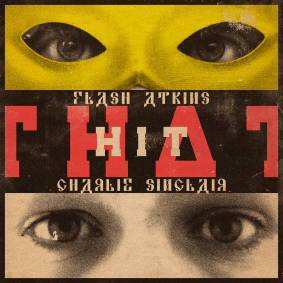 Flash Atkins & Charlie Sinclair - That Hit EP
For the label's next release, Paper Recordings boss Flash Atkins links up with Charlie Sinclair—singer from Sylvette, one of Manchester's hottest new bands—for a collaboration that promises to be the start of something special. The track has already been gathering heat, with Bill Brewster calling it one of his favourite house records of 2017, and reports of it rocking ALFOS and The Warehouse Project.
Flash Atkins has long been turning out innovative underground sounds that draw on a rich history of house and disco. This latest project sees him link with the singer of a band whose sound has been described as somewhere between Jeff Buckley, Morrissey and Led Zeppelin. From playing the O2 Ritz in Manchester, to supporting Kate Jackson (from The Long Blondes), the band are one of the hottest out there with Sinclair's voice front and centre.
The superb original has a throbbing sub over clipped drums, muted guitar and an incessant Moog riff. But the killer punch is Sinclair's soulful, intimate vocals that sit beautifully over the music and add real darkness. The groove is locked and builds to the break where a hint of disco hits the floor before the final section brings in the bells to devastating, 'floor- slaying effect.
ALFOS man Sean Johnston liked the original so much he asked to do a remix and the result is everything you would expect from the Hardway Brothers. He keeps the original elements but toughens things up with added oomph, taking it in a proto-house and techno direction that is raw and arresting.
Second to remix is Tal M. Klein, the founder of San Francisco-based Aniligital Music records who has been producing his trademark "drunk funk" style of deep disco and left leaning funk since 1996. His slowed down version is all swirling pads and intoxicatingly chuggy drums with the vocal drifting in the midst of it all and sucking you deep into a psyched-out headspace.
This is a single that is already making quite an impact and is sure to blow up once it gets its full release on April 19th.
Tracklist:
1. That Hit
2. That Hit (Hardway Brothers Remix)
3. That Hit (Tal M. Klein Mix)