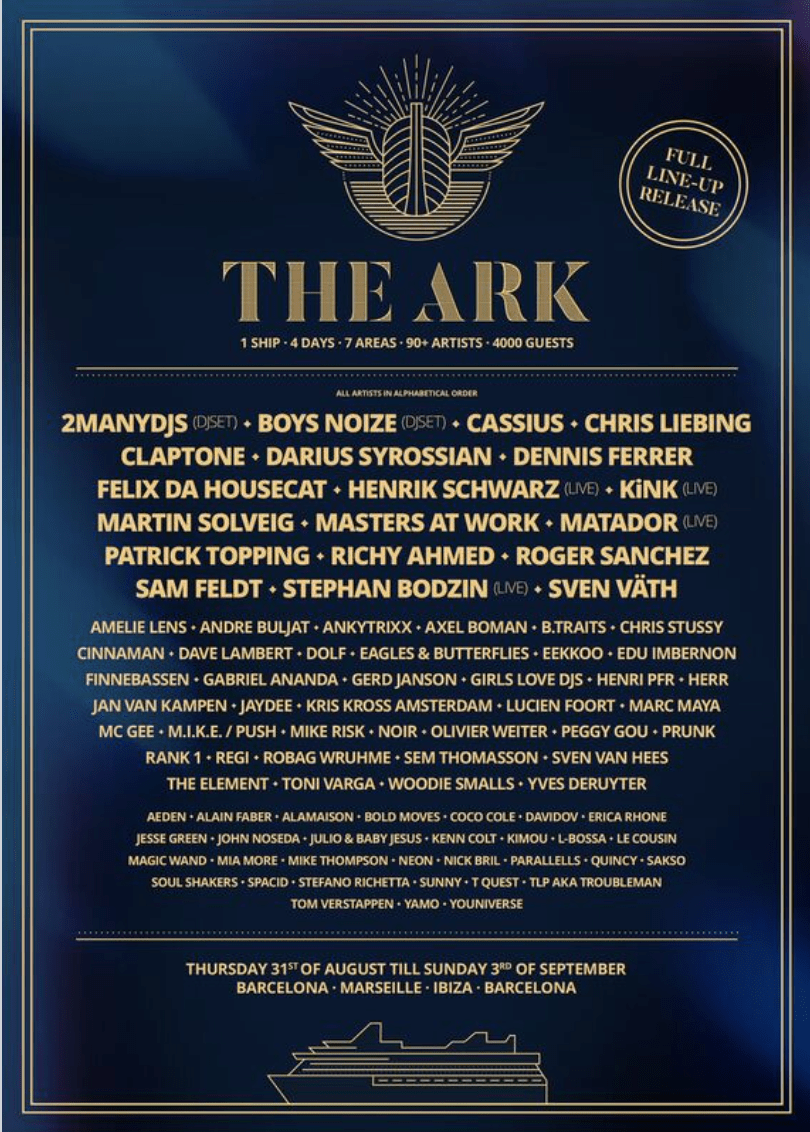 The Ark Cruise Festival completes their full line up
The Ark Cruise Festival completes their full line up with 90 Acts including Sven Vath, 2MANYDJs, Boys Noize, Henrik Schwarz & many more
The long list of added acts playing The Ark include the likes ofBelgian brothers 2MANYDJs, Cocoon label head Sven Väth,Studio Barnhus frontman Axel Boman, Radio 1's B.Traits, CLR techno chief Chris Liebing, French house pioneers Cassius, the legendary house pioneer Felix Da Housecat, Hot Creations partner Richy Ahmed and Innervisions man Henrik Schwarz and Irish techno talent Matador, both with a live performance. See the full list below.
The immense ship has everything you can imagine to make it a perfect playground for everyone's desire. Including special restaurant hosts, like a dinner by The Jane Antwerp (2 Michelin Stars), Yoga Sessions, Stand Up Comedy Shows, Surfing on the Flowrider, Shopping at the Mall, a Basketball Tournament, Massages, Big Screen Movies, Karaoke, Rock Climbing, Fitness Sessions, Pool Parties and much more to keep you busy between the beats.
Next to all the activities and beautiful stages there will be a special sunrise session with Robag Wruhme and Axel Boman on top of the front deck of the ship. Two artist known for their delicate and soothing sound, perfectly fitting a sunrise, with a gorgeous view out on the sea and land nearing by, as we get closer to our next destination: Ibiza.
On top of this, don't forget stages and brands such as Pacha, New York's Strictly Rhythm, carnival collective elrow, London's clubbing institution Ministry of Sound, Barcelona's worldwide event crew FACT and earlier announced DJs like Masters At Work, KiNK (live), Roger Sanchez, Martin Solveig, Stephan Bodzin (live), Dennis Ferrer, Gerd Janson, Peggy Gou and many many more.
The Ark will host 4000 people and 1400 crew members in total on Royal Caribbean's immense ship: Freedom Of The Seas. From August 31st until September 3rd the ship will start off in Barcelona, sailing further to Marseille, Ibiza and a final return back to Barcelona, covering four days and three nights of wonder for a lifetime memory.
Stage hosts:
Age of Love / BABOAM / Click / Deep House Amsterdam / elrow / FACT / Girls Love DJ's / Kitsch Club / Kelly Palmer / Kozzmozz / Ministry of Sound / Pacha presents My House / Strictly Rythm / Prunk invites (PIV) / Versuz / Zundays by Zillion
Tickets:
Prices vary per accommodation and tickets include all meals, entertainment and non alcoholic drinks.
Tickets are available via
www.theark.cruises
FULL LINE UP (In Alphabetic Order)
2MANYDJS (DJ Set)
Aeden
Alain Faber
Alamaison
Amelie Lens
Andre Buljat
Ankytrixx
Axel Boman
B.Traits
Bold Moves
Boys Noize (DJ Set)
Cassius
Cinnaman
Chris Liebing
Chris Stussy
Claptone
Coco Cole
Darius Syrossian
Dave Lambert
Davidov
Dolf
Dennis Ferrer
Eagles & Butterflies
Eekkoo
Edu Imbernon
Erica Rhone
Felix Da Housecat
Finnebassen
Gabriel Ananda
Gerd Janson
Girls Love DJs
Henri PFR
Henrik Schwarz (LIVE)
Herr
Jan van Kampen
Jaydee
Jesse Green
John Noseda
Julio & Baby Jesus
Kenn Colt
Kimou
KiNK (LIVE)
Kris Kross Amsterdam
Lucien Foort
L-Bossa
Le Cousin
Magic Wand
Marc Maya
Martin Solveig
Masters At Work
Matador (LIVE)
MC Gee
Mia More
M.I.K.E. / Push
Mike Risk
Mike Thompson
Neon
Nick Bril
NOIR
Olivier Weiter
Parallells
Patrick Topping
Peggy Gou
Prunk
Quincy
Rank 1
Regi
Richy Ahmed
Robag Wruhme
Roger Sanchez
Sakso
Sam Feldt
Sem Thomasson
Soul Shakers
Spacid
Stefano Richetta
Stephan Bodzin (LIVE)
Sunny
Sven van Hees
Sven Väth
T Quest
The Element
TLP aka Troubleman
Tom Verstappen
Toni Varga
Woodie Smalls
Yamo
Youniverse
Yves Deruyter