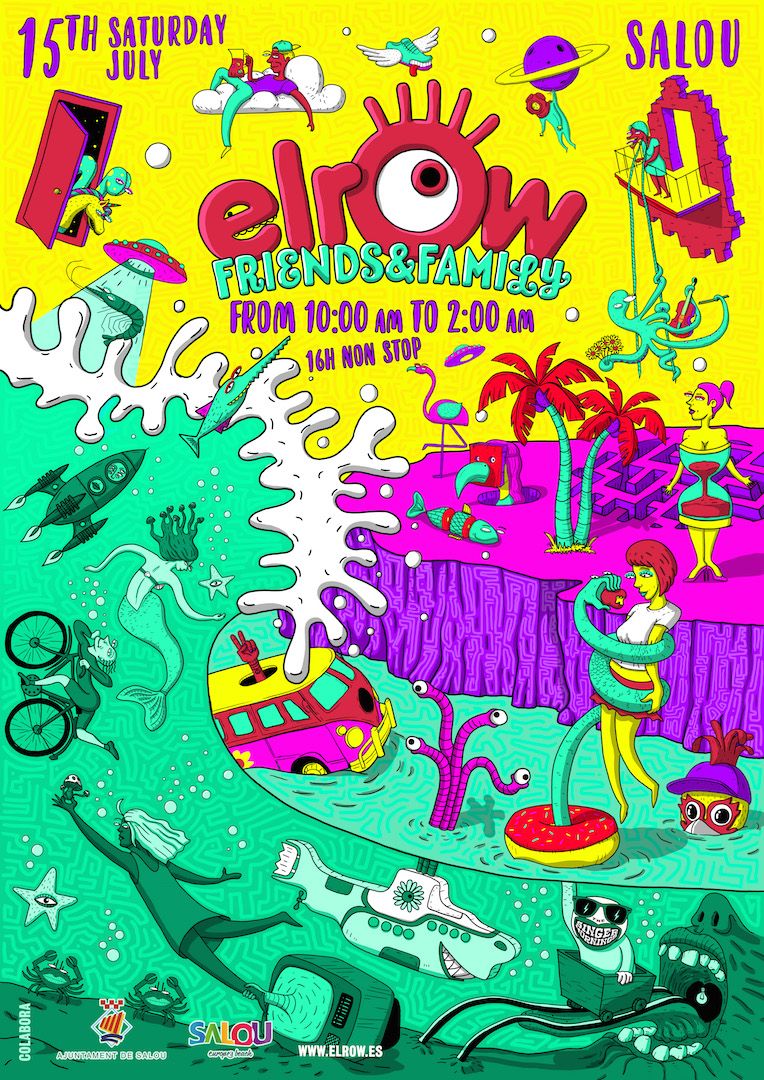 elrow Friends & Family – Brand new European Festival
The Spanish show creators continue to expand globally with their debut festival edition scheduled for this July
A 360-degree day time event with elrow's trademark of surreal madness featuring art installations, food experiences, market stalls and world-class electronic music headliners
Brand new for 2017, Spanish show creators elrow continue to throw away the clubbing rulebook with the launch of their debut festival edition named 'elrow Friends & Family' – a one-day event that promises to be their biggest and craziest party to date.
Taking place on Saturday 15th July at the beachfront location of Salou in Spain (approximately one hour south from elrow's hometown of Barcelona, easily reached via motorway and by high speed train as well as being 10 minutes away from Reus airport) elrow Friends & Family will cater to thousands of fans for an all-encompassing explosion of fun, colour, and confetti. Welcoming party regulars as well as fresh faces for an 'anything goes' day of escapism, the 16-hour celebration will include three stages of music that will each have a signature elrow theme in tow. Presenting their trademark playground concept on a grand scale, there will be no expense spared for the brand's latest milestone with surprises planned at every turn.
With this 360-degree festival set to illuminate the European festival calendar, elrow Friends & Family represents an incredible few years for the elrow team which is underpinned by an unrivalled wealth of musical heritage. Having been running for 6 years now, elrow in its current form was created in 2010 by Cruz and Juan Arnau Lasierra, the sixth generation of entrepreneurs of the Arnau Family who also founded the Monegros Festival and the legendary Club Florida 135 in Fraga, Aragón.
Backed by a passionate and authentic love for event curation, it's no surprise that the elrow family have gone on to achieve such unbeatable success in recent years. Their focus on fun has rejuvenated the electronic clubbing scene, and from their Barcelona HQ they've established residencies in Ibiza, Madrid, London and Amsterdam – holding a staggering 88 shows around the globe in 2016 growing to a planned 130 events in 2017. This summer, they'll also present takeovers at leading festivals such as Tomorrowland.
Speaking of the festival, CEO and founder of elrow Juanito Arnau explains:
"After seven years offering shows all over the world, at last we've found the perfect spot to put on the most creative show ever done by the Arnau family in all their long history. For the first time we're joining forces with some of the most crazily, imaginative people we've met around the world, from countries such as Brazil, Portugal, the United States, South Africa, Holland and the UK. Get ready to experience something you've never ever seen before."
With the golden coasts of Salou in their sights, the future certainly remains bright for elrow. Tickets for elrow Friends & Family will be on sale next Thursday 6th April, with line-up announced in the coming weeks.
Festival Info:
elrow
Saturday 15th July
Salou, Spain
from 10am to 2am
Tickets: http://www.elrow.es/
About elrow Family:
elrow Family is the Arnau's umbrella brand, owners of the Los Monegros festival and the legendary club Florida 135. A family that has been involved in the world of entertainment for more than a century and is now revolutionizing it with its latest project, elrow, a new concept of nightlife entertainment, in which the figure of the DJ as a celebrity and the importance of the line up are replaced by an essential and 100% immersive thematic show that mixes decoration, animation and theater with the best electronic music of the moment and where the participation of the audience is key.