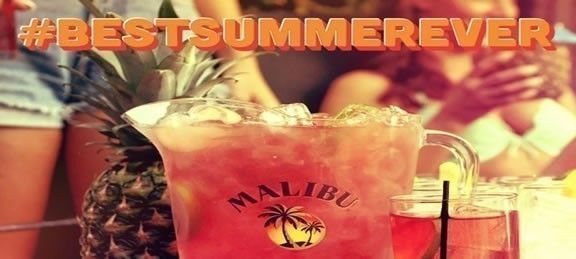 The Best Summer Ever – With Malibu! (Sponsored Video)
Malibu is the worlds favourite coconut rum. It allows people from all over the world to share the relaxed spirit of the Caribbean and is popular with those who want a touch of summer all year round! Malibu is a spirit that can be enjoyed over ice or in a variety of summer cocktails such as the ultimate pina colada. This summer, Malibu wants to make summer even more enjoyable as they're giving away thousands of prizes including Ibiza Rocks holidays!
Malibu is the centre to many of the the worlds favourite cocktails, creating that summer feeling in an instant whether you're lazing on a tropical beach or sat on a deckchair in your own garden. Everyone has a personal favourite thing about summer, whether its the ultimate party, going on a road trip or hitting the beach with friends and this summer is the starting point for Malibu to launch their Best Summer Ever Project, where everyone's in with a chance of winning something fun to make their summer more memorable. Prizes include bar tabs, cocktail kits, festival tickets, concert tickets and Ibiza Rocks holidays as well as a whole load of Malibu goodies.
Malibu is a drink that's most suited to kick-starting your summer; it's iconic, it's fresh and it's the must have for many tropical cocktails. To start their Best Summer Ever Campaign, Malibu are distilling the very essence of summer in a 60 second online video. Set to One Republic's 'Life in Colour' the ad features style shots of beautiful faces, water melons, bare legs, various summer feet and footwear, beach scenes and cocktails, and we think its the perfect beginning to what is likely to be a great summer!
Quirky and cool singer Eliza Doolittle has featured in a video to kick off this great campaign, speaking of her personal love for Malibu and how it reminds her of summer and is guaranteed to create good vibes and get you in the zone!
Malibu lovers everywhere are invited to participate in the Best Summer Ever Campaign this year by choosing from 100 summer-fun activities across the UK and 'saying yes to something random' with winners being featured in a reality TV series expected mid summer. Will you win a great summer package for your and your friends? Whatever you do, with Malibu it promises to be a great summer!
Sponsored by Malibu