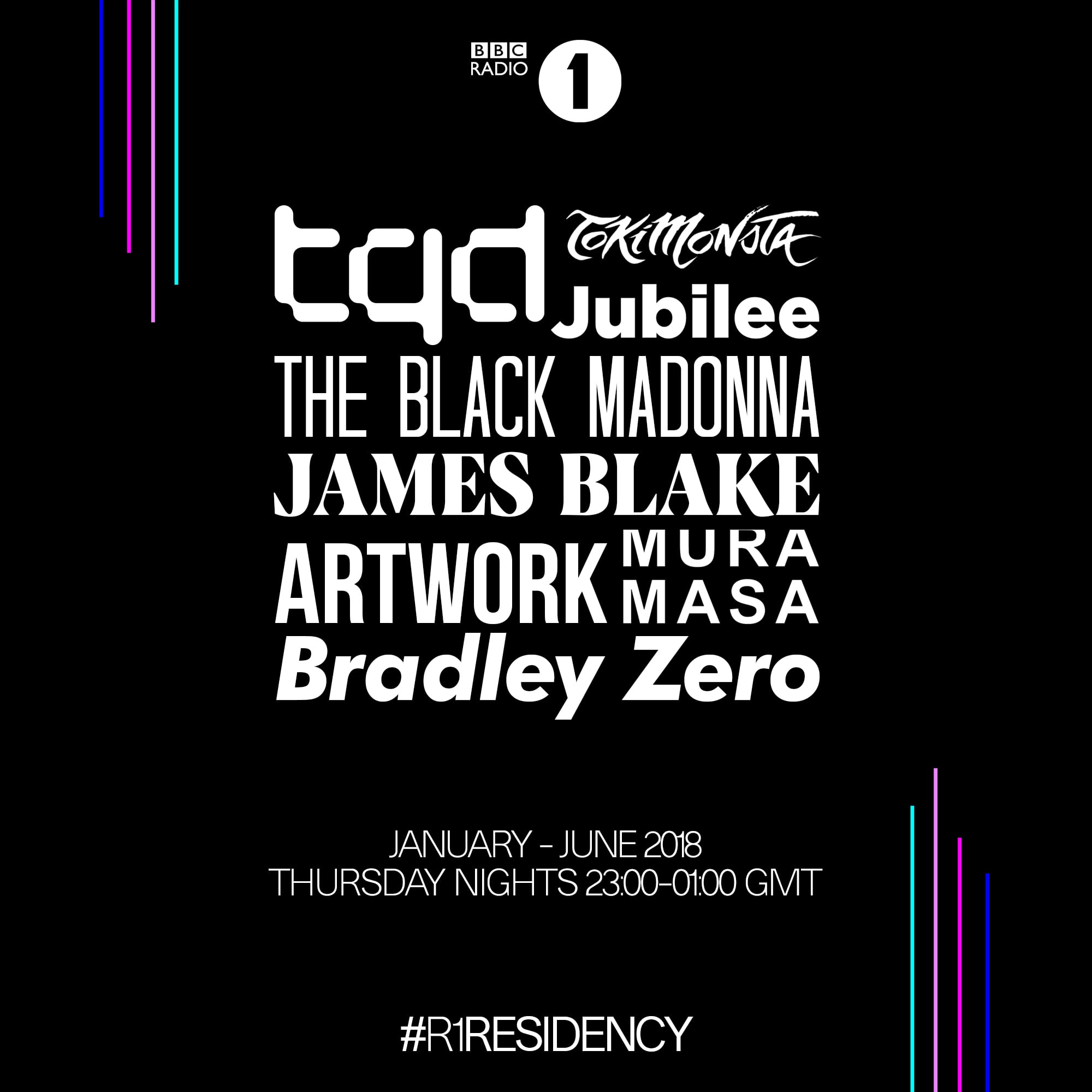 The Black Madonna, Artwork, James Blake and Mura Masa lead the new 2018 line-up for BBC Radio 1's Residency
BBC Radio 1 announces the new line up for BBC Radio 1's Residency – the strand that brings listeners the biggest names in dance music, from the underground to the arena – with The Black Madonna, Artwork, James Blake, Mura Masa, TQD, Jubilee, Bradley Zero and TOKiMONSTAforming the Residency team from January – June 2018.
Radio 1's Residency incorporates two shows on a Thursday night between 11pm – midnight, and midnight – 1am, featuring cutting edge DJs and producers from the UK and around the world.
The new line-up is as follows:
1st Thursday of the month, beginning 4th January
TQD
Jubilee
2nd Thursday of the month, beginning 11th January
The Black Madonna
Bradley Zero
3rd Thursday of the month, beginning 18th January
Artwork
TOKiMONSTA
4th Thursday of the month, beginning 25th January
James Blake
Mura Masa
The Black Madonna says: "There's no other way to say it. This has been my dream from the very beginning of my life as a DJ. I taught myself to mix, with a box of records that my mother bought me on a small AM college radio station in Kentucky and I couldn't be more delighted to be here with you all, exploring the ideas and sounds that matter to me most. We still believe!"
Mura Masa says: "The honour of curating a space on such a seminal platform is a dream come true for me. Showing people new music is one of my favourite things and this is one of the most refined and accessible ways of doing it. The Residency slot on Radio 1 has always been a constant source of new sounds and ideas for me so I'm looking forward immensely to sharing some of my own knowledge and bringing something new to the table."
TQD say: "We are excited to get busy on Radio 1 repping Garage, Bass and everything in between! The response to TQD shows and our album has been a real surprise, we didn't expect it to go this far!"
TOKiMONSTA says: "As a budding music producer, it was the presenters on BBC Radio 1 that first introduced my music to an international audience. Even as a listener, I always look to Radio 1 as a source of new and exciting music. Now it's my turn to introduce amazing artists, their music, and their stories to the BBC audience."